Shared Education Colour Run P1-3 and P5
What an amazing time we enjoyed with our partners from St. Ronan's today in our colour run!
Is your child interested in learning to play an instrument next year (2022-23) ? See notes below.
Congratulations to our latest Word Millionaires
Beautiful Garden Slab Design is a Competition Winner
Congratulations to three very talented girls in P7
All Ireland Boxing Champion

On Friday 22d April 2022, Cole P7RW was crowned 'All Ireland Boxing Champion' in the category Boy 1 - 65kg - Champion of Ireland. Cole boxes for Banbridge Boxing Club. Everyone at the club is very proud of Cole's achievement, as are we at Bridge IPS! Congratulations Cole!
Accelerated Reading Success
There is so much to celebrate as we come to the end of term 2B. Well done to all the boys and girls in all P5-7 classes for your excellent efforts in reading throughout term 2! Special treats were enjoyed by P5DW, P6T and P7RW who were year group winners for this term! Let's not forget all of the pupils who have read an amazing million or even two million words. Looking forward to see what term 3 brings.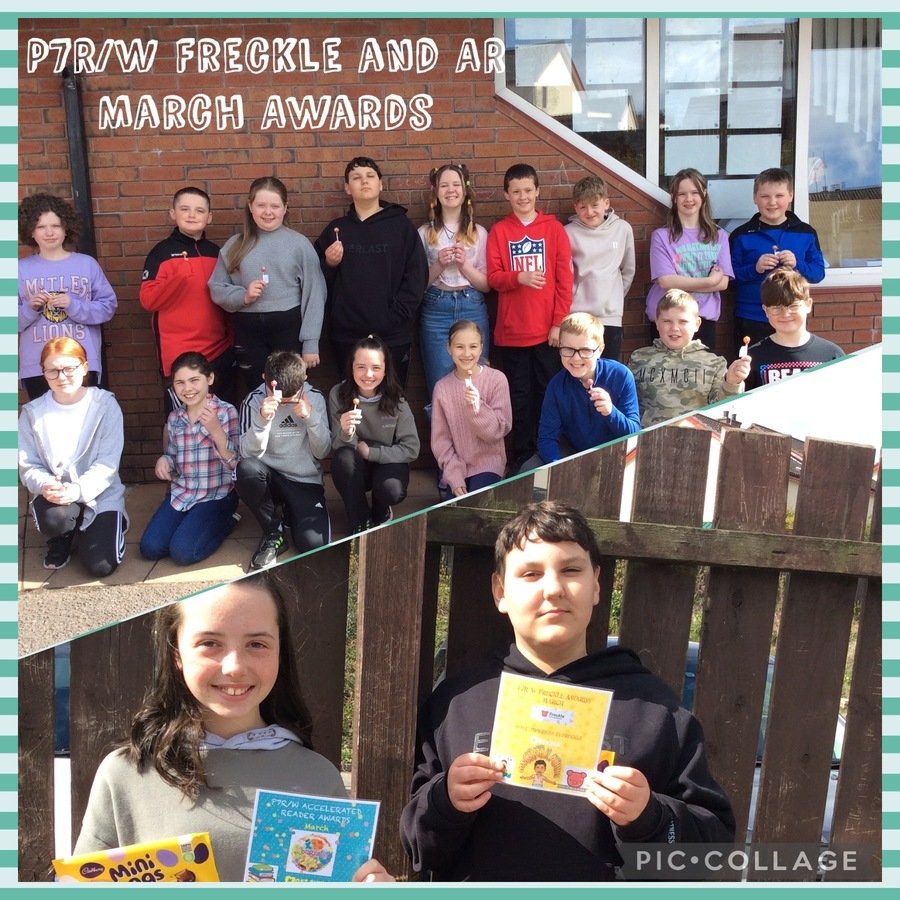 Well done to all the boys who participated in the final EVO soccer tournament today, 31/3/22.
Super team work and lots of fun enjoyed by all.
Soup for the Soul
A very big thank you to Spa Nursing Home Group and the National Lottery for such a fabulous 'Soup for the Soul' morning. P7Y/D linked with several schools and care homes in an intergenerational virtual network event. We made and sampled a delicious soup whilst enjoying a story, highlighting the value of sharing and people coming together through food. We look forward to future events together.
Congratulations Masen and Eva - our latest AR Word Millionaires
Some great work happening in P2 and P.5 Engage groups this week
Congratulations to the Maths Seeds Award Winners in P2W
Bridge Supports Autism NI
Thank you so much for the fabulous response to Superhero Day which raised an amazing £2540 for Autism NI.
Bridge Celebrates World Book Day 2022
We all enjoyed celebrating World Book Day wearing cosy PJs and enjoying extra time to read and enjoy our favourite books and characters.
Celebrating Children's Mental Health Week 2022
Click 'Growing together' to find out about what we got up to throughout this week to celebrate Children's Mental Health Week. Photos will be added here as the week progresses and look out for a video clip of the song 'Reach' created by both P5 and P6 in Bridge and St.Ronan's.
Also click the link below to see a video created by P3DR
https://drive.google.com/file/d/1NEnRtnrXfR7445USlJK-gGKQYtv2pyGp/view?usp=drivesdk
Gail from Paths Visits P1
P1 had a visit from Gail from PATHs this morning and we talked about how to deal with problems and talk to our friends. There was some valuable advice from Twiggle
Stop
Gail from Paths was in today, 7th February to visit P2 as well. P2R had a wonderful lesson about emotions and calming strategies. We all used our 'Turtle' technique!
P4W Forest School
P4W had an excellent morning on 7th February with Danielle from NI Forest Schools Association. Looks like they had lots of fun!
P1TM Celebrate Chinese's New Year
Andy's Room is Officially Opened

On Monday 20th November we were delighted to have District Inspector, Mr Belvins, officially open our amazing nurture/wellness space, named 'Andy's Room ' after the well known character from Disney's much loved Toy Story.
It is a wonderful new addition to our school, which offers a relaxing 'hideout' and a truly magical and serene experience for the children. It can be used by pupils with anxiety issues, or simply as a treat. And is already much lived by both staff and pupils.
P3 enjoy some choice and chill out time in Andy's Room
Look at some of the amazing things our Engage groups have been up to…
Past Students from Newbridge help P7RW explore integration
Mr Kelly from New-Bridge Integrated College came to Bridge today with past pupils Cara and Lucy and explored the theme of integration with P7R/W.
First Confession Celebration in P.4
Congratulations to the Roman Catholic pupils in P.4, who recently made their first confession.
Sharing Compliments on National Compliment Day 2022
P7 Role models
Some of our P7 pupils enjoyed a special treat today for showing leadership and excellence as role models. Well done!
Snow⛄️... How we all love to Play in the Snow! ❄️
Pupils enjoyed the first flurry of snow in 2022. Click SNOW to see some more photos.
P.7 Taster Day in Newbridge
P.7 pupils were warmly welcomed to Newbridge Integrated College for a taste of what 'big school' is like on Wednesday 12th January 2022.
Click to see some photos: P.7 Taster Day 2022
Tilley Represents Bridge in Showjumping Competition

Tilley P7YD has been competing in Schools Jumping, representing Bridge Integrated Primary School on her two ponies from September to December. She and her ponies were impeccably turned out every week! Anyone who knows Tilley knows she is passionate about horses and her hard work and dedication has paid off. Tilley has been been a great ambassador for Bridge.
Christmas Cribs
P7 enjoyed painting and decorating beautiful cribs made by students from St Patrick's College as part of a school project. Many thanks to St. Patrick's College - our pupils thoroughly enjoyed this project.
Christmas Cracker Day 2021
It's safe to say that pupils had a 'cracking time' on Christmas cracker day. It was great to see so many pupils in their Christmas jumpers, Santa hats and festive socks snd head gear! Many pupils also enjoyed a treat a break time or got to swop seats for the day! Not only that it was also Christmas dinner day! Delicious! Many thanks to the kitchen staff and supervisors.
A huge thank you to all the pupils and parents for your very generous donations today. All money raised will be donated to Cash4Kids to help and support children here in Northern Ireland.
Click Christmas Cracker to see some photos.
Daily Mile Santa Run 3rd Dec 2021
Click Daily Mile to see more photos.
Congratulations P7RW who have read an incredible
5 million words in term 1A
Wow...We have an AR Millionaire
at it's not even Halloween!
Congratulations Emily - you are our first AR millionaire for this year! Fantastic reading! We are so proud of you!
First Football Tournament 2021

Evo Schools 1st Football Tournament took place last Thursday 30th September in Cheney Park. Seventeen children in two squads represented Bridge I P S. Although we got drenched we had a great morning and super behaviour and attitude were displayed. I wish to thank the parents who kindly assisted with transport to and from Cheney.
D. Whan
EVO Soccer Tournament 2
Well done to all the boys who participated in Thursday's tournament. Super team work and effort. Keep it up boys!
P6 Engage Group enjoy making tasty
Engage Groups Get Creative
Things were getting a bit spooky with Mrs Roleston's Engage groups. Pupils had lots of fun creating exploding pumpkins. Well done everyone!
Our First Class Millionaires 10/9/21
FREE Microsoft Office
Parents please note that Microsoft Office is free to all pupils and staff.
See below or click to enlarge OFFICE