Stop Motion Animation
Fionn in P.6T is a keen cartoonist and a budding film maker too! Enjoy his fantastic animation. I think you will all agree that his talents could lead to exciting things in the future!
The Self-Eating Yoghurt
An Animation By Harry P.6S
Katie's Big Adventure to the Teddy Bear's Picnic
An Animation By Katelynn
NESSY
Please note all NESSY users can now continue to use NESSY over the summer holidays. Keep those Literacy skills sharp and have fun!
Some Amazing Titanic Models by P.6
More AR Word Millionaires in P.6
Well done Rose and Ethan!
Photos of Harry, Oliver and Fionn to follow.
Congratulations Grace P.5DW who has just received her Millionaire badge of honour.
Super reading!
Year Group Videos - Lockdown May 2020
Simply click Videos to view them
Adam P7R first winner of P7 Google classroom weekly quiz. Thanks to Bridge Parents Group for donating the prize. Thanks also to Adam for the buns he brought for the staff. They were delicious with some coffee this afternoon
Congratulations Darwin - Word Millionaire
Amazing reading Darwin who clearly recommends one of his favourite books 'Pax' by Sara Pennypacker.
Leah P.6T - our latest Word Millionaire
Fantastic reading and clearly a Harry Potter fan! She is proudly wearing her Millionaire badge, received in the post.
AR Word Millionaires
Congratulations to Liam in P7R who achieved millionaire status in early May and his brother Finn P.6S who reached a million words just before lockdown.
World Book Day 2020
World Book Day was celebrated in Bridge Primary School on Thursday 5th March.
Pupils were encouraged to dress up in their pyjamas and bring in a favourite book to share with their friends.
Potatoes were decorated as favourite book characters and money was raised for reading books.
Prizes were awarded for the most creative contributions.
Some pupils in Key Stage 2 read to pupils in Foundation Stage and Key Stage 1.
The children were delighted that it was a "No Pens Day" and many enjoyed reading a selection of eBooks.
Shared Education Celebrated in St. Ronan's
On Tuesday 3rd March St. Ronan's welcomed one of our P.1 and P.7 classes alongside some very special guests; the Education minister Peter Weir and visiting principals from Los Angeles. Visitors were keen to hear about our inclusive shared education partnership and also had the opportunity to see classes in action and talk to staff and pupils.
Congratulations James
Well done to James who recently participated in a soccer tournament in East Belfast on the 22nd February. He plays for Banbridge Town under 10s and was delighted to share his gold medal in class.
Two New Interactive Whiteboards
We are delighted to receive two new interactive whiteboards which have now been installed in P.1TM and P.7R. A huge thank-you to our Parents Group who tirelessly fundraise and plan fun events for our pupils. They donated the much needed money to enable us purchase these boards. We now only need to purchase 5 more interactive boards so that we have one in every classroom.
Eva a Football Star in our Midst
Mrs Roleston Visits Spain
Mrs Roleston had the opportunity to accompany five teachers, from our shared education partner school St Ronan's as part of an Erasmus project last week to Spain. Schools from Italy
EVO Tournament Report 30th January 2020
We have a very dedicated squad here in Bridge IPS, when 2 of the squad were ruled out with injury, late on, one of our reserve players kindly brought his kit and a letter from his mother offering to help us out. Thanks Daniel F!
The enthusiasm of our 17 boys and one girl (Eva) was wonderful and for the first time the 2 teams (A & B) were in the same group on the same pitch. This made watching every match they were involved in possible and the attitude of the children on the pitch and at the side, subbing on and off was excellent, thanks to Glen one of the Evo coaches for helping me.
We know we have a very talented and experienced A squad but they still have to work hard to win in the short group matches.
Thankfully they won their group and were drawn in the semi-final with Fairhill. It was a fast match with Bridge scoring early and hitting the bar on a number of occasions but it was Fairhill who ran in a late goal to leave the final score 1-1. Thankfully the team's solid performance in their group meant they went into the final on a higher goal difference.
They met Bronte in the final who had beaten St Mary's in the previous semi-final. The team work, skill, talent and support for each other in the final was a delight to watch, with them sealing the title for the 3rd time this year with a 3-0 victory.
Team Joshua Q-O'H, Corey H, Carter C, Ben W, Jay G, Jake McM, Eva McM and super sub Daniel B.
That means our A team have 3 tournament wins and a draw in the four tournaments and cannot be beaten on points. The final Evo tournament is set up with the top teams being drawn in the same group providing quality opposition in every match. This will be in Cheney on Thursday 26th March for all to come along and support. We already have a loyal support group who I would like to thank for lifts to and from Cheney.
D Whan
Callum's Passport to Success
Callum, P6S, recently visited New Bridge Open Day and won a top prize, along with a Certificate, for having his passport stamped in every department! Well done Callum!
Newbridge Open Day 18th January 2020
Mr Kelly from Newbridge Integrated College came to visit Bridge on Friday 11th January to invite P.6 & P.7 pupils to their upcoming open day. Past pupils Christin and Eva shared their experiences of Newbridge and it was lovely to hear their perspective of their first term. P.6 & P.7 were given a special booklet with a snapshot of what all our leavers from last year have been up to so far and important details of the open day.
Thank-you Mr Kelly and the Newbridge students.
Our first AR Millionaire Grace Receives her Certificate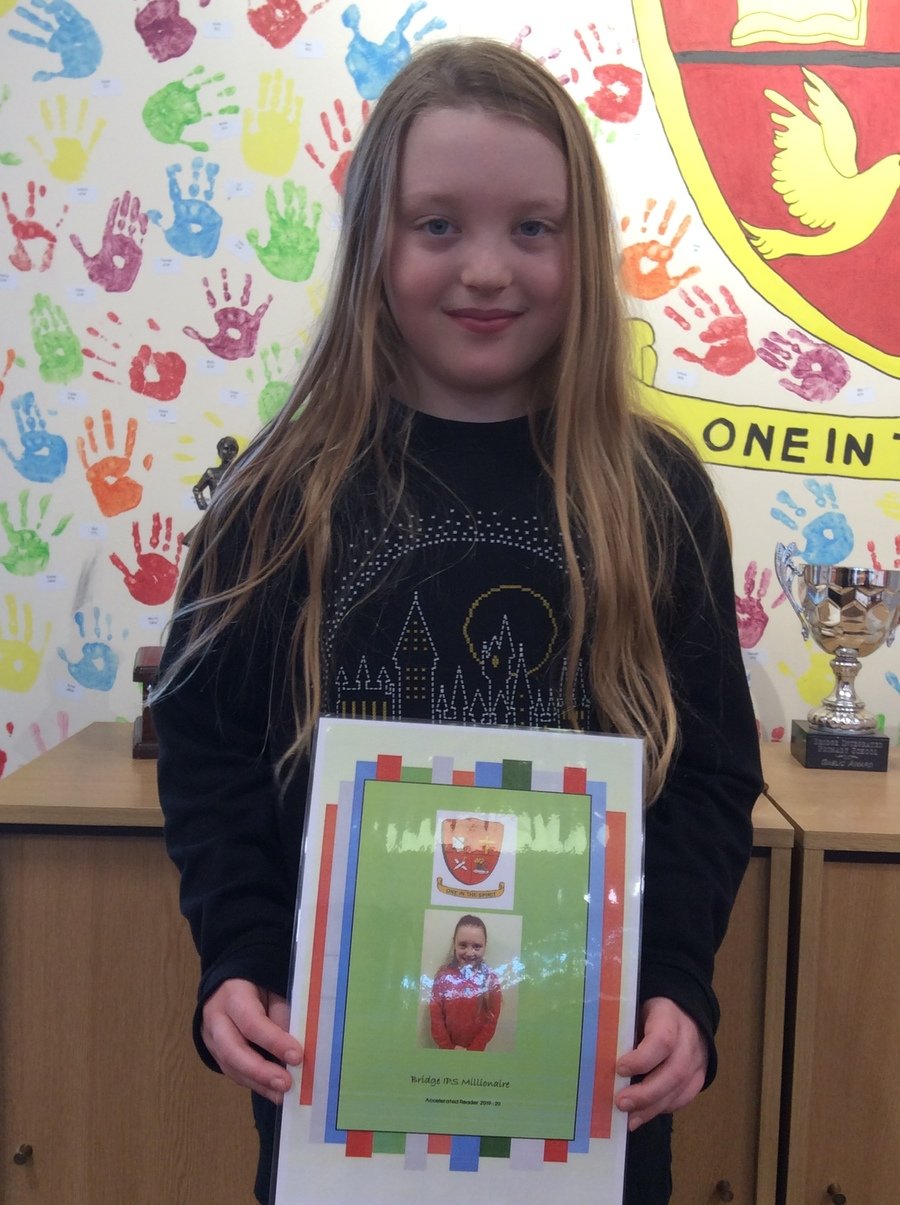 Accelerated Reading Award Winners in the 100% Draw
Christmas Dinner...Delicious
A big thanks you to all our Canteen staff, supervisors and parent helpers who ensured staff and pupils enjoyed a delicious Christmas dinner together.
Christmas Carol Service 2019
On Monday 16th December P.6 pupils and the choir led our annual festive celebrations in our Carol Service in Holy Trinity Church. They retold the Nativity story through songs, readings, prayers and drama to remind us all about the birth of Jesus.
The children rose to the occasion and were amazing performing all their parts. Well done buys and girls!
We would like to thank Archdeacon West for welcoming us again to his beautiful church and Roisin from the charity Action Mental Health who reminded us all to look after ourselves both physically and mentally over the busy festive period. Lastly thank you parents, guardians and extended family members for joining our whole school celebration. May we wish you all a very happy Christmas
Christmas Rhyme
Congratulations to all of our P.1 and P.2 pupils who performed in their recent Christmas play, 'The Christmas Rhyme'. The whole school enjoyed watching the dress rehearsal and parents were delighted with the performances they attended. We are so proud of you all! You certainly brought some festive cheer to everyone!
Bridge School Irish Dancing Team Win the Schools' Cup
Congratulations to our amazing team of girls who represented our school in the recent Claire O'Connor's Class Feis. They only went and won the trophy! We get keep the fabulous trophy for a whole year.
Well done girls!
Shared Education P.1 & 2 Visit Christmas Grotto
P.1 & P.2 from our Shared Education partners in St. Ronan's were welcomed to our Christmas grotto. Santa was very busy greeting all the boys and girls and the elves helped with letter writing and stories. We hope all our special visitors had a great time.
New School Council Formed
Bridge IPS recently held our fourth set of school elections. Pupils eagerly participated in election campaigns to vote in new members to our School Council 2019/20. Well done to all classes P4-7 for taking the time to prepare manifestos and having discussions about possible nominees. Election Day took place on Tuesday 26th November 2019. A great buzz of anticipation and excitement was evident throughout KS2. Congratulations to all pupils who put themselves forward. You should all be very proud of yourselves.
The new School Council representatives voted in by their class members are…
P4S/D Conor
P4S Rose
P5CW Bella
P5DW Eli
P6T Daniel
P6S Rose
P7R Harlowe
P7D/Y Rhys
Good Luck to you all and enjoy your time in office!!!!!!
photo to follow due to pupil absence
Peace Prom Practice in Queens
The choir enjoyed practising for the upcoming Peace Prom in Queens on Thursday 28th November. Enthusiastic pupils sang their hearts out and worked hard to learn some of the moves.
Bridge Goes Dotty and
raises much needed funds for RNIB
Retirement Gift for Mrs Anne Molloy
Mrs Devlin presented a gift to Mrs Anne Molloy on the occasion of her retirement from Bridge IPS. Also in the photo is Mr Joh Duggan, building supervisor. We wish Anne well in her retirement.
Winners of NI Libraries Book Week Celebrations in Bridge IPS pictured with their choice of prizes
P.7s Plant a Sensory Garden at Spelga Mews
on Thursday 24th October
Today saw the fulfilment of a P.7 dream in Bridge IPS to plant a sensory garden in Spelga Mews, Banbridge. This project was funded by a grant which we secured through the charity 'Live Here, Love Here.'
Two past pupils from last year, Thomas and Steven, who were instrumental in securing the grant, joined us to mark this special occasion by planing a beautiful Victoria plum tree.
Our thanks to Mr. Frank Beckett, who gave so generously of his time, to source the plants and help pupils plant them out. This project serves to create richer links within our community and further grow the bond between Spelga Mews and Bridge IPS.
Fantastic Football at Bridge I P S
The school football squad has attended the first two EVO Soccer tournaments of the year. The first was on Thursday 26th September and the second on Thursday 10th October, both at Cheney park.
I am delighted to be able to say that our A squad have won the first two tournaments and are sitting on the maximum of 16 points. The B team have been outstanding, more successful than ever before and have won their respective group finals at both tournaments too!
We are very lucky to have such talented players in Bridge, with many more waiting to step in, if required. I would like to thank all the parent/family supporters who provide transport, cheer and football coaching for our players.
Thanks also to Evo Soccer for running such an important and worthwhile event in our local area.
D Whan
P.E. Coordinator & Football Manager
Harvest Celebration
Congratulations to our P.5 pupils for their lovely Harvest celebration this morning (Tuesday 15th October). P.5 showed us some of their many talents and gathered in a harvest of foods which will be distributed to two local charities to support local families in need. It was lovely to see a pack3d hall with lots of parents joining in our celebration. A big thank you and well done to the staff and pupils involved.
The Amazing Journey
Pupils from P.1-P.7 went on an amazing journey through a variety of bible stories this week (Thurs and Fri 3rd and 4th October). They had the opportunity to listen to bible stories, meet some key characters, dress up and taste foods. A huge thank you to all of the volunteers who ensured our pupils enjoyed this experience.
Congratulations to our Excellence awards winners P.4-P.7
Review of the Week
Congratulations to our Into Film Review of the Week Winner who proudly shows off his certificate for his review of Toy Story 4 on the @intofilm_edu Website. Well Done!
Shared Education ECO Trip to Kilbroney Park
Eco Committees from both St Ronans P.S. and Bridge I.P.S attended an excellent outdoor activity day at Kilbroney Centre on 25/09/19. We worked in teams, to explore food chains, natural habitats and animals in Kilbroney woodland area. In teams, we built huts using natural resources from their woodlands and estimated lengths of branches and floor space for our team, whilst constructing our sheltered huts. We had a wonderful time with our friends from St Ronans and their teacher Mr Byrne.
Climate Strike Action...2019
The ECO pupils carried out an Assembly for Key Stages One and Two and protested for parents in the afternoon. We even made up a Climate Action song, sung to the tune of Love is in the Air!
Banbridge School of Music
End of Year Performance
We really hope that you enjoy t

his is the end of year virtual performance by pupils from Banbridge School of Music who offer piano lessons in school. Since lockdown a number of the pupils have continued with the lessons online and taken exams as well as playing for fun.
Bridge Wins 2020 EVO Primary Schools
Soccer League
Congratulations to our football team who have only gone and won the EVO P.S. League 2020. What an amazing achievement! A huge thank you to the team players for their dedication, skills and amazing team work. Ben, the team captain, proudly held up the winning trophy before the team all enjoyed a socially distanced ice-cream.
Thanks Mrs Whan who manages the team and Paul Evans and all his coaches for organising this great event and for coaching after school football and supporting us throughout the year.
Congratulations Corey - week 3 winner of P.7's weekly quiz!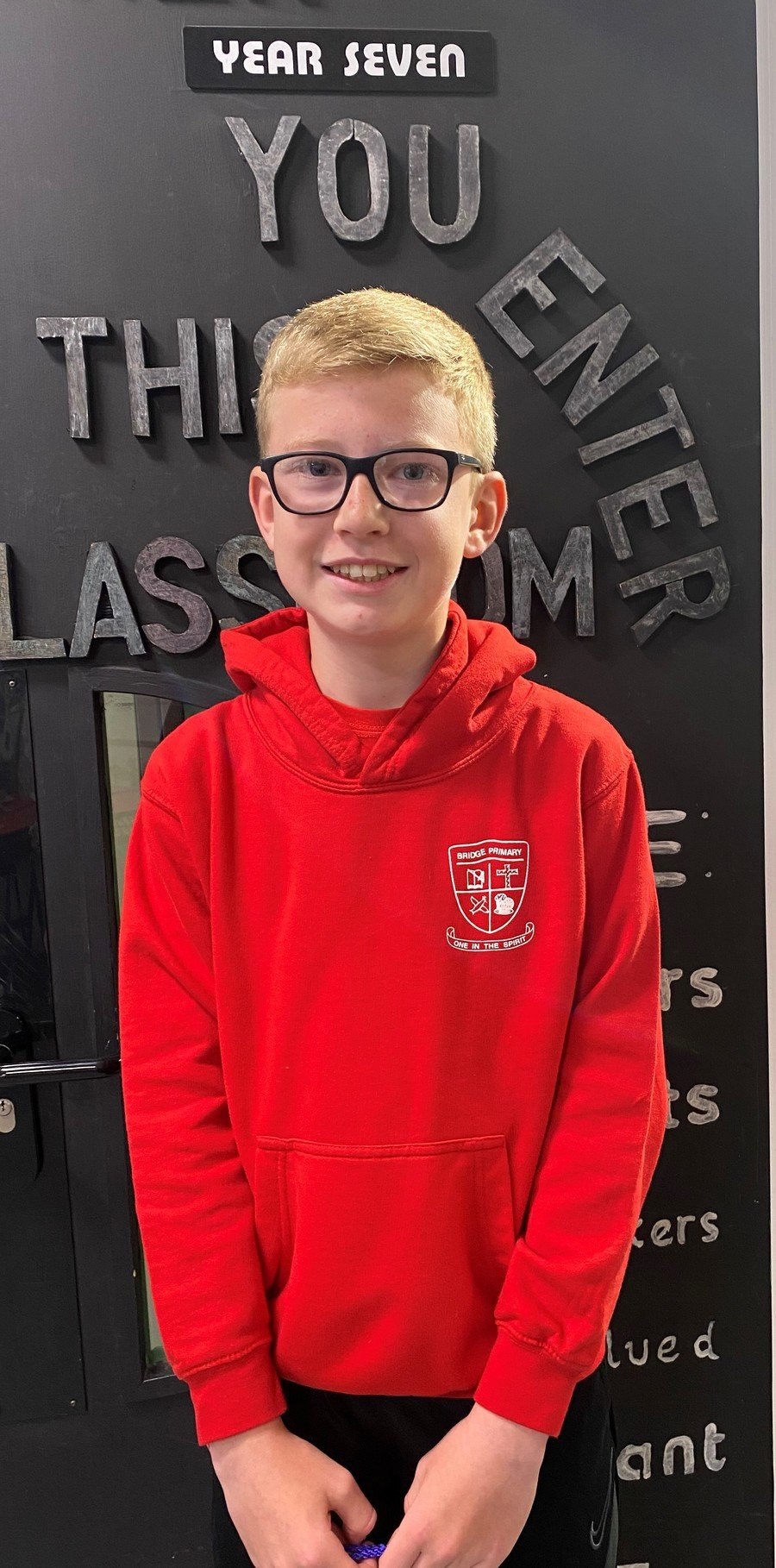 Amazing Talent: Luke P.7R
Luke recorded this yesterday (16/6/20) because he wanted Mrs Roleston to have the opportunity to hear him sing and play as he wouldn't get a chance at Leavers. Well done Luke!
We thought everyone should have a chance to hear it!
Enjoy!
Children in Crossfire Ethiopia
Fundraising Competition Winner
Congratulations to Katelynn P.6T and Holly from P.3ND from St. Ronan's who were the competition winners in the recent Children in Crossfire Competition organised by Mrs Davis and Mr Byrne from St. Ronan's.
Such beautiful colouring!
Thank-you to all the boys and girls who entered.
IMPORTANT INFORMATION for P.6 Parents:
AQE and GL TESTS 2020
Please click on the links below to see the AQE documents
GL Exam
Entrance Assessment: Saturday 5th December 2020
Registration opens: Monday 1st June 2020
Registration closes: Friday 9th October 2020
Supplementary Entrance Assessment: Saturday 19th December 2020
Congratulations Corey who became a word millionaire today 18/5/20 in P.7R
Darwin P7R was delighted to receive his Millionaire Badge via Royal Mail
P.6 are enjoying Learning from Home
P.6 pupils have been busy having lots of fun researching the Titanic. They created tickets for the launch and found out about the different classes onboard the ship. To celebrate Interactional day of families they showed acts of kindness at home through the week, created a family rap and also enjoying finding out more about their family history when creating a family tree.
P.7 Enjoy Cooking for their Families to celebrate International Day of Families
P7 have been learning about ratio and proportion over the last 2 weeks. We had a practical maths day on Friday to link with International Day of the Family. P7 baked something and on Friday and over the weekend stopped and enjoyed the treats they had created with their families.
Girls' EVO Soccer Tournament
Due to the keen interest in girls' football Bridge were delighted to be able to bring three teams to the EVO Girls' tournament in Cheney on Thursday 5th March 2020. All teams gave their all and enjoyed participating in such a big tournament with sixteen teams. Kaleigh performed so well in goal and was recognised as one of the top three goal keepers of the day. Well Done Kayleigh!
Thanks you to all the girls for their excellent teamwork and to all the parents who assisted with transport.
Peace Proms 2020
Peace Proms 2020 at the SSE Arena was definitely well worth the wait! What a fantastic experience enjoyed by our choir members, staff, parents and family members in the audience. We were thoroughly entertained by some amazing singers & dancers and were blown away by the talented musicians in the cross border orchestra and of course the wonderful sound of 2,500 pupil voices. We sang and danced along to a variety of popular tunes from Disney & Queen to name but a few. Greg Beardsell was outstanding conducting not only the orchestra but all the actions of the kids. We had such an amazing time - special memories to be treasured. Here's looking forward to doing it all again next year!
Amazing Excellence Winners
Congratulations to our January Excellence award winners from P.4-P.7.
Superheroes for Autism N.I.
At the start of February P7DY took part in an Autism NI Superhero week where they completed chores at home each day such as cooking, cleaning and acts of kindness to raise money for this charity. In total they raised £181.
Rachel from Autism NI came into assembly and showed us a video called Amazing Things Happen to help everyone have a greater understanding of Autism. P7DY were presented with certificates and badges and Jordan won a special prize for having raised the greatest amount of money.
Click on the link below to see the video clip and perhaps chat to your children about it.
Celebrating Mother Language Day
On Friday, 21/02/20, we celebrated through language and food, with parents who have English as a second language. We were pleased to have families from Bulgaria, Poland, Ghana and South Africa. Mrs. Walsh also shared some Irish with us.
Congratulations to our Excellence Award Winners
P.4-P.7
AR Word Millionnaires
Congratulations to our four word millionaires from P.7 who proudly display their certificates. Fantastic reading! I wonder who will be next...
Congratulations Jacob who read four books in a day!
Our Excellence Award Winners for November
Well done top all of our pupils who achieved Excellence awards in November.
P.6Celebration Day in Air-tastic
On Tuesday 17th December P.6 had the chance to relax and have lots of fun with their Shared Education friends from St. Ronan's. After a busy term working together in each others' schools and online via Google Classroom they celebrated the endow their programme with a brilliant day in Air-tastic.
See P.6 page for more photos and short video clips.
Grotto Prize Winners
Congratulations to Noah and Mrs Mateer who won prizes in the recent draws at the Christmas Grotto, organised by Our Parents' Group.
FREE Microsoft Office
Parents please note that Microsoft Office is free to all pupils and staff just incase any new devices or laptops are received as presents this year!
See below or click to enlarge OFFICE
P.3 Nativity
Congratulations to our P.3 pupils who retold the Nativity story through acting, drama and dance in their play; 'It's a Midwife Crisis.' Their performance helped to remind us all about the real meaning of Christmas. Well done boys and girls - you were amazing!
Christmas Chemistry at Newbridge
Our P.7s recently enjoyed some festive fun at Newbridge Integrated College. They were invited to participate in some Chemistry lessons with a festive theme. Many thanks to Newbridge for hosting us.
The Gift of Christmas Concert
On Sunday 8th December some of our choir members had the privilege of singing at an amazing concert held in St. Therese's Church. This concert celebrated Christmas music and featured Malachi Cush, Liam Lawton and Karl McGuckin as well as choirs from Warrenpoint and Newbridge College. Our choir sang alongside Newbridge College choir and a fabulous evening was enjoyed by all.
We were so excited to welcome Santa to Bridge at our annual Christmas Grotto event on Friday 6th December. He clearly heard all about the very good children we have in our school and thankfully they are all on the nice list!
It was great to welcome many of our families and friends and see them enjoying the variety of events on offer. The children certainly had lots of fun playing the games on offer, dancing at the disco and chilling out with a bit of a movie. A huge thank you to all our amazing P.7 helpers who ran the games and were super elves! Thanks to our Parents' Group who organised all the refreshments and Fred Elliott's who kindly donated some delicious mince pies and short bread. As always it takes a team to ensure these events run smoothly and we are proud that Team Bridge: staff, pupils and parents worked together to ensure this event was a huge success.
We Have Our First... AR Word Millionaire!
Congratulations to Grace from P.7R, who is Bridge's first word millionaire in Accelerated Reading. Well Done!
Keep reading everyone P.5-P.7 - who will be our second millionaire?
St. Ronan's and Bridge Welcome Erasmus Visitors
We were delighted to welcome teachers from Italy, Poland, Turkey and Spain as part of our Shared Education partnership with St. Ronan's. Our bi-lingual Spanish and Polish pupils loved giving the visiting teachers a guided tour of our school.
P.5 Roots of Empathy Programme
Celebrating Anti-Bullying Week 2019
Classes were busy throughout the week raising awareness about what bullying is and learning about how we can all be better friends.
New Book Buddies have been appointed
Bridge IPS Book buddies held they first meeting on Thursday 7th November to plan the ways they will promote reading in our school. One of the first jobs will be reviewing the new Diary of a Wimpy Kid book available in the school library soon!
Shoebox Appeal
We are overwhelmed by the generosity of our parents and pupils who very kindly donated over 100 shoeboxes for this Christmas appeal. These boxes will hopefully bring a lot of joy to children in need over the festive period. Thanks to all of the pupils, parents and staff who supported this very worthy cause.
Halloween Dress up Fun
An amazing array of costumes were on display throughout the school to celebrate the end of term and raise much needed funds for our parents' Group.
Thank-you pupils for embracing it and parents for helping your children with their amazing costumes and make-up!
Congratulations P.1TM
P.1TM enjoyed some sweet treats on the last day of term 1A thanks to the generosity of our Parents' Group. P.1TM raised the most money during the recent sponsored silence event - an amazing sum of £420. A well deserved reward for their fantastic fundraising efforts. Thank you to our Parents Group for this very kind gesture and of course to all the parents and grandparents who helped pupils raise this money.
Swimmers Represent Bridge in Swim Ulster Schools Championships
Congratulations to these four super swimmers who represented our school in the Swim Ulster Regional Minor Schools Championship in Bangor on Saturday 12th October 2019. They all performed really well and achieved personal bests in their chosen strokes. Three of them have qualified to represent Bridge in the stage in the Irish Minor School Championship in Dublin on the 9th February 2020.
Shared Education...Planning the Year Ahead
Shared planning with our colleagues from St Ronan's. Planning the year ahead for our whole school communities - pupils, parents and staff.
P.5 Learn Ways to Relax
First Shared Education activity for primary 5 - Relax Kids. #togeher we can achieve more.
Congratulations to these three pianists who received distinctions in their recent piano exams