100% Attendance
Well done to the following children from P.4-P.7 who achieved 100% attendance this year:
back row: Rio P.7YS, Ethan P.6Y, Adam P.6Y, A,my, P.6Y and Sarah P.7R
middle row:Conor P.5R, Emilie, P.5D, Matthew P.5R, Patrick P.6T & Lee P.6T
front row: Ethan P.4W, Jack P.4W, Caitlin P.4W & Oliver P.4BS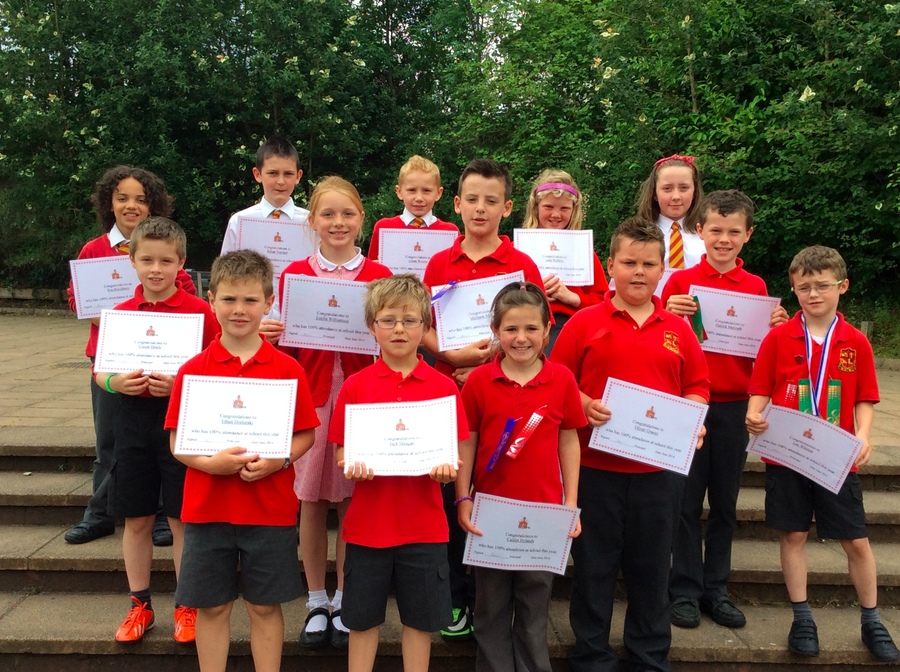 A new addition to the Jennett family
Lewis proudly show off his new baby sister Liela, who is only just four weeks old when she visited Bridge Primary for the first time in June 2014. Congratulations to the whole family!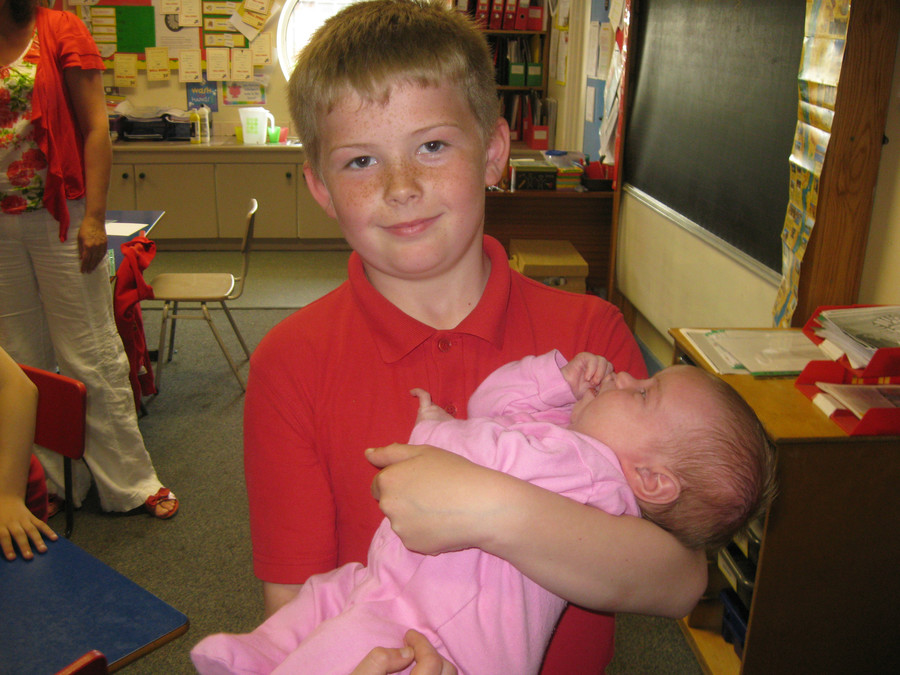 P.6 Taster Day at Newbridge College
On Thursday 19th June P.6 pupils enjoyed a fun filled morning sampling master classes in Newbridge College. After a very warm welcome from Mrs Harbinson, P.6 pupils were shown a round the school by Year 10 escorts and they got to sample what it is like to go to 'big' school for the morning! Children enjoyed master classes in drama, art, Science, ICT and Home Economics.
See some photos below of the creative puppets pupils made in art, drama freeze frames and blasting rockets into the air.
A huge thank-you to all the staff from Newbridge and our wonderful Year 10 guides.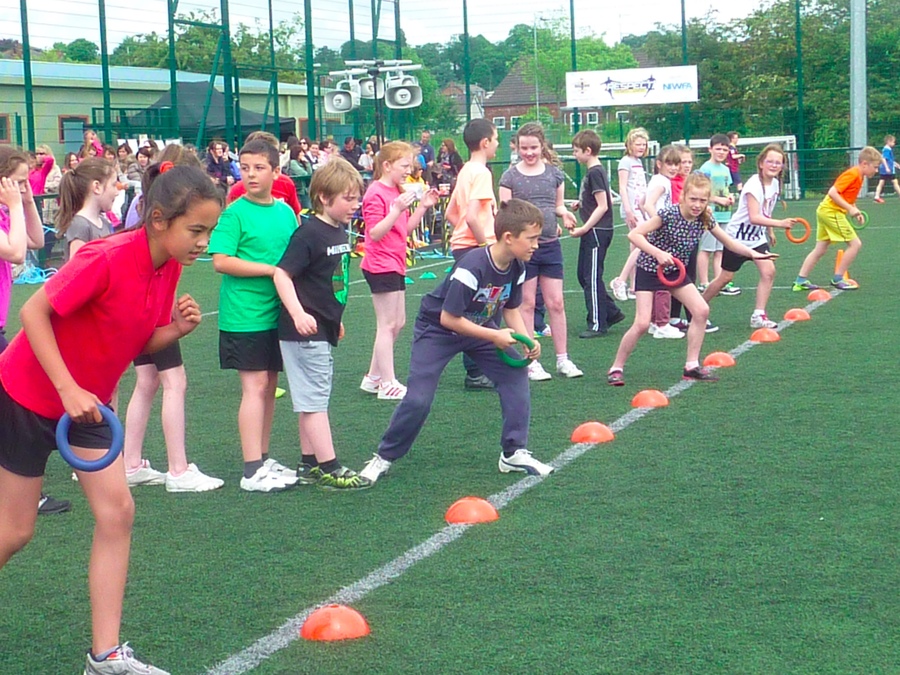 Some P.4 Children Celebrate their Holy Communion
On Saturday 7th June some Catholic children in P.4 celebrated their First Holy Communion. It was a beautiful service and all of the children enjoyed sharing their special day with family and friends. Well done boys and girls!
On Monday they got to share their beautiful cake with everyone in P.4. Yummy!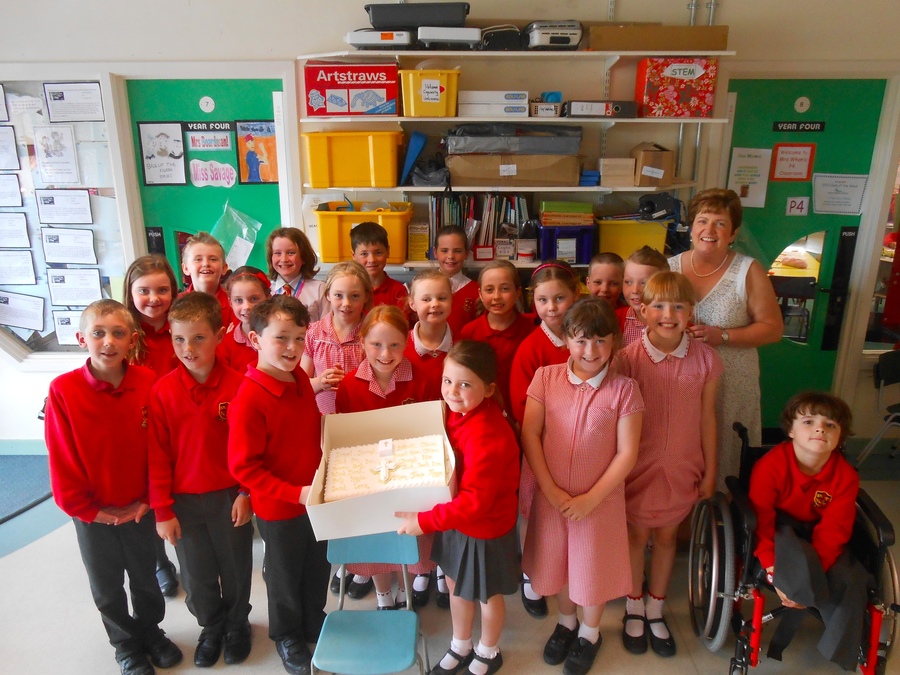 EVO's World Cup Football Day
On the 5th June two teams of boys from P.5-P.7 participated in a soccer tournament between local schools, organised by EVO's Soccer. Both teams represented our school well, demonstrated good teamwork and had lots of fun!
Well done boys!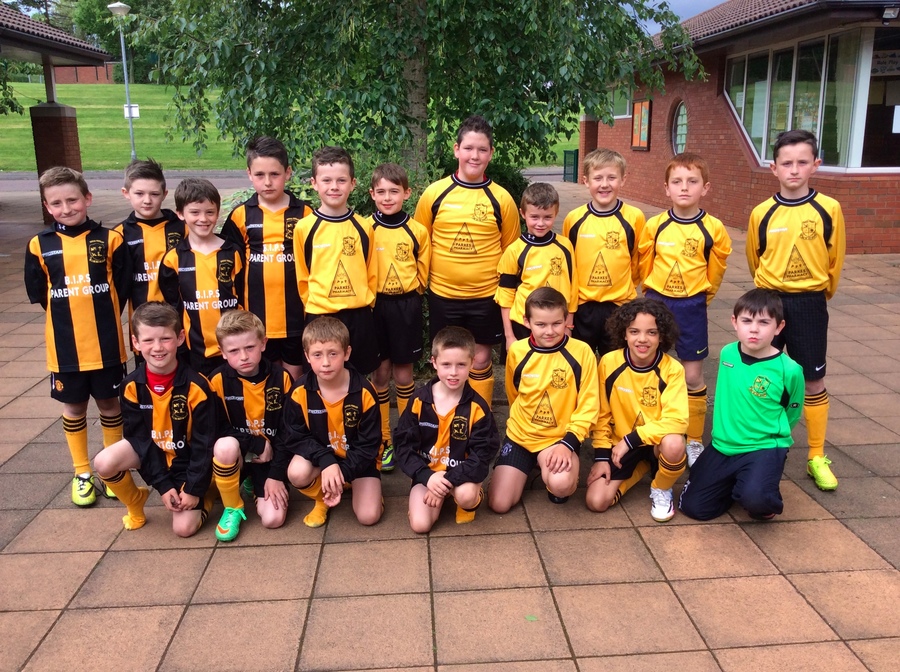 Walk to School Week 2014
Walk to School week commenced on Monday 19th May. This event is promoted within the school every year and is seen as an opportunity to promote road safety and a healthy way to travel school. Many of our pupils and parents walked to school and local PSNI officers from Banbridge reminded pupils how they can keep themselves safe.
More photos will follow.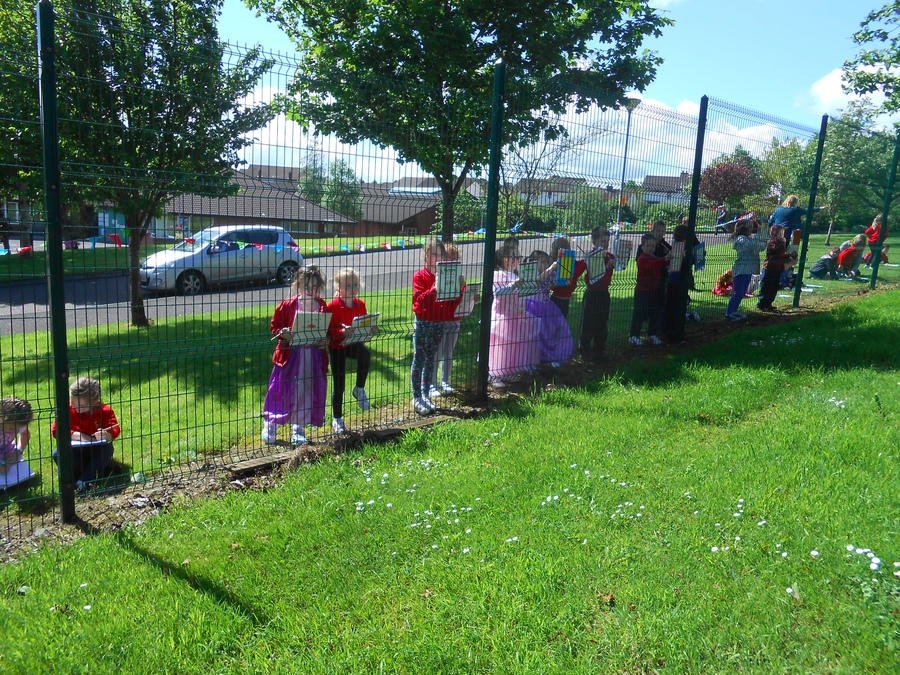 A new addition to the Winton family
Blake and Paige proudly show off their new baby brother Travis, who is only just two days old when he visited Bridge Primary for the first time on Friday 16th May 2014. Congratulations Mr & Mrs Winton!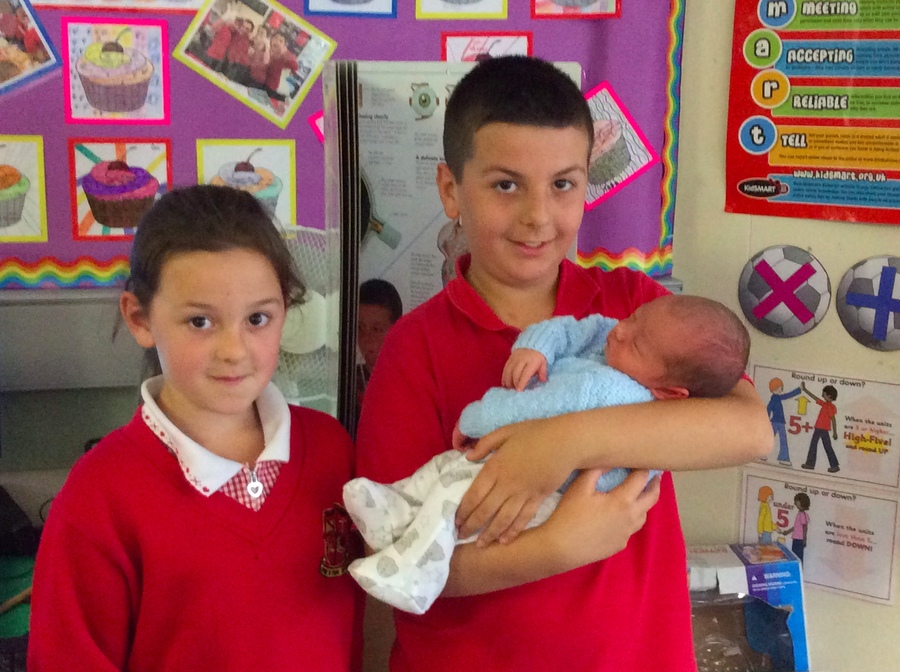 P.2W Assembly: Lifecycles
On Thursday 8th May, P.2W enjoyed sharing their many talents in their recent assembly. Click here to see some more photos. Lifecycles
Put Yourself in Their Shoes
On Thursday 27th March P.5R enjoyed performing their assembly to classes in P.4-P.7 and their parents. Their assembly had a strong yet simple message about friendship and was thoroughly enjoyed by all. Children in P.5R acted out the story of the Good Samaritan, performed a super cool rap, acted out a playground scene to reinforce the importance of looking out for each other and had everyone humming along to 'You've Got a Friend in Me…"
click here to see some more photos: Friendship
The Big Bin Theory
W5 led an entertaining workshop for Key stage 2 pupils on Wednesday 25th March 2014 to educate pupils in the importance of recycling. Ever thought 'What should we put in which bin?' well your children should now be able to tell you!
Representatives from W5 put children's knowledge to the test in a variety of entertaining games and interactive activities. Charlie to tried to outsmart Daniel, who was the 'Big Black Bin Demon' whilst Jody and Ryan where models for so fine newspaper clothes!
Click here to see some photos: The Big Bin Theory
Make the swop to Fairtrade
In their recent assembly P.6T to the opportunity to encourage pupils, staff and parents to look out for the Fairtrade logo to help support farmers in poorer countries.
Click here to see some photos: Fairtrade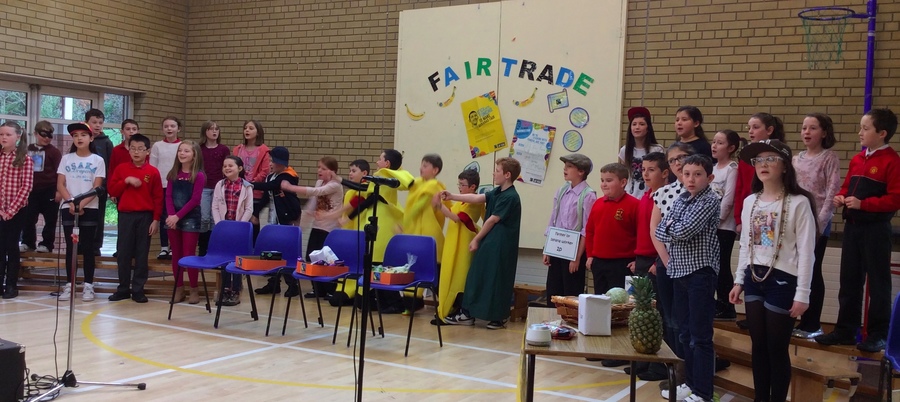 P.4B/S Celebrate St.Patrick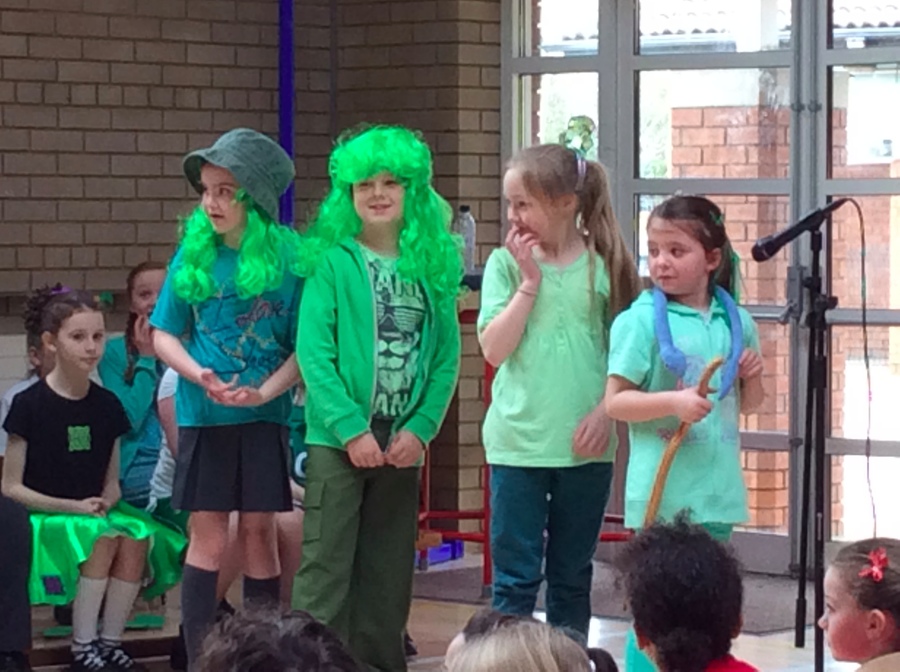 P.4BS celebrated the life and times of St. Patrick in their recent assembly. Pupils dressed all in green and retold the story of St.Patrick in real style. Parents and pupils from P.4-P.7 were thoroughly entertained and amazed by the talents of all the children in P.4BS. The 17th March was also a special day for Patrick, in this class, who also celebrates his birthday.
Click here to see some more photos: St. Patrick
Love is...
P.2SW taught us all abut what love means to them in their recent assembly.
Click here to see some photos: LOVE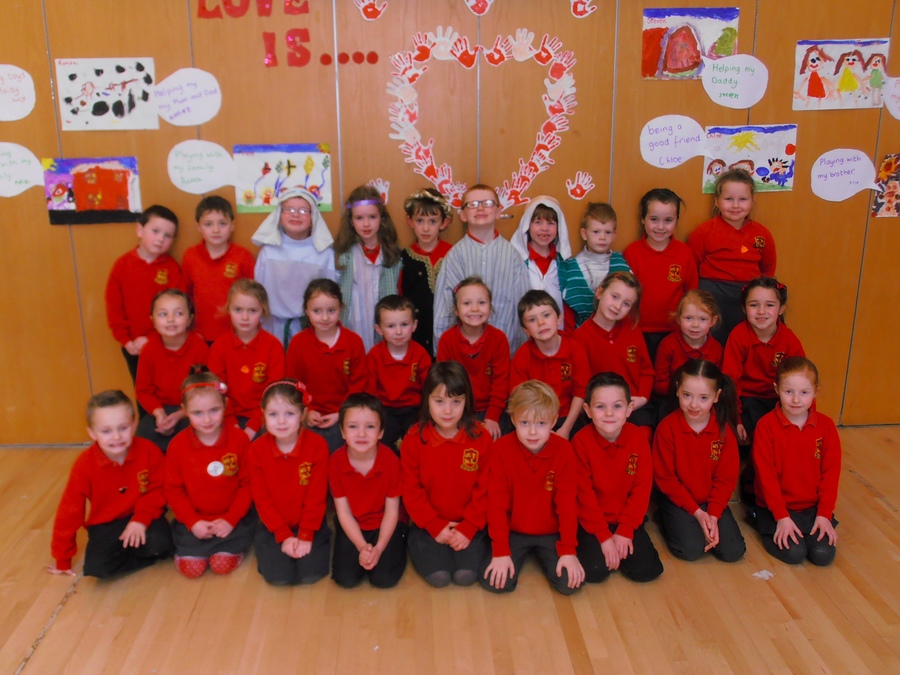 Championship Success for Banbridge Gymnasts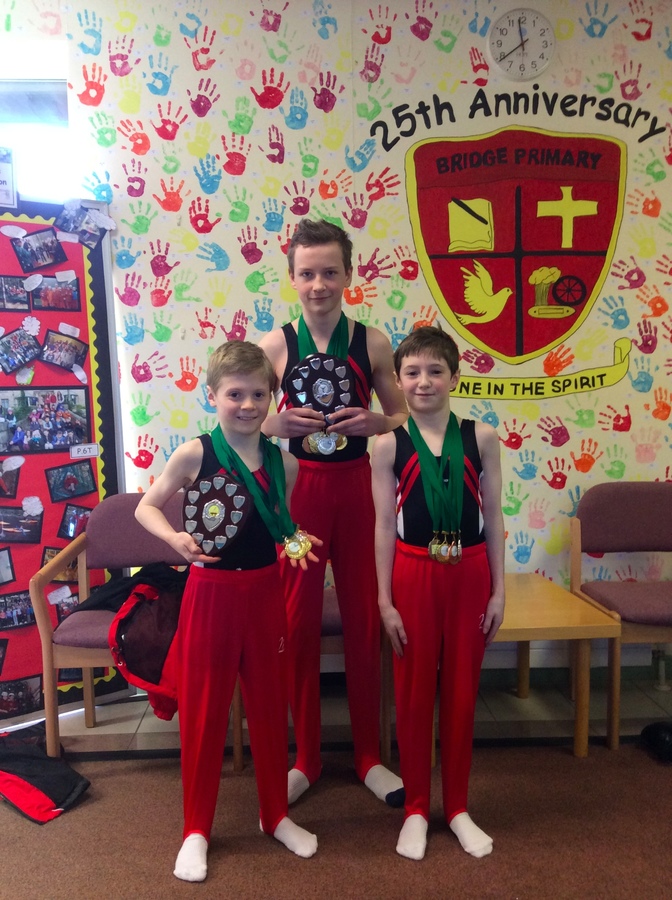 Salto National Gymnastics Centre in Lisburn hosted the Northern Ireland Men's Artistic Gymnastics Championships on Sunday 23rd February. Local gymnasts Matthew Devlin aged 13, Nathan Carroll aged 11 and Matthew Carroll aged 9 all achieved huge success at the competition.
New-Bridge Integrated College pupil Matthew Devlin was crowned the Under 14 All Around Northern Ireland Champion, additionally taking gold in four individual pieces – floor, parallel bars, horizontal bar and rings – and silver in pommel horse and vault.
Matthew Carroll took the Under 10 All Around Northern Ireland title with individual medals in vault, high bar, pommel horse and floor and his brother Nathan Carroll won the silver medal position All Around in the Under 12 Category with individual gold on floor, silver on pommel horse and bronze on vault. Matthew and Nathan are both pupils at Bridge Integrated Primary School.
All the boys train at Salto Gymnastics Club in Lisburn for between 14 - 24 hours per week. Their training in the sport started at 'Head To Toe' Gymnastics Club in Banbridge which is run by Heather Ardis every Saturday in Bridge Integrated Primary School.
Dress Up for Digits Day 2013
Pupils and teachers at Bridge Integrated Primary School make it count for children by signing up for the NSPCC'S Number Day
On 28th/29th November, pupils and teachers celebrated the NSPCC's Number Day 2013.
The whole school got involved in activities such as 'Dress Up For Digits Day' where pupils came to school wearing an item of clothing with a number on it!
The children also brought a range of coins; 1p, 2p, 5p… to work with in Money activities.
Click here to see photos: Dress Up for Digits Day
Banbridge Speech and Drama Festival
In November many pupils from P.1-P.7 took part in the Speech and Drama festival held in the Belmont Hotel. Mrs Tranmer is really proud of all the children who participated. Well done to you all!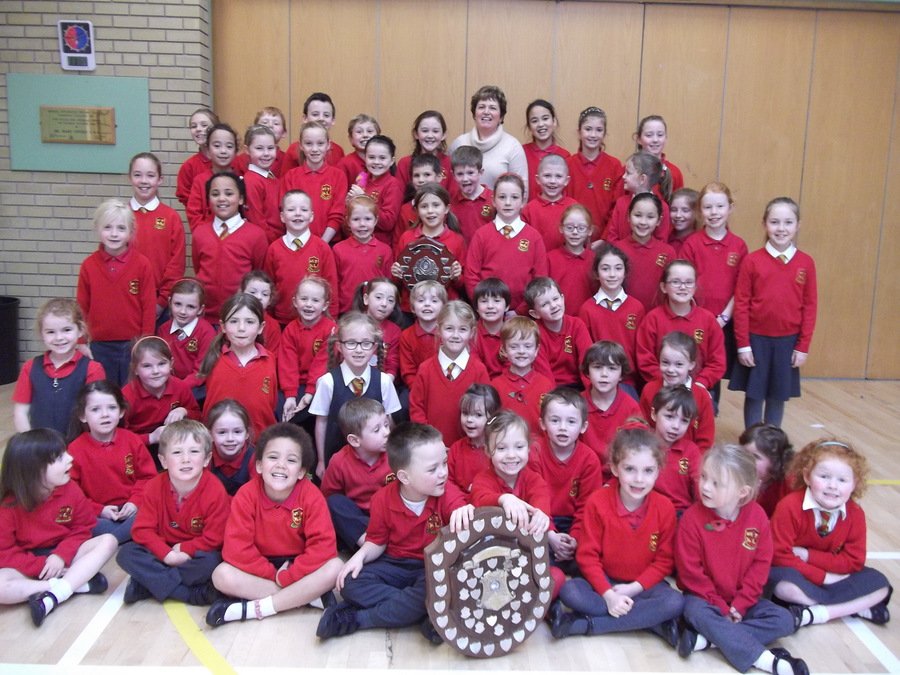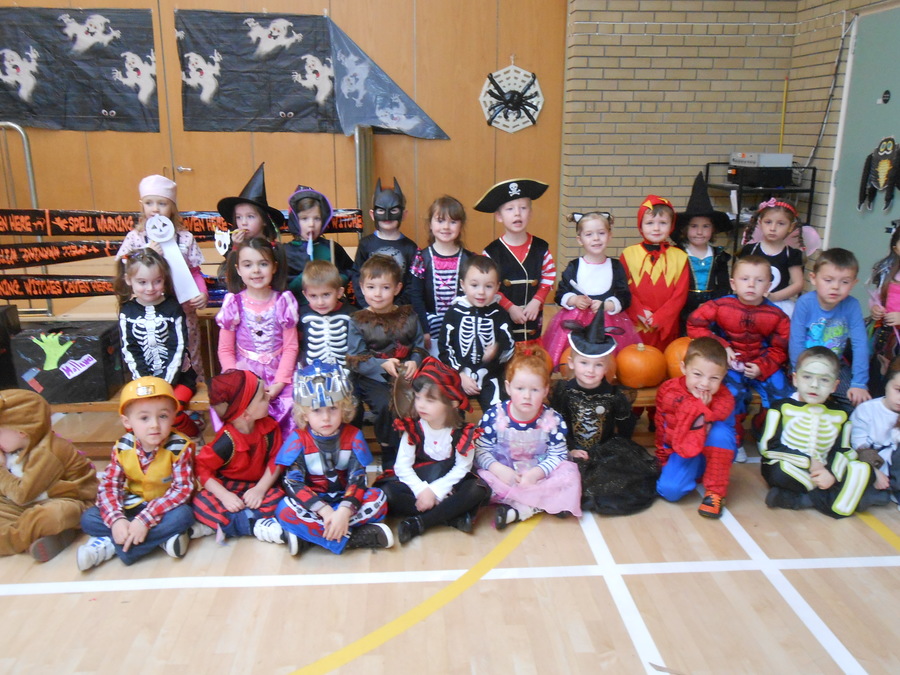 Friday the 25th October saw some 'frightening' pupils enter the school for the last day of term. Dressed in some fabulous costumes with spooky make-up, many children, with help from their parents made the last day of term a 'spook-tacular' day! The dedicated parents from B.I.P.S ensured the children in Key stage 1 had lots of fun Halloween activities to try and Key Stage 2 enjoyed the school disco on Thursday night with some 'haunting' music.
Click here to see some amazing photos: Halloween
Summer Maths Challenge Winner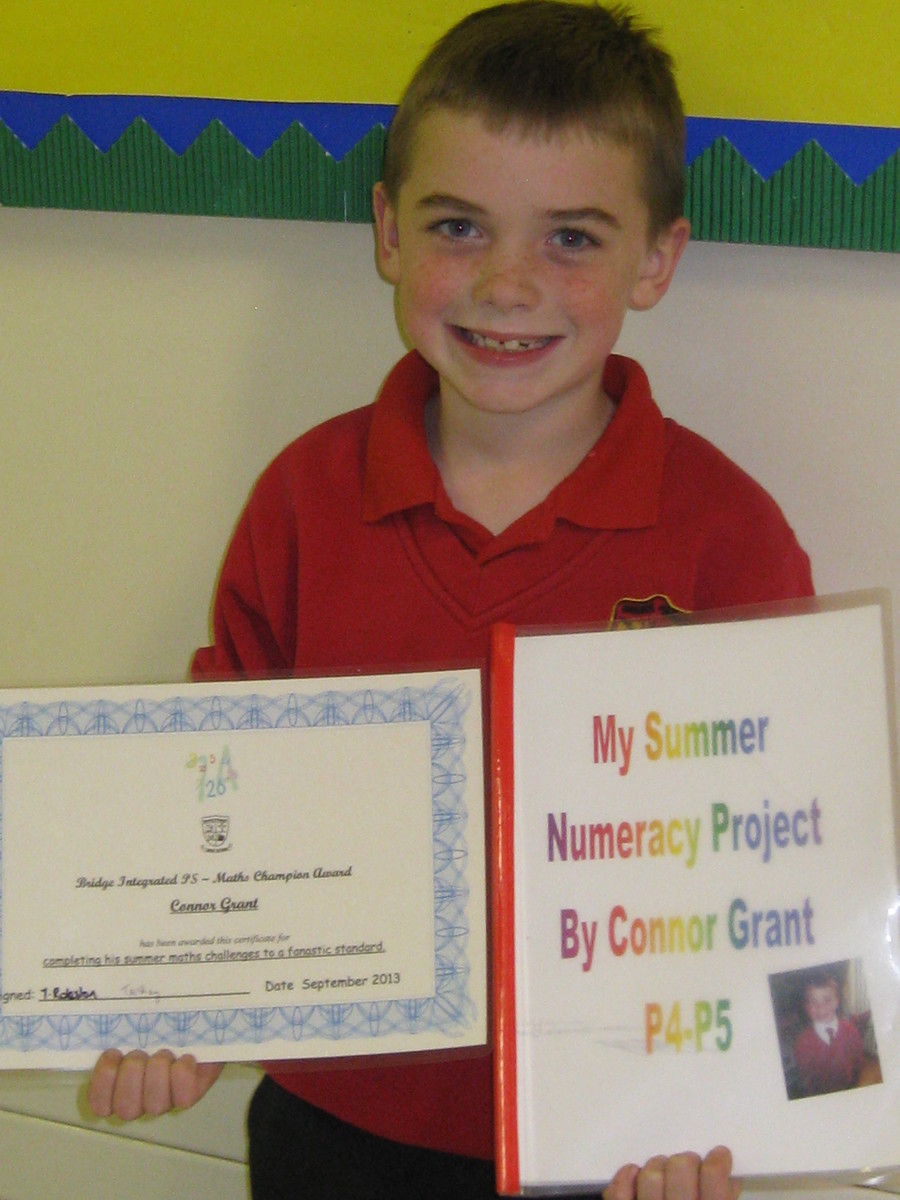 Tennis Demonstration
Pupils enjoy a fun demonstration of indoor tennis to encourage pupils to participate in tennis club after school on Thursdays in term 1.
Click here to see a few more photos. Tennis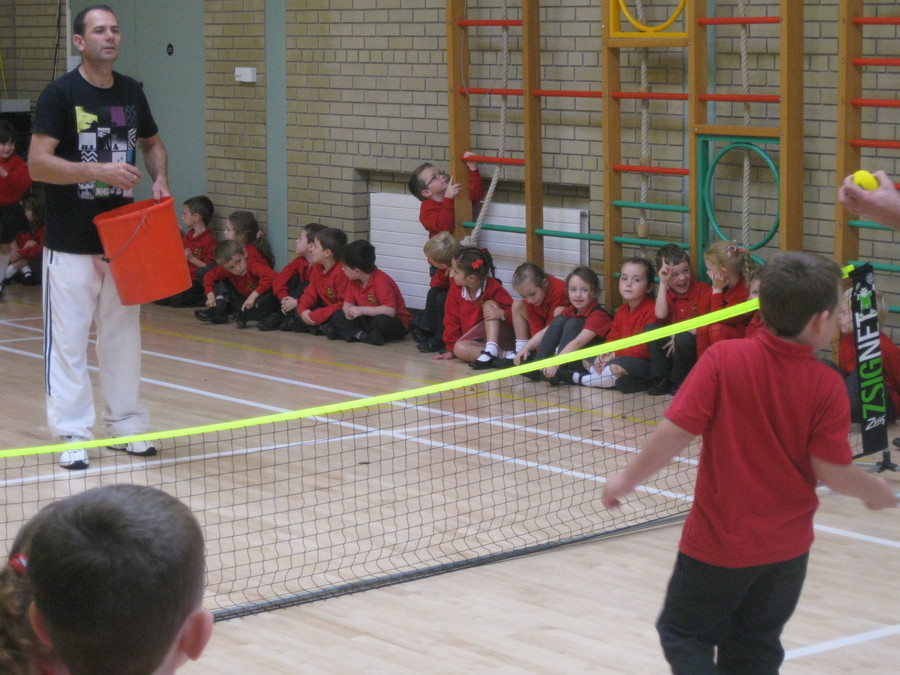 European Language Day
Miss Savage brought a little bit of 'France' to most of the classes during European Language Day.
Click on the link below to see more photographs.