Leavers Awards 2018
Click Leavers to see some more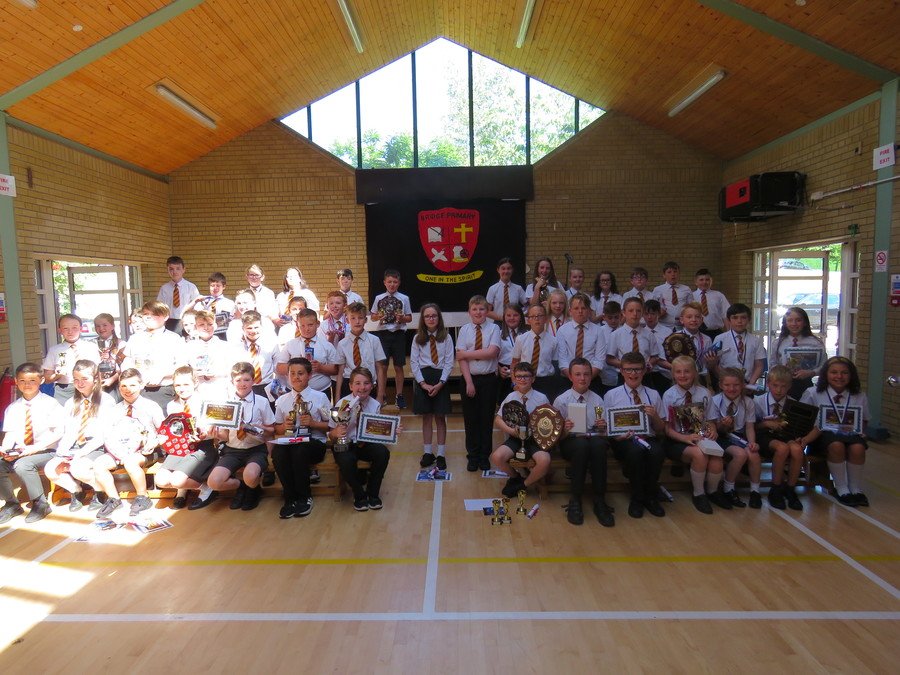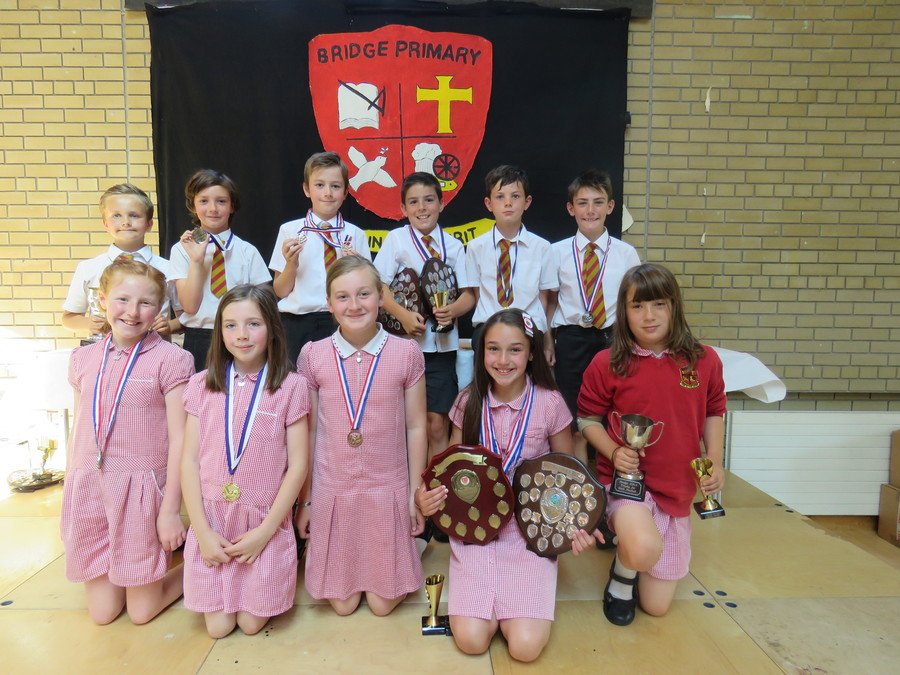 P.4 Trip to Streamvale Farm
For their end of year trip P.4 went to Streamvale farm, where they were able to get hands on with the animals. They were able to feed some animals and had a great day out together.
P.6 Taster Day at Newbridge
P.6 enjoyed a taste of what secondary school is like during their recent visit to Newbridge College on Monday 18th June. We were warmly welcomed by Mrs Harbinson become going off to try out a range of master classes in Art, Science, Technology, Music, Drama, H.E and I.T.
A number of Newbridge pupils, some of whom were past pupils of ours, were our guides for the day and their excellent manners and help throughout our time there was greatly appreciated.
A huge thank you to Mrs Anderson, Mrs Harbinson, staff and pupils from Newbridge for your very warm welcome. We thoroughly enjoyed our morning in your school.
Holy Communion Celebration 2018
Congratulations to all of the P.4 Catholic children who made their first holy Communion on Saturday 9th June. You all looked beautiful/handsome and did a great job doing your various roles e.g. reading out in the church, carry gifts...
A huge thank-you to Mrs Walsh for preparing the children for their sacrament and to Mrs McKay, Mrs Wilson, Therese Walsh and Nicola from St. Ronan's for helping with the choir and music. Thank you to all of our committed choir members for your beautiful singing which contributed much to our celebration.
Celebrating 30 years of Bridge IPS, 25 Years of Euro Disney...
...gave us 55 good reasons and more to take our Primary 7s off to Paris for their annual school trip. The experience proved to exceed all our expectations and pupils and staff alike enjoyed 4 fun-filled days. Euro Disney parks catered for all tastes from the thrill seekers who enjoyed multiple rides on Thunder Mountain, Rock n Roller coaster to name but a few to those who enjoyed the more sedate but equally enjoyable rides. Firework displays, the Disney parade, Buffalo Bill's Wild West Show were just some of the other delights Disney had to offer. Off course a trip to Paris would not be complete without catching sight of the Eiffel Tower and we did this in style whilst enjoying a river cruise on the Seine followed by a picnic in front of this famous landmark.
The staff could not have been more proud of the 53 pupils who travelled to Paris, for their good manners, excellent behaviour and wonderful company - friendships were strengthened, memories were made and much fun was had along the way. To see more photos visit the Primary 7 Class page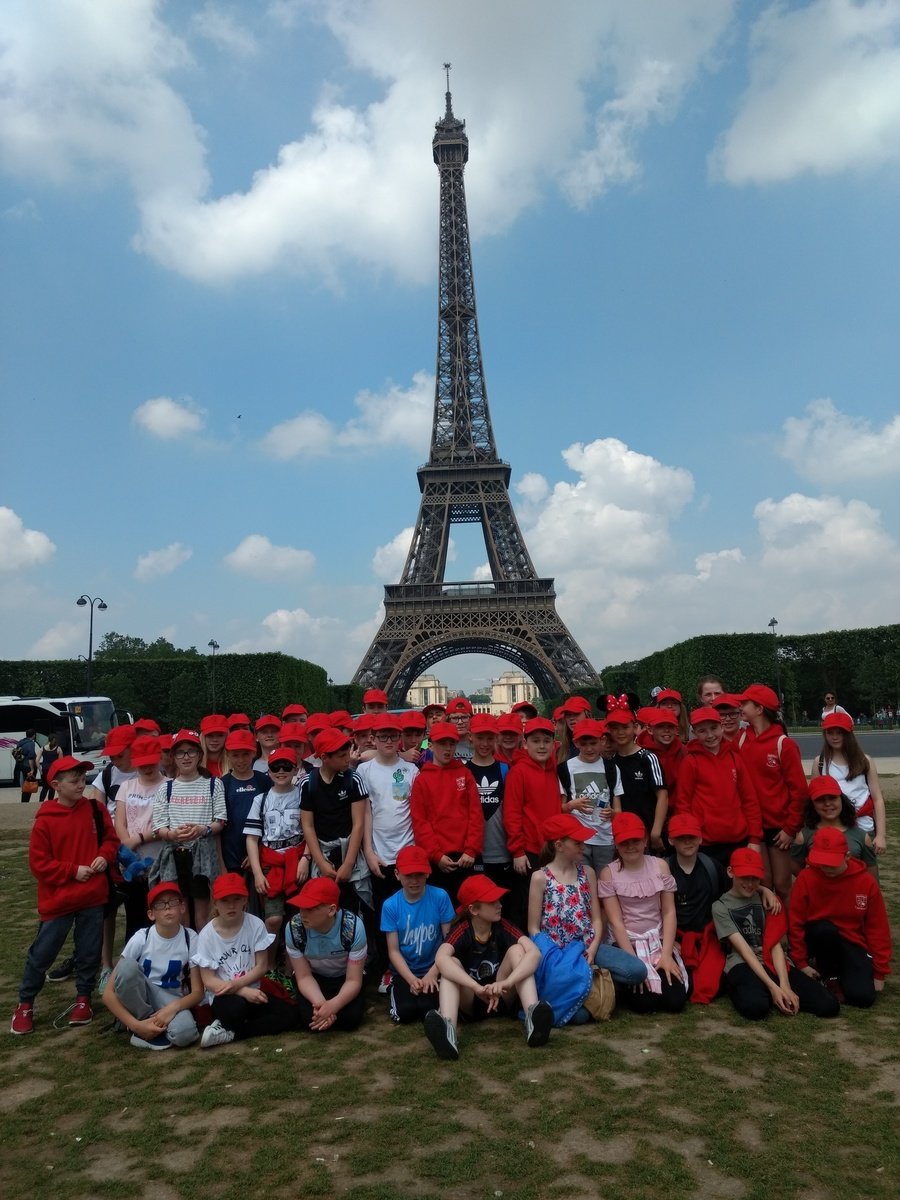 OUTDOOR LEARNING DAY 2018
What a beautiful sunny day it was on Thursday 17th May for us all to celebrate outdoor learning day. Click on the link below to see more photos and see what we got up to.
Anti-Bullying Ambassador Training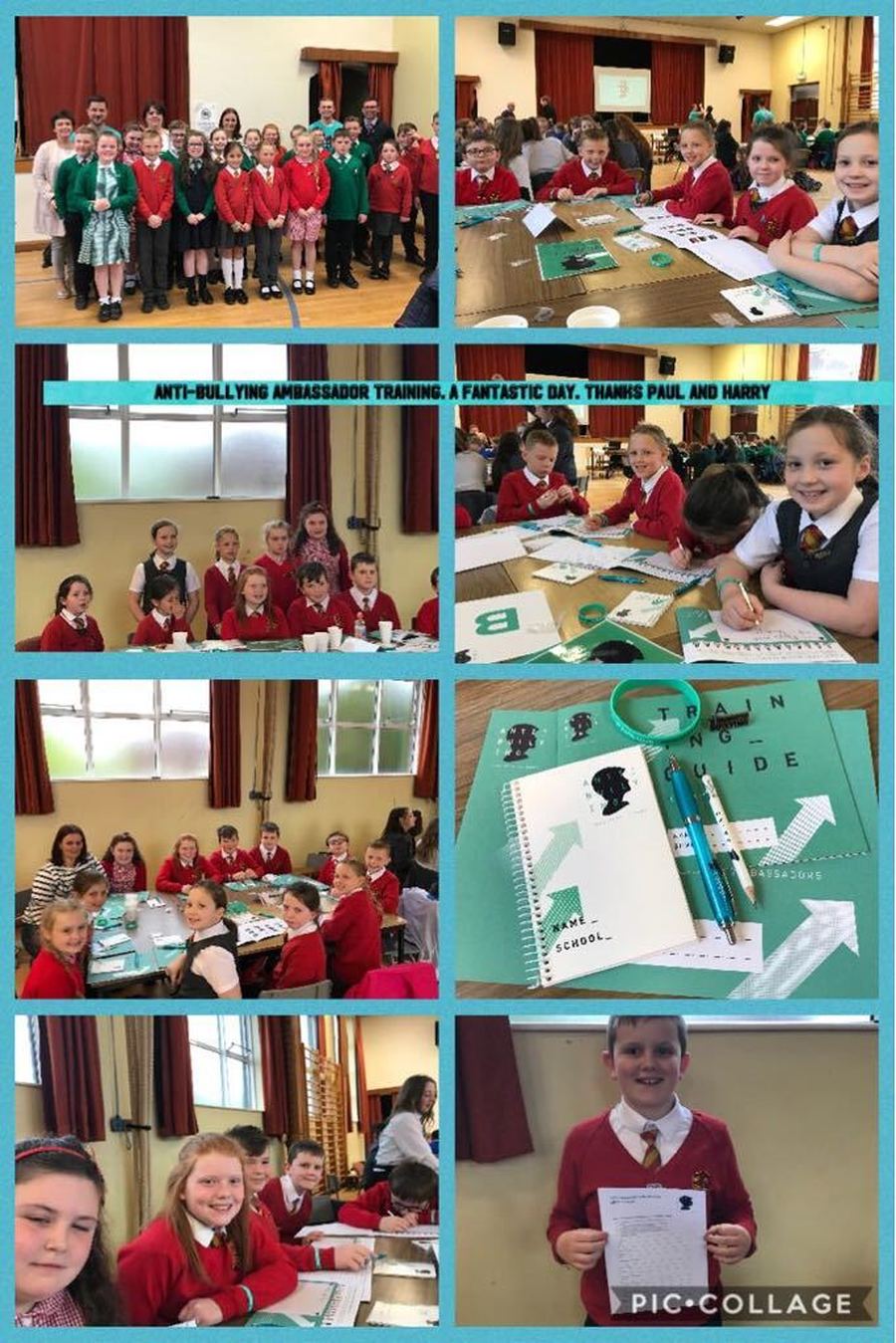 Our Anti-Bullying ambassador team had the privilege of participating in training at Newry High School along with other primary and secondary schools. This training explored bullying, the impact of it and what we can all do to help. Our team had to vote a new leader starting from September when our current leader Caleb moves on. Frankie was voted as the new leader by his peers. The anti-bullying team have some great ideas. Mrs Maher and Mrs Roleston are really looking forward to continuing to work alongside and develop the role of the anti-bullying ambassadors within our school. Next year as part of our shared education programme we plan to work with the newly formed anti-bullying ambassador team from St Ronan's who also received their training.
Last EVO Soccer Tournament of the Year
On Thursday 10th May EVO held their final tournament for local schools. Bridge had both and A team and B team representing our school and we are so proud of all of their excellent teamwork and effort.
The A team played exceptionally well. They won two matches, drew two matches and in the final they drew with Abercorn. Congratulations to St. Mary's Primary who were overall winners.
The B team have made real progress from the start of the year. They played really well and ended up winning the Champions League Cup within their group.
Well done to all of the boys involved and thank you to all of the parents who supported the teams throughout. A huge thank you has to go to Paul Evans and all his coaches for ensuring all local schools had this. Amazing opportunity to proudly represent their schools.
Girls' Football Team Wins EVO Soccer Tournament
A huge congratulations to our girls' football team who participated in EVO Soccer Football tournament on Thursday 26th April. The girls showed real determination, skill and excellent teamwork on the pitch. They successfully crowned World Cup winners and had a blast throughout the day. Thank-you to Paul and all the amazing coaches from EVO Soccer for ensuring the girls from all the schools involved had lots of fun and have memories to treasure.
Confirmation 2018
Congratulations to all the Catholic children in P.7 who made their Confirmation on Sunday 22nd April. We really hope that you and your families had a very special day.
A big thank-you to everyone who was involved in preparing for the children for this celebration, the choir for their beautiful singing and all of the assistance in serving tea and refreshments afterwards. We were privileged to have Bishop Boyce and Father McMahon join us in School afterwards for refreshments.
Spring Concert 2018
On Thursday 12th April Bridge held its first ever Spring Concert as part of this year's 30th anniversary celebrations. What a very special night this was with such talent on display. We would like to thank everyone who was part of making this evening such a memorable evening.
It was wonderful to see such smiling happy faces in our choir and guitar/ drumming groups. Team Bridge... working together...what a night...special memories to treasure!
Our Parents' Group recently organised a very successful bag pack at Tesco. We would like to thank all of the P.7 pupils, parents and staff who helped out at this event. As always your support is really appreciated and on the day over £920 was raised! This money will contribute to the new higher stage which we have purchased to enhance all of our school performances.
P.1 Shared Education with St. Ronan's in W5
P.1 had a fantastic day in W5 on the 26th March with their new friends from St. Ronan's. they had lots of fun exploring, playing together and making new friends.
P.4S, P.6T & P.7R Shared Education March 2018:
Using Minecraft to create flags of some of the Commonwealth countries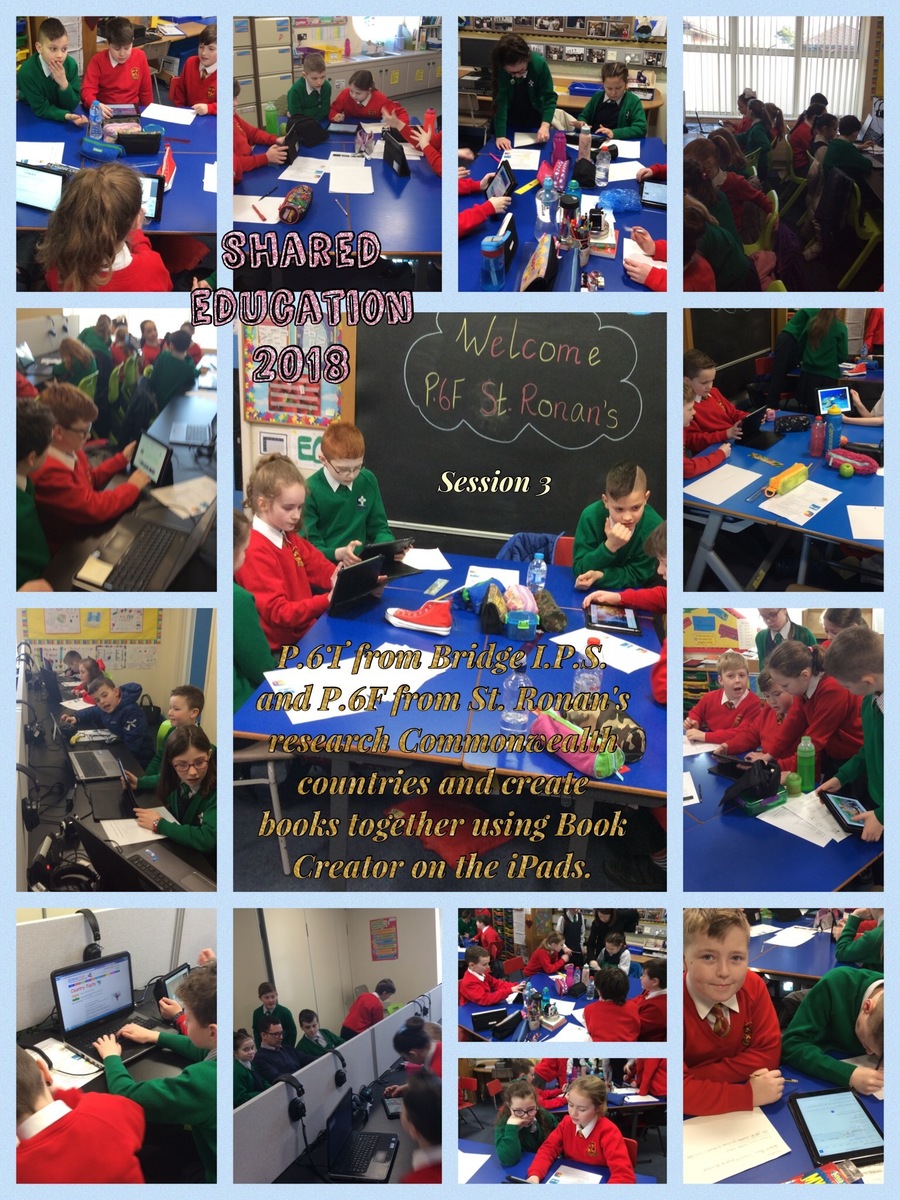 Shared Education Project with St. Ronan's
This year we have been lucky enough to secure funding to participate in a Shared Education Project with St. Ronan's, Newry. This term three classes P.4S, P.6T and P.7R are involved and we have chosen the theme of the Commonwealth Games to work on together.
So far these classes have enjoyed a fun filled ice breaker day to help the children get to know each other better. P.4 enjoyed making slime and exploring W5, whilst P.6T and P.7R decided to embark on some outdoor activities in Lurgaboy Adventure Centre. It was lovely to see the staff and pupils get to know each other and develop new found friendships.
On Tuesday 20th February P.4S and P.6T headed to St. Ronan's where we were made to feel very welcome by staff and pupils. P.7R welcomed P.7F from St. Ronan's to our school and we hope that Bridge reciprocated with a warm welcome too. In this first school session pupils worked in groups to research some of the Commonwealth countries. Pupils used iPads and computers to carry out the research, used the Green Screen app to create photos of themselves in a background linked to their chosen country and have started creating group books using Book Creator app. This was a fun busy day and we look forward to meeting up with St. Ronan's again for our next session.
Parents Share Business Experiences With P7 Pupils
Mrs Morrison volunteered to talk to our P7 pupils about what it meant to be an entrepreneur and advised them on how to meet the challenges running your own business can present. In addition 4 local entrepreneurs, some of whom were parents within our school kindly gave of their time to share their experiences and give our pupils some very useful business tips! Our thanks to Maggie Napier, Simone Foster, Michael Young and Michael Ward for inspiring our pupils to dream big! To read more visit Primary 7 page.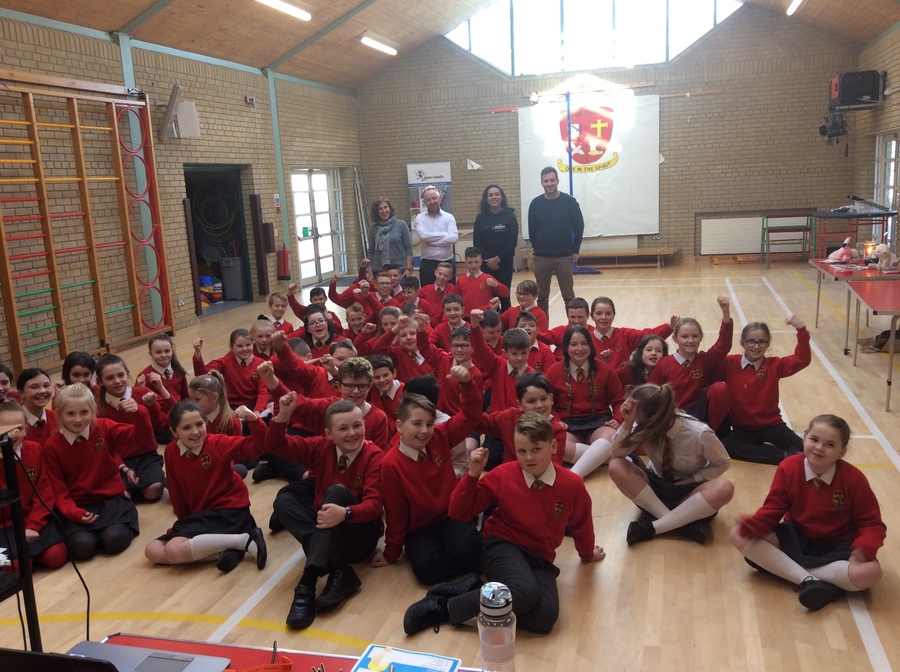 Pupils Attend MS Presentation Lunch
Primary 7 Step Back In Time
Primary 7 pupils returned to school after their Christmas holidays on Monday 8th January 1894!! They were greeted in the playground by two rather strict teachers who quickly established harsh rules for the day ahead. 'Children should be seen and not heard', was just one of their mottos and strict punishments were dealt to anyone who stepped out of line. The Vicar led the children during Morning prayers and carried out inspections throughout the day. Pupils experienced a mix of emotions from feeling petrified to stifling laughter. Whilst they enjoyed sitting in rows they were all certain that they wanted to revert to their normal, happy classroom environment. It was a wonderful day of learning bringing our Victorian topic to a very apt ending.
Defibrillator Training for Staff and Parents Group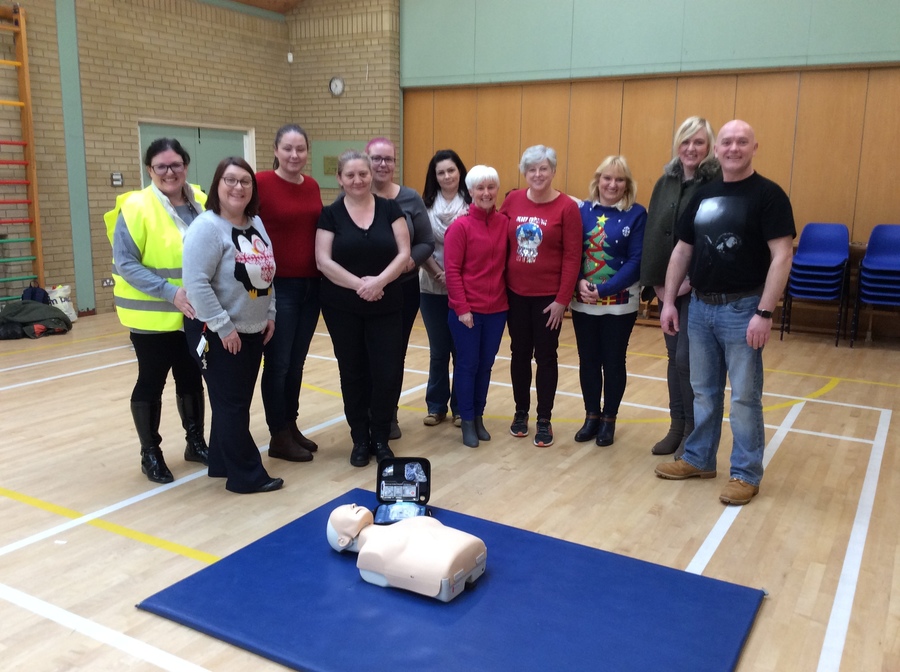 On Tuesday 19 December, some of our parents and staff availed of Defibrillator (AED) training provided by Mr Paul Devlin.
Whilst initially daunted by the prospect of having to use the device, everyone agreed that the training gave them the confidence to proceed as necessary in the event of an emergency.
Many thanks go to Paul for delivering the training, and also for the most generous donation of the AED device.
Gnome Alone
P.1&2 Christmas Production
On Wednesday 13th December the whole school was treated to the dress rehearsal of Gnome Alone, this year's P.1 & 2 Christmas production. The stage was full of colourful characters from gnomes, toys, elves, reindeer, kings, angels and not forgetting Santa!
Click Gnome Alone to see more
The Sleepy Shepherd by P.3
P.3 parents are in for a real treat when they come to see their children perform in The Sleepy Shepherd! The rest of the school got to see the dress rehearsal today, 12/12/17, and we were amazed by the wonderful singing, acting, dancing and musical accompaniment. The P.3 pupils, their teachers and assistants have clearly been working very hard over the last few weeks and they should all feel very proud of their efforts. Well done P.3 we all thought we were fantastic!
Click Sleepy Shepherd to see more
Santa's Grotto 2017
Click Ho, Ho Ho to find see more photos and find out more about all the fun we had at Santa's Grotto o Friday 8th December 2017.
Word Millionaire 3!
Congratulations Jack, who has earned his place in the Accelerated Reader Millionaire's Club! Jack is keen reader in P.6T and having read lots of interesting books he is keen to make recommendations to his friends.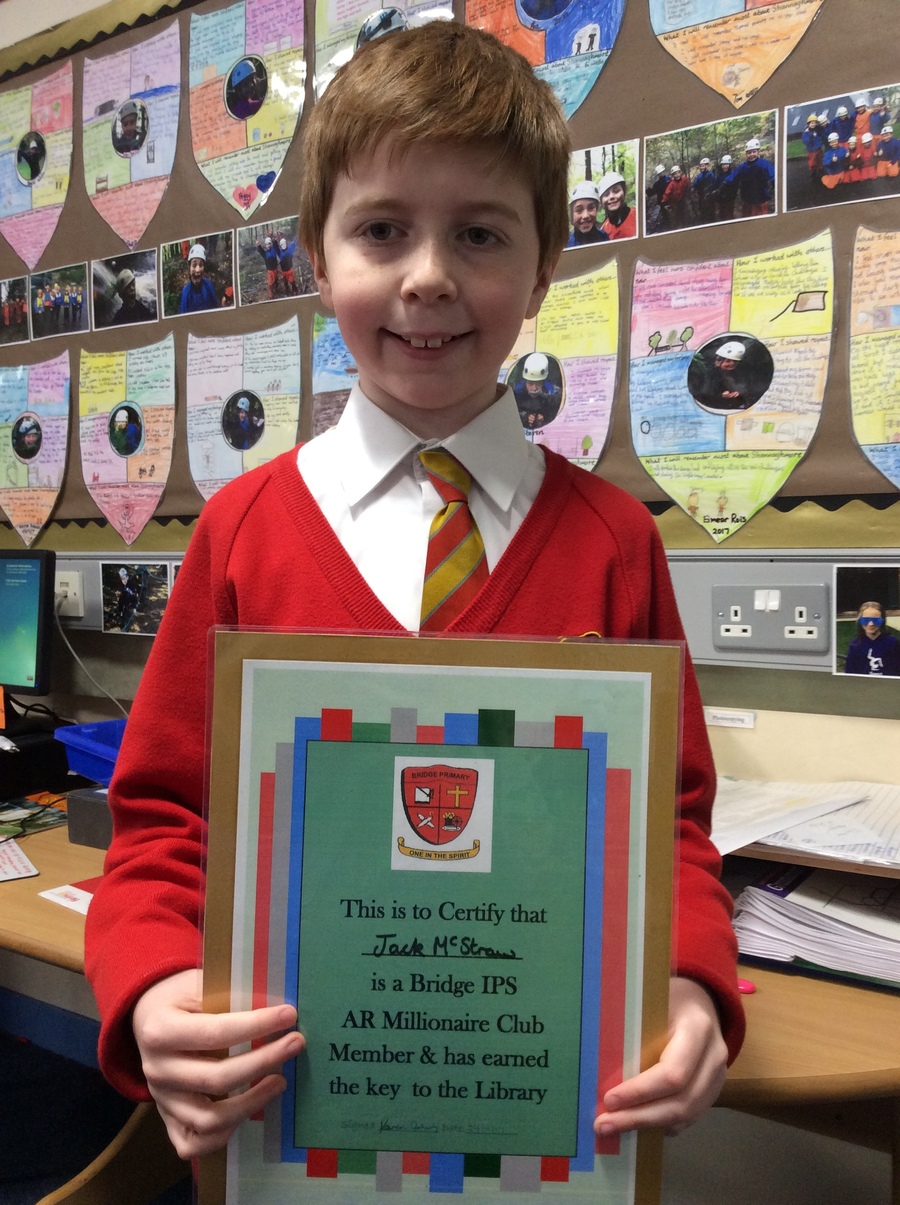 Congratulations Shea
Shea won a £10 voucher for Amazon in the November draw for 100% scores in Accelerated Reader quizes. Well done!
Keep reading to be in for a chance of winning in the November draw!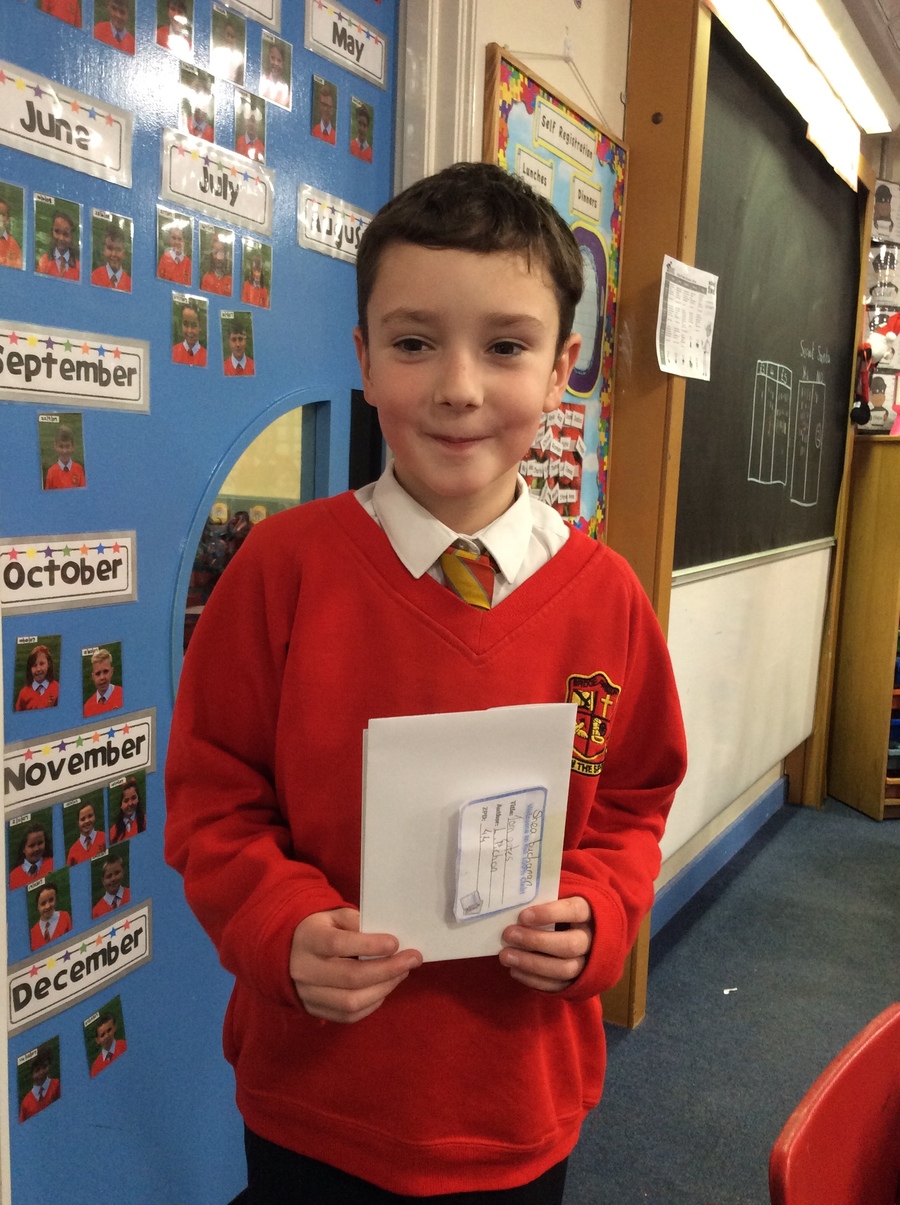 BRIDGE SPORT'S FUND
This fund has been set up in school to facilitate the need for;
New sports' kits
Outdoor sports equipment
Other items that will support and enhance our children's sporting successes in Bridge Integrated Primary School.
Donations can range from £50 to £500 and the Family/Sponsor will have their business identified and supported through the school website and posters around the school (Newly updated Sports Board)
Items purchased will be photographed and recorded on Website and Sports Board.
IN/ Supported so far by Business
£300 – The Evans Family (Thomas & Lucas) – SUPERFRY
£300 – The Whitten Family ( Jude) - Savage & Whitten
WHOLESALE
OUT/ Purchased so far
11 gold football tops
A huge thank-you to our two sponsors Superfry and Savage and Whitten Wholesale.
Don't the boys look very smart in their
lovely new football kits.
P7 Pupils Visit Spelga Mews
Our visit to Spelga Mews was fantastic. 15 Primary 7 pupils applied for the opportunity to befriend residents in this care home, many of which are suffering from dementia. We were able to make a mini garden with the older folk. It was a brilliant experience. All of the residents helped us make flowers and lots of crafts. An artist named Jim from Sticky Fingers in Newry said we could do anything with the materials. We had fun making all the crafts and hope to have much more fun, in the next 5 weeks, with all the residents. As Jim said, "The morning was like a big hug for ALL of us":-) . Thank you Spelga Mews - we look forward to next time!
Upcoming School Council Elections
It is almost School Council election time again.
All classes from P4-7 will this year again be involved in the process. Manifestos will be given for homework on week beginning the 20th November 2017. All those interested in becoming a class rep will present to their class and a shortlist will be drawn up. On Wednesday 29th of November Election Day will take place, complete with 'electoral' and 'ballot' cards. Each class will individually vote and results will be shared.
Good luck to all those who embrace the challenge. The new school council will certainly have a hard act to follow!
Photographs of our Election Day will follow and our new School Council members will be revealed.
Celebrating Global Learning in Bridge
On Friday 10th November Mrs Davis and her ECO Warriors put together a fabulous global learning assembly. N.I. co-ordinator for Global learning was there to visit and was very impressed by the pupils' performance and by the work they children have been involved in throughout the school. Well done Mrs Davis for all of her hard work in co-ordinating global learning lessons throughout the school.
Celebrating Our first Word Millionaires
Huge congratulations to Corin who is our first Word Millionaire in our Accelerated Reading programme. Daniel P.6T was determined to be the first boy and followed soon after. (November 2017)
Both Corin and Daniel have now earned the privilege of going to the library during lunch time on a Tuesday with a guest of their choice. Yes we know they can of course read more books… there will be some treats, use of the iPads or DVDs as well!
Come one boys and girls who will be our next word millionaire?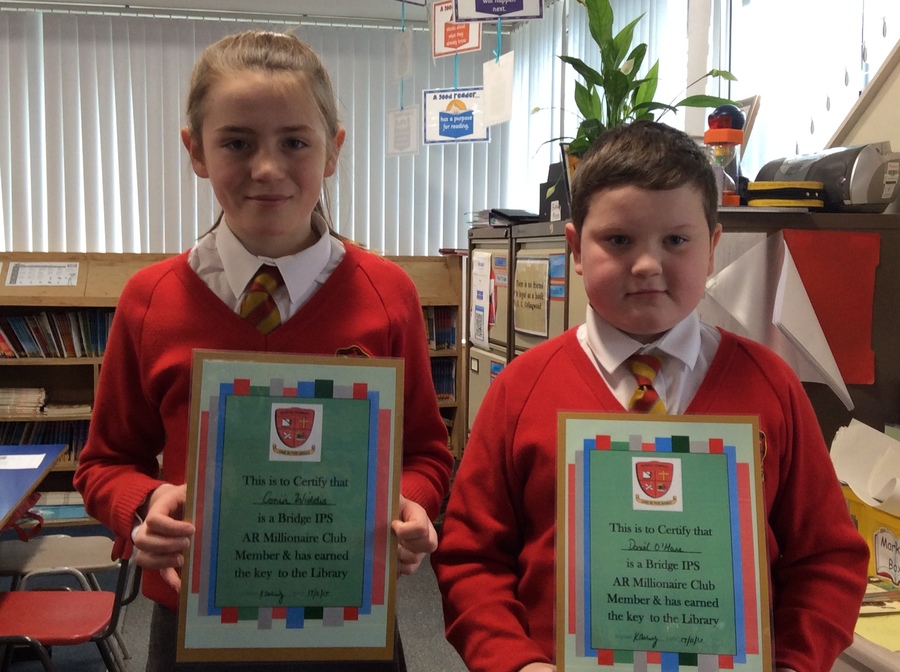 100% Accelerated Reader Draw
Congratulations to Sophia who won a £10 Amazon voucher in the monthly draw for pupils who have achieved 100% in a reading quiz. This draw is much anticipated and there are many pupils who have 10 + 100% passes in hoping for their name to be picked out! Surprisingly, out of the hundreds of entries in September and October Sophia's name has now been pulled out twice!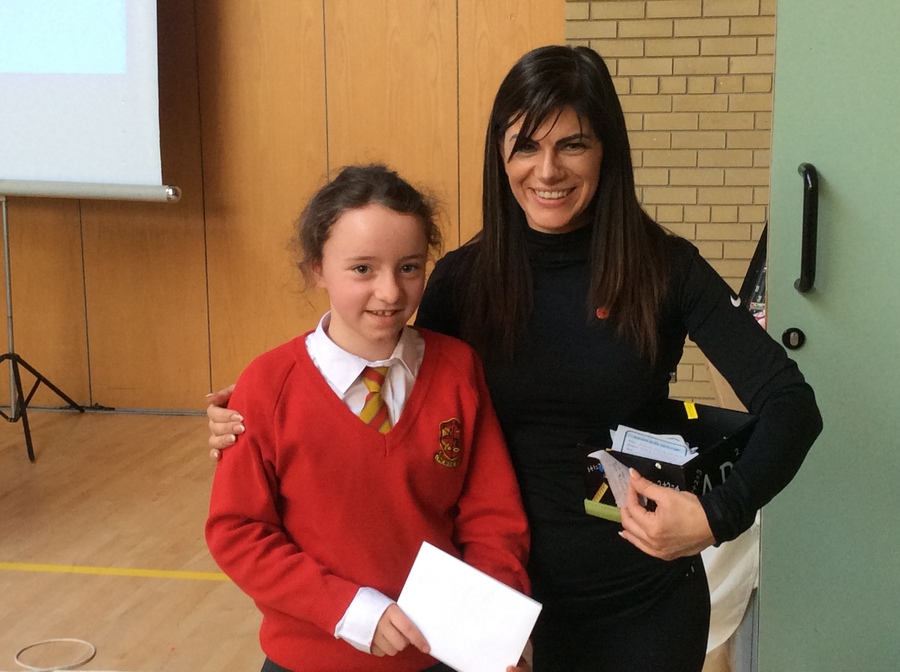 Many thanks to those who kindly donated shoeboxes to our annual Christmas appeal. Our chosen charity this year is Team Hope. This organisation helps vulnerable children in almost twenty countries.
On Thursday 9th November Primary 1 pupils proudly helped to pack away the large amount of shoeboxes collected throughout the school. Carol Harland gratefully accepted all donations on behalf of the charity.
Parents' Group Donate £700 Towards New Playground Equipment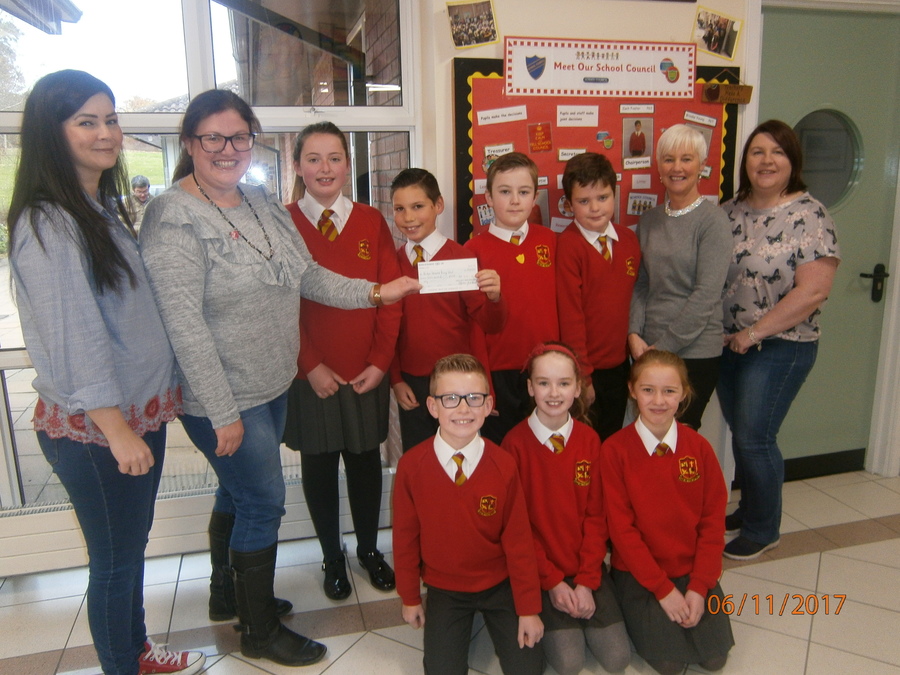 Thank you to our parents group who have kindly made a massive donation of £700 towards the purchase of new playground equipment.
The School Council have worked tirelessly on behalf of all pupils to ensure each playground has adequate playground equipment. Zach P.7R (chairperson) and Brooke P.7YR (vice chairperson) wrote a letter to the parents group, asking for a donation. No doubt every class will be very excited with the possibility of ordering their own equipment. Fun times ahead!
Sharing Resources with Donard School
After the two very successful Hallowe'en events the Parents group decided to kindly donate a variety of resources and games they made to Donard School so that their pupils could also have lots of Hallowe'en fun! They also passed on the balloon witch, kindly donated by Darren Mortiboy (Mr Twister). Here's hoping that this little act of kindness brings enjoyment to all.
In the photo below the co-chairs of our Parents group Lisa McCourt and Ros Thompson present Mr Twister's amazing ballon witch to the principal and vice principal of Donard School.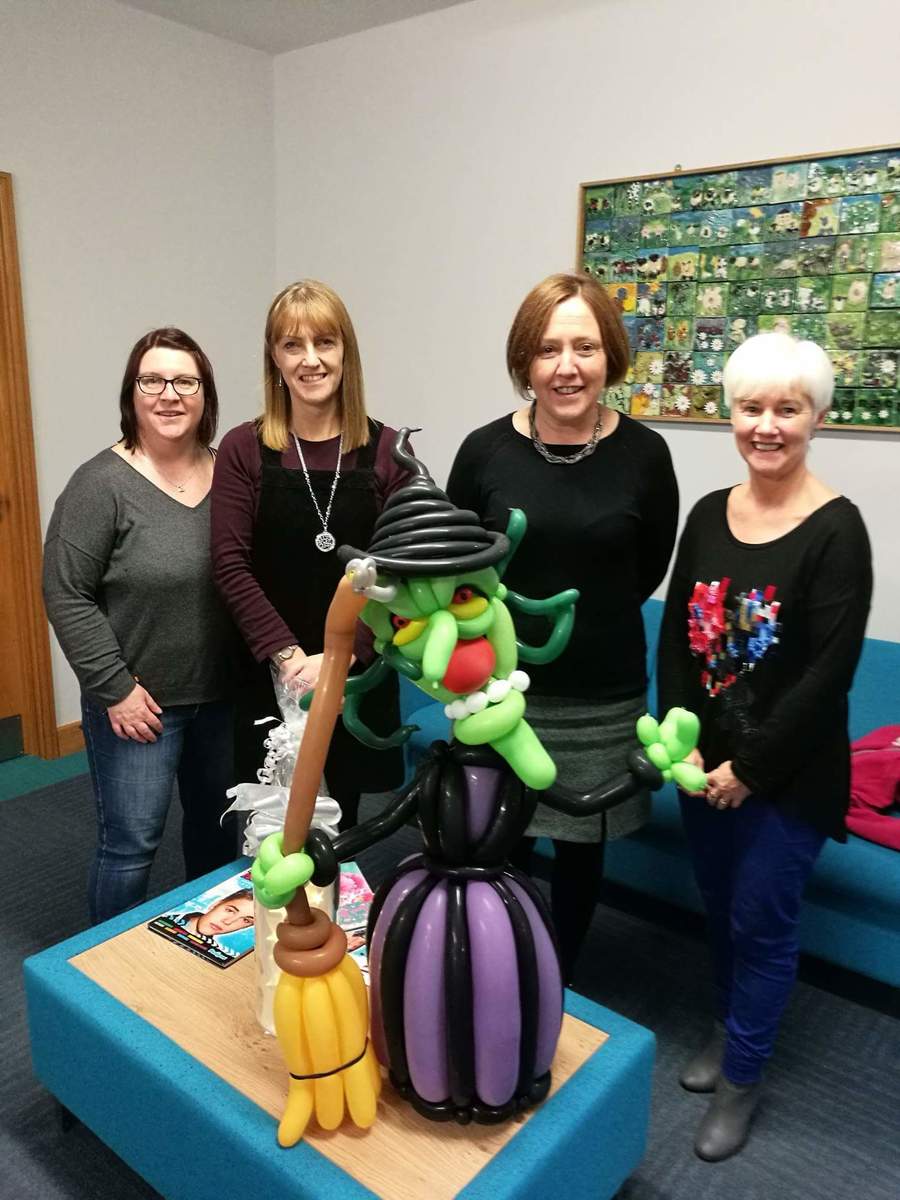 Harvest Celebration
On Thursday 12th October we celebrated our annual Harvest service in school. The theme of our celebration this tear was Trees. P.5 led this celebration with a variety of readings, prayers and poems and they were amazing! Rev. Gray from Bannside Presbyterian and his visiting lay minister from America joined our service. As always Rev. Gray shared his own special message in a very entertaining story about a vine branch.
Many thanks to all of the parents who joined us. It was a very packed hall and the lovely singing throughout really made it feel special.
A few more photos: Harvest
P.2 Enjoyed a Recent Trip to Palace Stables
Defibrillator Received from Heartbeat NI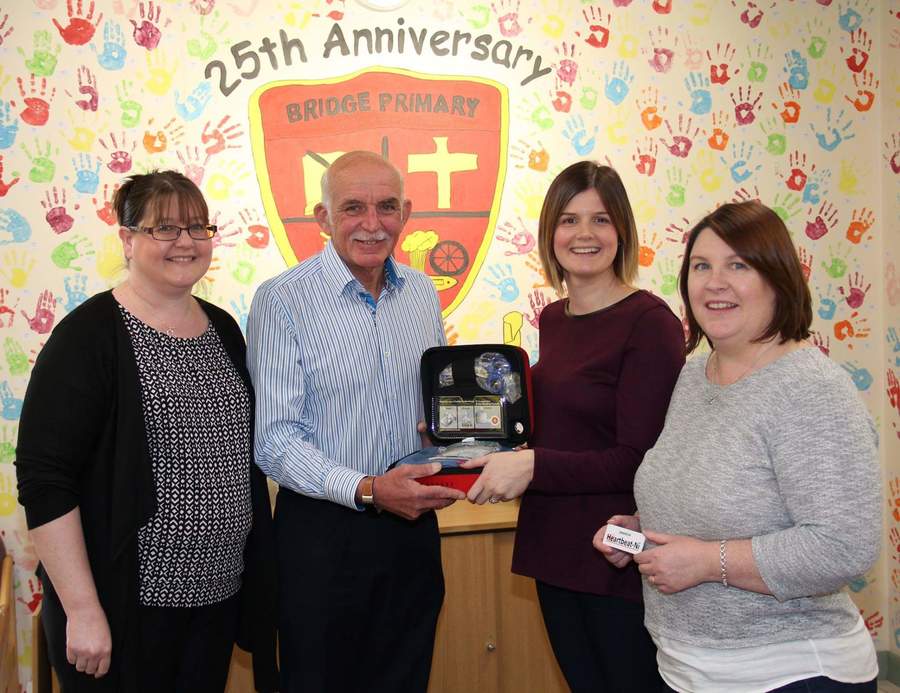 On Friday 6th October Mrs Devlin proudly accepted a defibrillator donated to the school by Heartbeat NI. This lifesaving piece of equipment will be an extremely worthwhile addition to our school but we sincerely hope that we never have to use it.
The defibrillator was handed over to Mrs Devlin, parent Jenny Downey and Lisa McCourt co- chairperson of our school's parent group.
We would like to thank Heartbeat N.I. For this very kind donation.
First EVO League Tournament
There was great excitement today (28th September) when our newly formed A & B Football squads headed off to their first EVO League Tournament for this year. The enthusiasm of the boys was evident as many of the boys were first through the cloakroom doors this morning!
The boys had a fantastic morning, played really well and had lots of fun throughout their matches. Congratulations to the A team who came joint first with St. Mary's in the Primary School League Tournament 1. Both teams won 8 points each! Well done everyone!
Bridge B Team put on a fantastic performance and ended up Europa League Champions.
Well done to all of the boys and a huge thank-you to Paul Evans and all his coaches, to Mrs Whan and many dedicated parents who came along to she their support and of course all the other school teams who ensured today was a great success.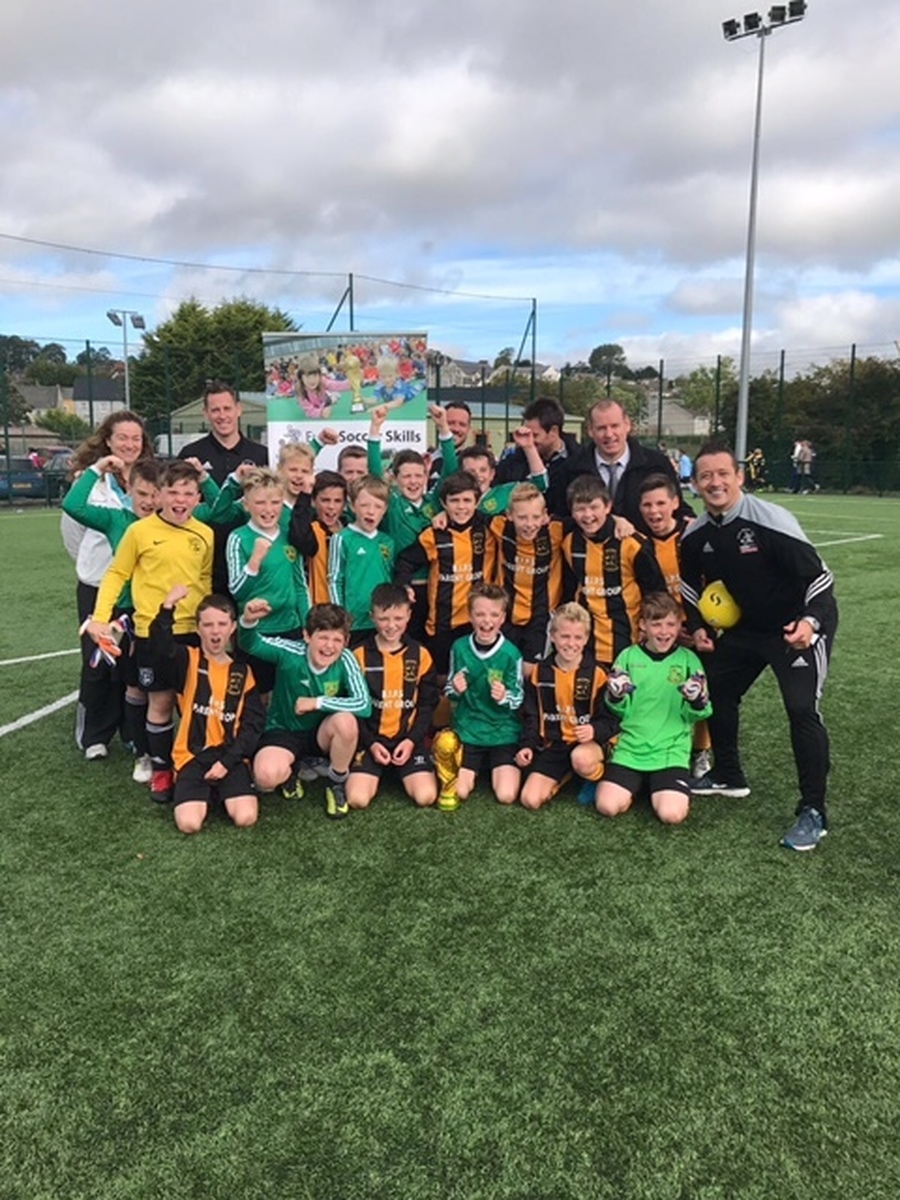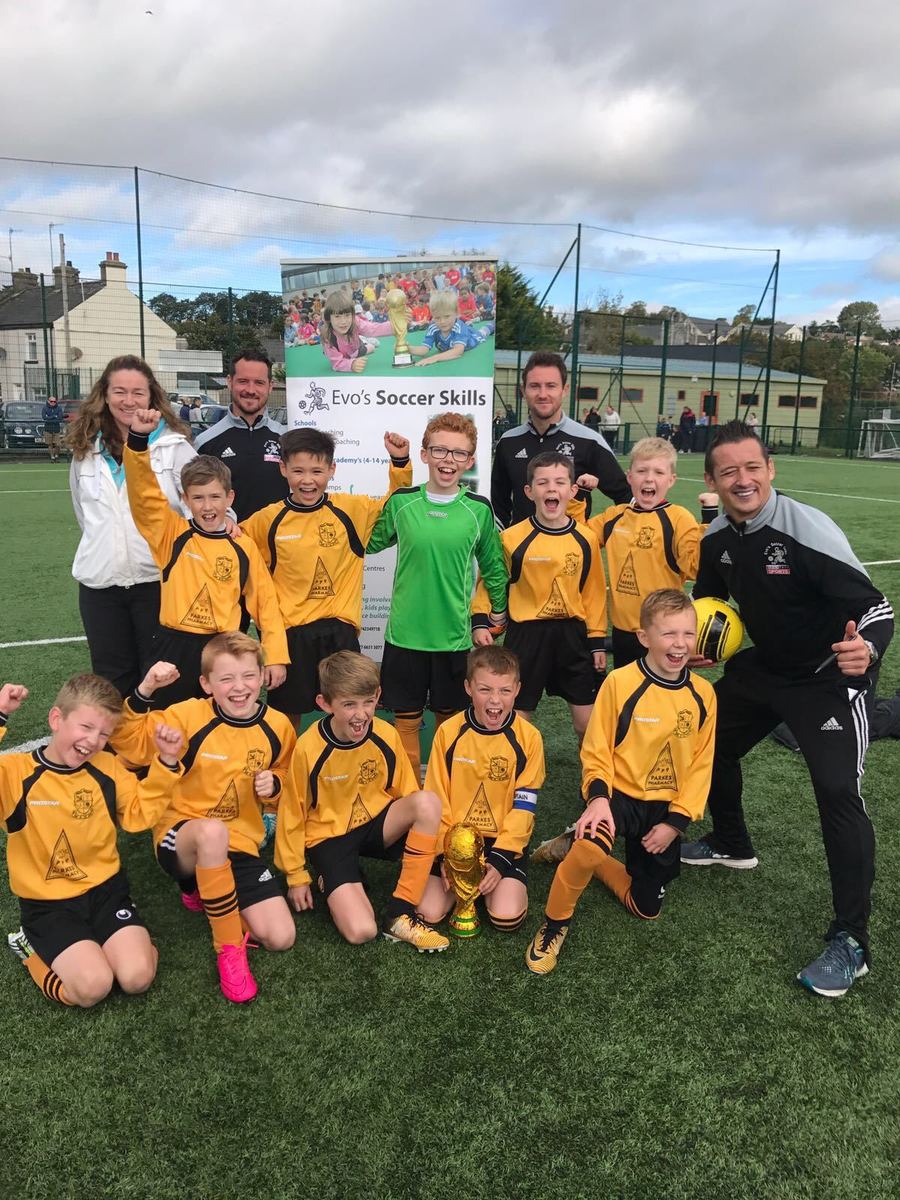 Football Training
On Wednesday 20th September, the two School Football teams were given a pre-tournament training session, thanks to Paul McGerrigan. Unfortunately, the weather meant they had to use indoors!
Great bunch of boys with some amazing talent! Watch this space over the coming months as the teams prepare to take part in Evo Soccer Tournament with other local schools.
Many thanks to Paul Mc Gerrigan for giving up his time to come in and work with the boys.
Football Team Trials
Many thanks to the 59 boys who participated in the 'Bridge Football Talent Search.' The enthusiasm and effort was excellent. Unfortunately, we cannot use every player in the team at this time. (Our younger members will have 1 or 2 more years to progress their skills).
Many Thanks to Megan Whan, Paul Evans, Ryan Evans, Paul McGerrigan and Ken Whan who supported me in the team selection.
Here are some photographs from the mornings activities.
Squad A Squad B
Ethan M. Nazie-James M.
Tom N. Steven D.
Charlie T. Jamie Mc.
Eoin T. Ben W
Jude W. Jake Mc.
Zach F. Carter C.
Matthew M. Thomas E.
Calum M. Kieron F.
Jamie M. Corey H.
Luke Mc. James C.
Reserves
John Mc.
David Mc.
Tiernan P.
P.1 & P.2 Trip to Fort Evergreen
Click FUN to see lots more photos
P.7 Show Joseph
P.7 were super excited and a little nervous to put on their end of year show Joseph. What can new say...WOW! The kids were absolutely amazing and parents and staff throughout the school are so proud of the amazing talent on display! What's more is was lovely to see smiling happy faces on stage enjoying their moments in the limelight.
Click JOSEPH to see more photos and don't forget you can click on the small images to enlarge them.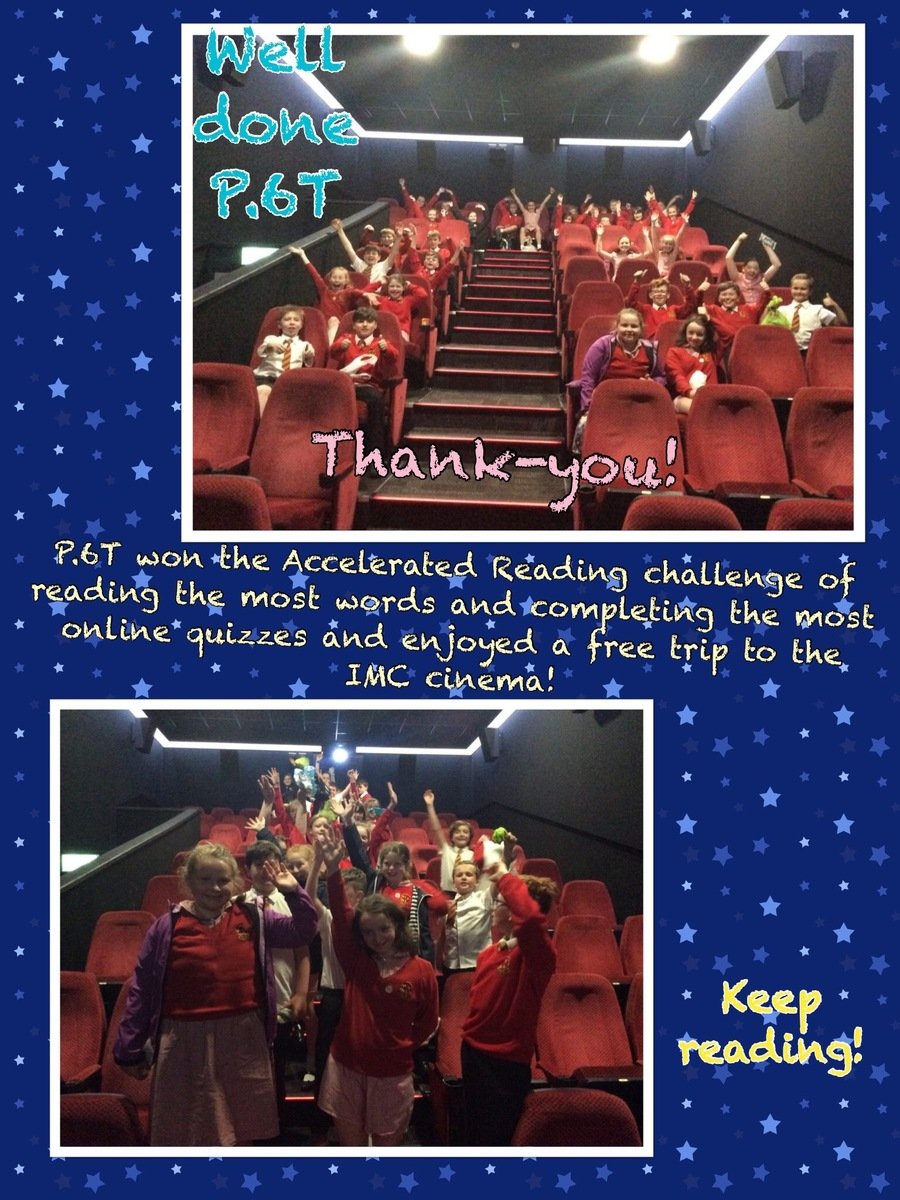 Mrs Doherty's Win Facebook Competition
On Wednesday 23rd May staff from Jumpboxx visited our school to surprise Mrs Doherty and her class. Mrs Doherty entered and won their recent Facebook competition.
P.4S was chosen as the winners because we are celebrating our 30th anniversary year in Bridge. Each pupil in P.4S will receive a two for the price of one voucher for Jumpboxx.
Congratulations P.4S!
A huge thank-you to Jumpboxx for the vouchers and to Mrs Doherty for entering!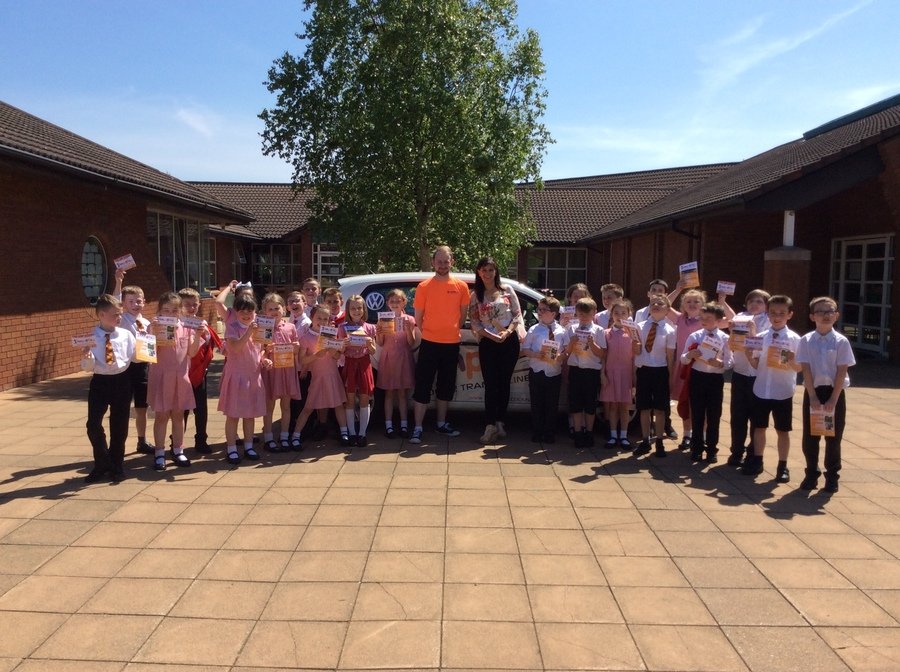 ECO Buddies Brighten up the Gardens in Spelga Mews
On Thursday 17th May Mrs Davis and her ECO buddies visited Spelga Mews. They helped the residents plant some lovely new flowers to brighten up their gardens. David McKay from Tesco came along to help as Tesco donated the money to purchase the plants. Our ECO buddies had lots of fun planting and make new friends with the residents. Such a lovely sunny afternoon - young and older generations enjoying each other's company.
A huge thank-you to Spelga Mews residents and staff fro having us and thanks to David McKay from Tesco for this generous donation and a future one so that we can return and plant some more!
Well done to all of the ECO buddies whose lovely smiles, impeccable manners and good communication skills ensured everyone was again proud to represent our school.
Blackpool U11 Tournament
Massive congratulations to some boys from Bridge who played in the Blackpool Cup Tournament over the bank holiday.
The Lions won the overall tournament and the Panthers were awarded Best Sporting Team of the tournament.
What a massive achievement this is for the boys who represented their town, teams, schools and families so well over the weekend!!
U11 Lions: Luke and Eoin
U 11 Panthers: Tom, Jude, Ethan and Matthew
The Big Pedal 2018
Well done and thank-you to all of the families who made the effort to walk, scoot or pedal to school during this fortnight (23rd April - n4th May 2018). Here are just a few snapshots.
Inter-Generational Choir - Part 2
We had the privilege of having our friends from Spelga Mews visit us at school on Wednesday 25th April to preform with the pupils for Key Stage 2 classes. They also enjoyed a well deserved cup of tea at the end of their super performances.
Inter-Generational Choir - Part 1
Primary 7 choir members were delighted to become part of an inter-generational choir with residents from Spelga Mews. The initiative came from Mrs Maeve Brisk who used her musical talents and vision to create something very special. She chose the Bruno Mars song 'Count On Me' as a modern piece alongside the classic song, 'Singing in the Rain' to unite the voices of both young and old. Many of the children are already good friends with those in Spelga Mews and everyone thoroughly enjoyed singing together. It was good for the heart, soul and mind.
On Friday the 13th April 2018 P.6 held their annual Fairtrade bun sale to promote supporting Fairtrade throughout the school. P.6 and their parents very kindly gave of their time to make lots of delicious buns using at least one Fairtrade ingredient. By doing this we supported small scale farmers in developing countries to help them improve their farms and wider communities. P.6 pupils all had a variety of roles to undertake before, during and after our sale for example; setting up the areas for the sale, displaying the buns on trays, inviting classes out, selling, restocking, photographers, buddies for younger pupils, counting money and bagging up buns for a flash sale at 2pm.
P.6 pupils were amazing and throughly enjoyed and gained a lot from the whole experience. We would like to say a huge thank you to all of the parents, children and staff for supporting this event. We really appreciate your support and think that Friday 13th was a lucky for us as we raised a huge £555.28.
Global Learning Lessons Filmed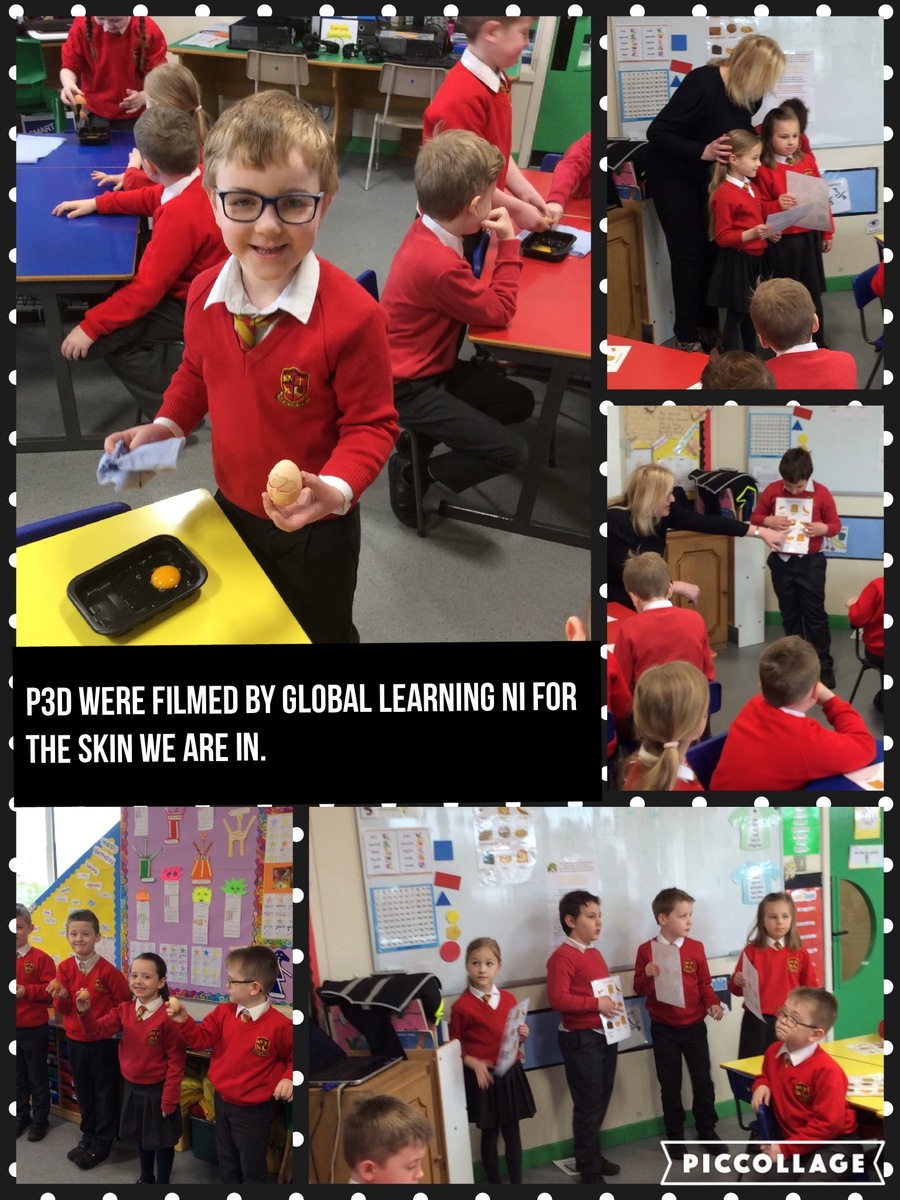 On World Poetry Day, Wednesday, 21 March 2018, the Global Learning NI team came into school to film two lessons focusing on global issues through poetry.
P3D had a lesson about diversity through 'the skin you're in…' activities. They looked at pictures and puppets of children from countries across the world and read the poem, "Some children are brown like newly baked bread." They quickly realised that no matter what colour our skin is, we are all the same on the inside. We cracked open some eggs, each with different shells, but with the same yolks inside to show this.
P7R played an opening alphabet game. This got them to focus on a word which summed up their feelings about famine from their experience of the WAU topic 'The Irish Potato Famine' and afternoon global learning lessons led by Mrs. Davis. They discussed myths surrounding famine, including that overpopulation does not cause famine but that famine causes it! Calum read a poem, "Another day in Somalia." We discussed the links between famine today and in Ireland in the 1840s. Many comparisons were drawn. At the end of the lesson, pupils completed a post-it to share what was the most important thing they had learned. Many children wrote that educating poor people to grow their own crops and work the land is good place to start helping them.
The Global Learning team filmed some pupils talking about what they had learned from the lessons.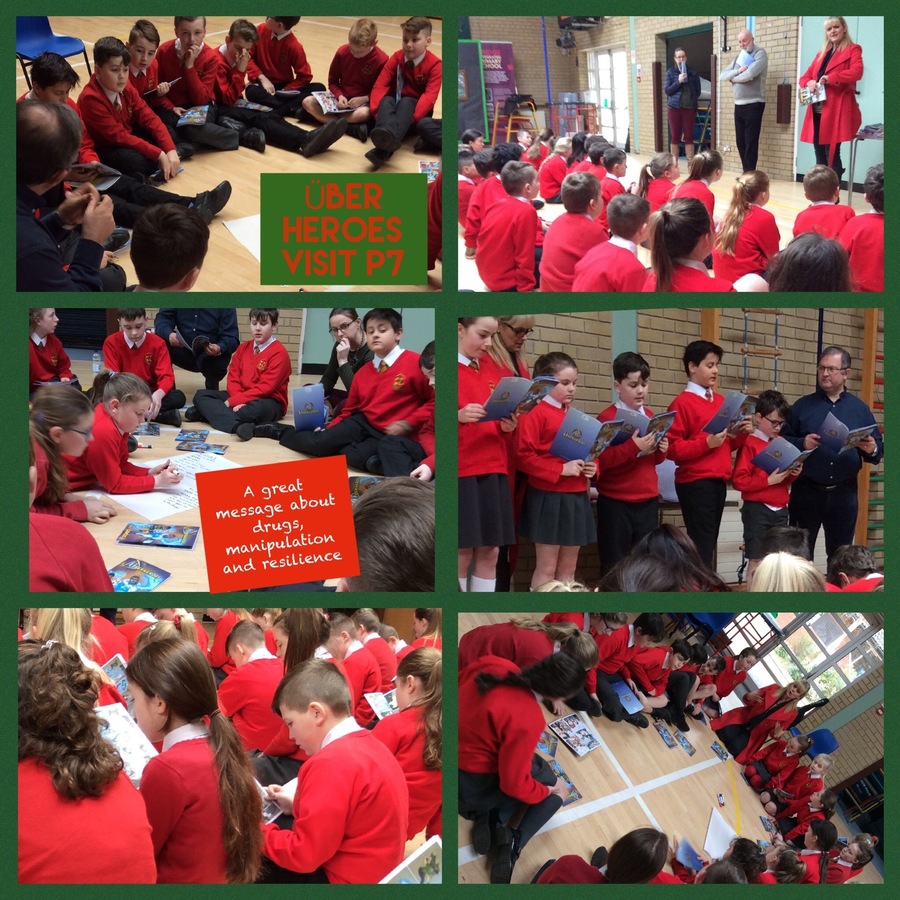 Bridge Participates in the FUT5al Soccer Tournament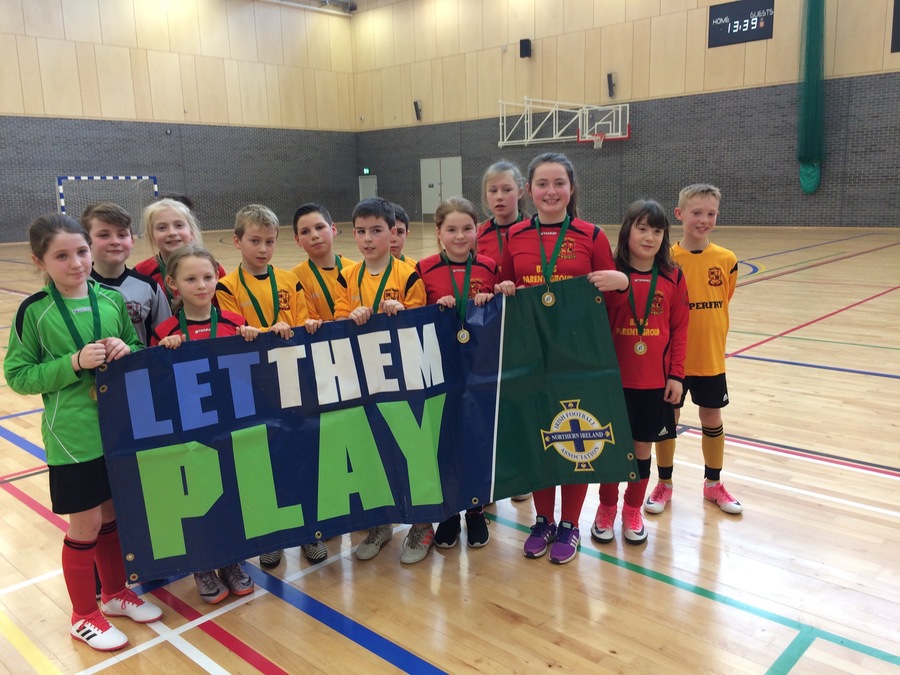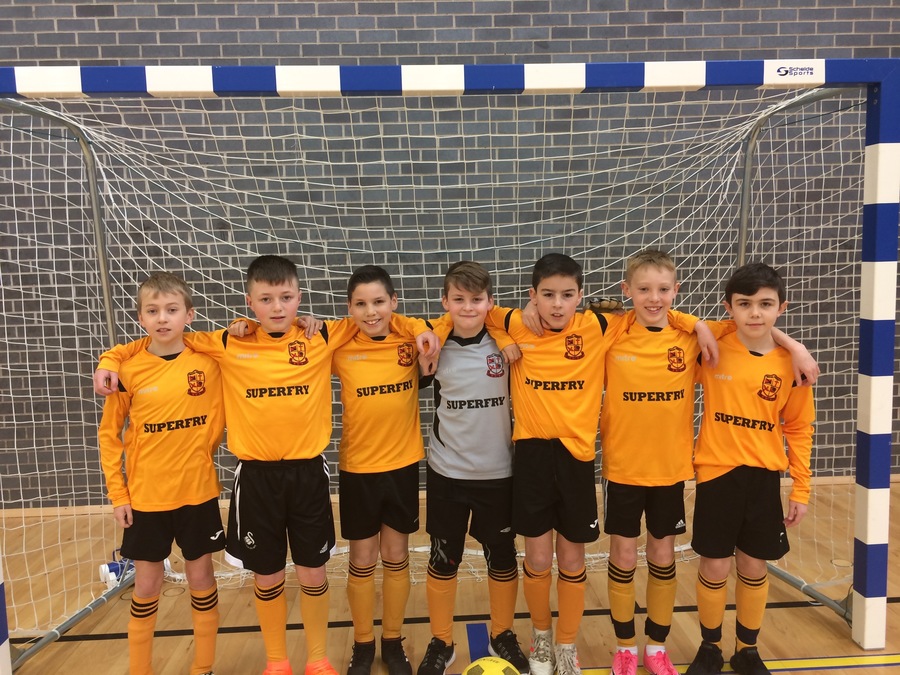 Two teams, a boys and a girls, went to Newry to participate in the FUT5al regional tournament on Monday 12th March. This event was organised by the N.I. Football Association. Both teams played extremely well and enjoyed the experience. The girls came put on top and were winners of the regional heat. They were closely followed by the boys who were runners up in their regional heat.
Well done boys and girls!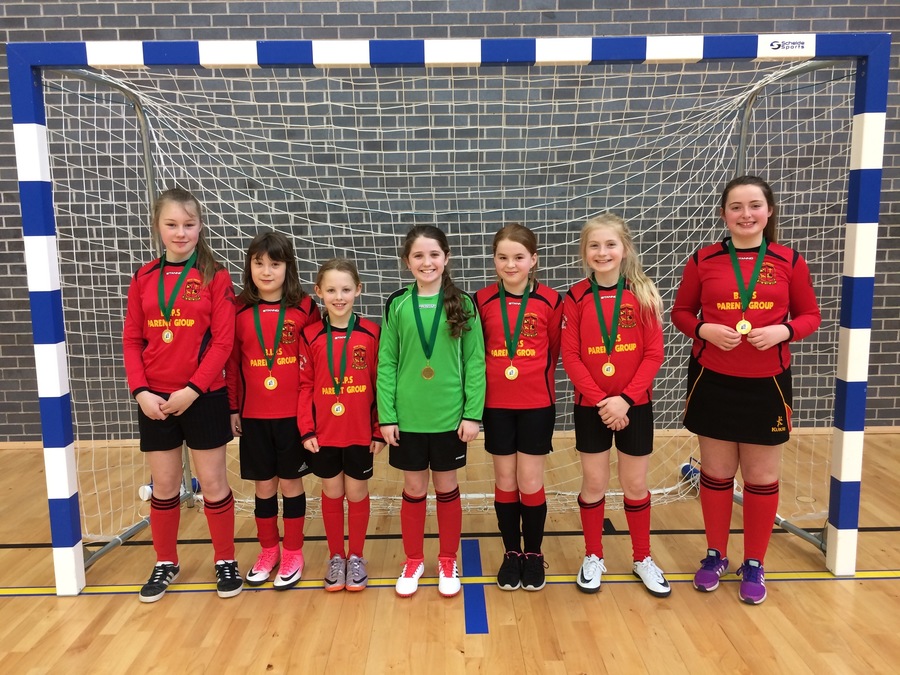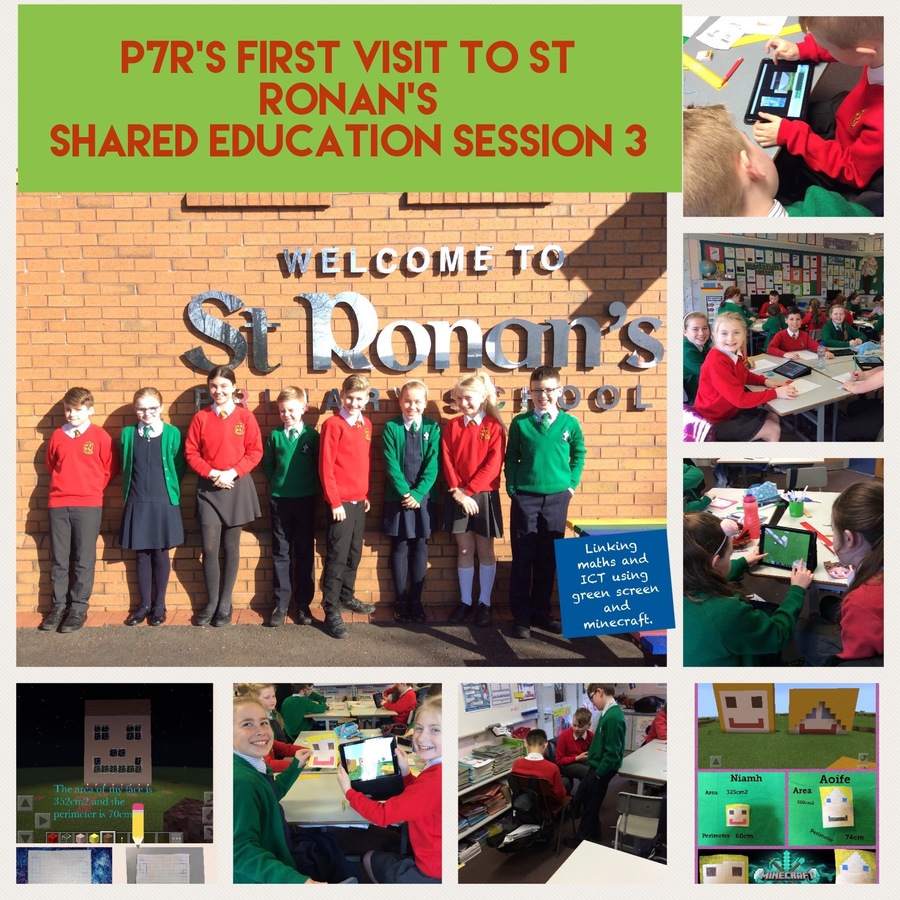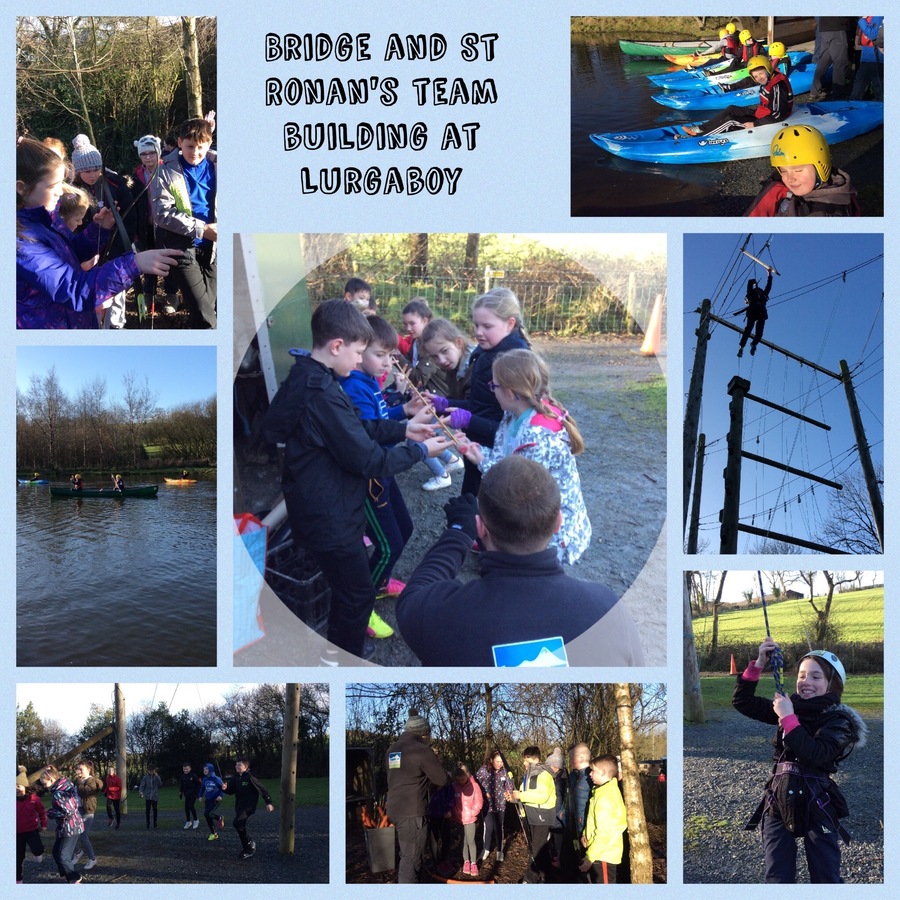 World Book Day Celebrations
We didn't let the snow spoil our love of books and although we had to postpone our celebrations we made up for it on Friday 9th March.
Click on the link below to see photos of all the classes in their amazing costumes with just a little 'green screen magic!
Roll out the Red Carpet...
Film Club Nominated for Film Club of the Year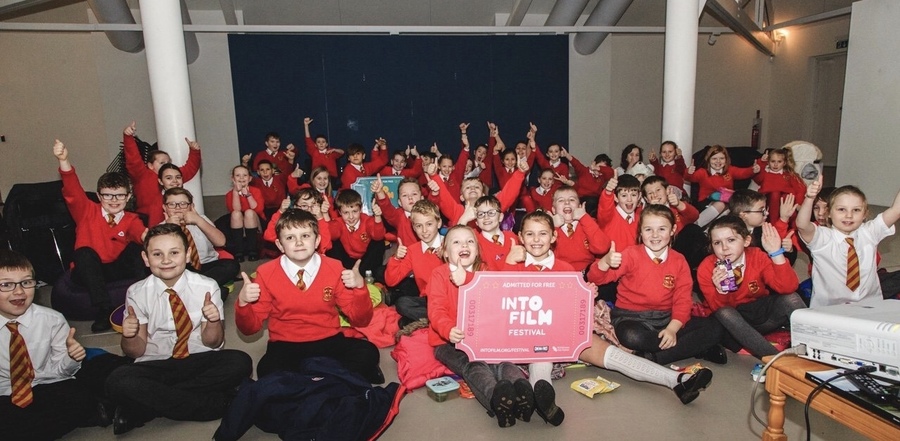 Students and Staff of Bridge Integrated Primary School have been invited to attend star-studded award ceremony at London's BFI, Southbank on March 13
Pupils from Bridge Integrated Primary School's Film Club are set to walk the red-carpet having been nominated for a national award at the 2018 Into Film Awards. Their Into Film club has been nominated for their exceptional engagement with film, and are invited to attend a star-studded ceremony to be hosted by popular TV and radio presenter Gemma Cairney at BFI Southbank on Tuesday 13 March 2018. The Awards are hosted by film education charity, Into Film, who engage with over half of UK schools and count Eddie Redmayne, Kenneth Branagh, Michael Sheen and Naomie Harris among its Ambassadors. The Awards pay tribute to outstanding 5-19-year-olds who have shown exceptional achievement in filmmaking, film reviewing or within their film clubs, and to educators who have demonstrated inspirational use of film in the classroom at the annual awards.
Bridge Integrated Primary School has just over 400 pupils and is currently celebrating its 30th anniversary. It has had a Film Club for the past five years and the 36 members ,aged between 8 and 11 years old, meet every week for one hour to watch, discuss and review movies.It has proved to be one of the most popular clubs in the school and last year they achieved a Platinum Film Buff status in Into Film's popular initiative , the first school in the UK to achieve that honour.
The children are being recognised for their meaningful commitment to and use of what film clubs can offer.
Club leader, teacher and Into Film NI ambassador, Paul Scowcroft said "I am so proud to have Bridge Integrated Primary School's Film Club nominated for Film Club of the year because it validates our ethos of appreciating diversity and tolerance. Our members pride themselves in choosing a variety of different movies that broaden their viewing habits and go beyond simple multiplex fare.We are continually searching for stories that open our minds and broaden our horizons."
The Awards will be judged by a panel of industry leaders including: film producer and co-founder of the Academy Award-winning Aardman Animations, Peter Lord (Chicken Run, Arthur Christmas and Wallace & Gromit: The Curse of the Were-Rabbit), art director, Lydia Fry, (Star Wars: The Force Awakens and Harry Potter and the Deathly Hallows Part 1 & 2), BAFTA Award-winning actor, Jamie Bell (Jumper, Fantastic Four and Billy Elliot), and founder and CEO of IMDb, Col Needham.
Paul Reeve, CEO of Into Film comments: "The Into Film Awards are a jewel in the crown event and a unique opportunity to celebrate young people and their teachers' incredible achievements working with film throughout the year. I am very proud to be able to showcase such remarkable creative talent and passion for film, and equally proud of the film industry's wonderful support of the Awards. With the current squeeze on arts and creative subjects in many schools, it is more important than ever that we're able to recognise their importance, and demonstrate the hugely positive impact they have on young people's lives and learning."
For full details about the Into Film Awards visit: http://www.intofilm.org/awards
Click on the link to see the write up on IEF website.
https://www.ief.org.uk/2018/02/20/bridge-ips-film-buffs-set-walk-red-carpet/
International Mother Language Day Celebration
at Bridge IPS
Today we celebrated this very important day in the global calendar (21 February 2018.)
Parents who were raised in countries outside the UK and whose first language is not English were invited to join our P3 class for an Ulster Fry as part of our on-going Our World and Places topics! We had a lovely time discussing our cultures with the pupils and sharing the different mother tongues of the parents, including, Polish, Lithuanian, Bulgarian, Chinese, South Korean and Spanish. We also got to try some tasty Polish and Spanish treats!
We practised saying hello!
Czesc – Polish
Sveiki – Lithuanian
Hola – Spanish
Здравейте - Bulgarian
你好 – Chinese
여보세요 – South Korean
February Discos
Pupils had great fun at recent discos organised by BIPS Parents Group. Go to Parent Info above and go to the Parents Group page to see more photos.
Holocaust Memorial Day Assembly
On Thursday 25th January Mrs Davis organised an assembly to celebrate and remember Holocaust Memorial Day on Saturday 27th January. Our ECO warriors worked really hard and presented a thought provoking assembly about what happened during the Holocaust.
They told the story of Anne Frank and her family and illustrated how we should all ensure that we treat everyone with kindness and break down prejudices in our world today.
The power of words is the theme for Holocaust Memorial Day 2018.
Words can make a difference – both for good and evil.
'I want to go on living even after my death! And that's why I am so grateful to God for having given me this gift, which I can use to develop myself and to express all that's in me. When I write I can shake off all my cares; my sorrow disappears; my spirits are revived.' - Anne Frank, written in her diary, 5 April 1944
P.7 Pupils Work with Residents from Spelga Mews
On Friday 19th January the primary seven pupils were presented with certificates by the residents and staff of Spelga Mews.
The residents and children gained so much from this experience and they have had such an effect on each other building friendships and enjoying spending time together.
Bridge Primary School is very grateful for the opportunity to be involved in this programme of events and every year the link between school and community grows stronger.
New-Bridge Invite P.6/7 Pupils to Attend Open Day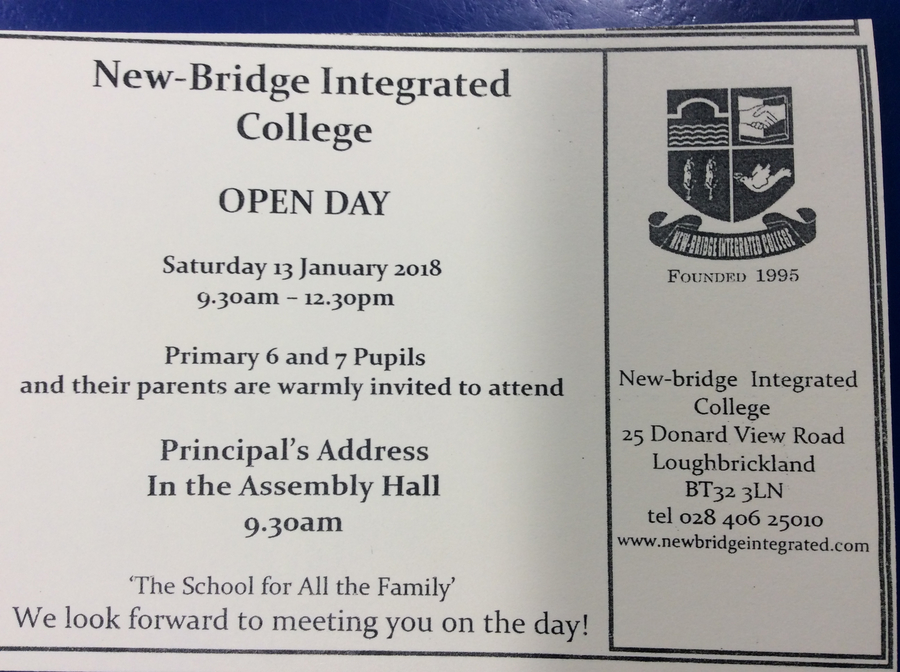 Vice Principal Mrs Harbinson and past pupils Lauren and Oliver came to Bridge on Wednesday 10th January to invite all P.6 & P.7 pupils to come to their open day on Saturday 13th January 2018 (see times above). It was really lovely to hear Lauren and Oliver speak so confidently about how they have settled into New-Bridge during their first term. P.6 & P.7 pupils are encouraged to go along and see New-Bridge to get a feel for what is on offer at the school.
Word Millionaires
Reading has been a real target in this first term and with the introduction of Accelerated Reader it is clear to see how motivated so many of our pupils are. There is a real buzz in P.5-7 with pupils encouraging each other, recommending books and taking quizzes to show their understanding. Pupils earn points for the books they read and the computer program keeps a count of the number of words read.
Congratulations to our newest word Millionaires in Accelerated Reader. Frankie P.6S became millionaire number 4 closely followed by Harry and Kieron in P.7YR.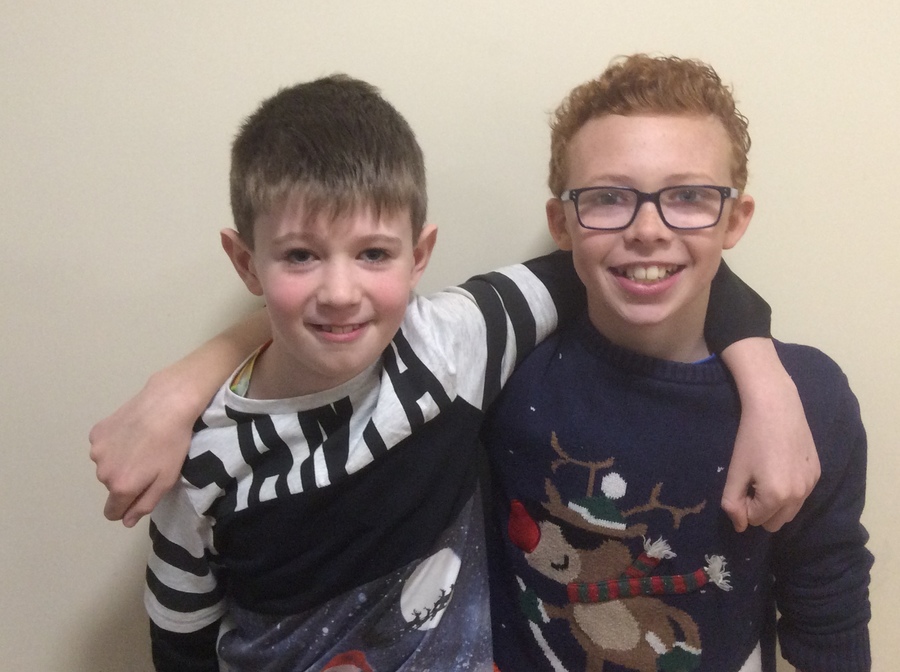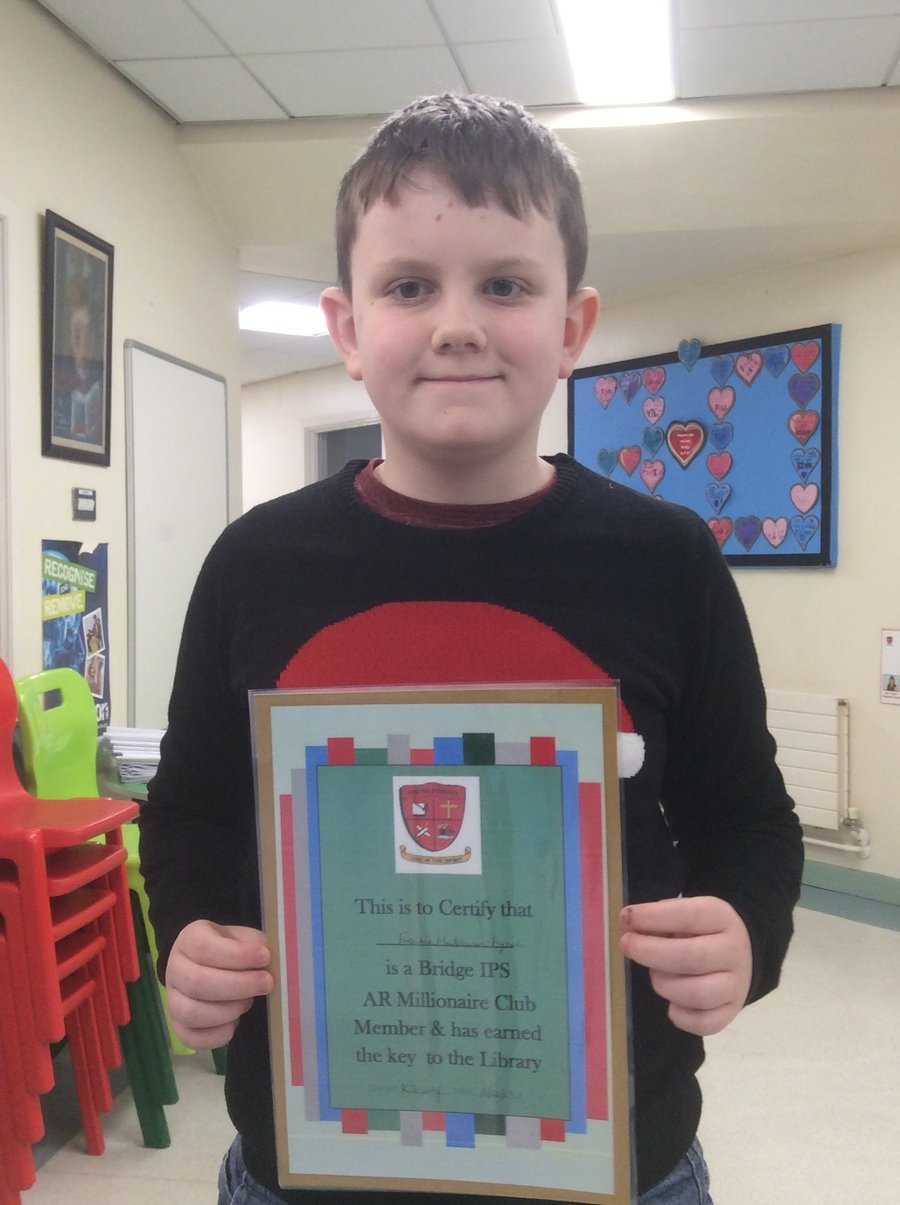 Fun in the Snow
We couldn't believe how lucky we were to wake up to a blanket of snow on Friday 8th December, well that's what most children thought! Parents were probably a bit more concerned especially if they have to drive anywhere.
The snow looked beautiful and is was so fluffy it would have been wrong not to play in it!
Click SNOW to see some more photos.
Christmas Art For Bannview House Care Home
We have been busy over the last few weeks creating some festive art for the residents in local care home Bannview House Care Home. The Care Home organised a competition for local primary schools and the theme of this year's competition was 'Christmas Time at Granny's House'.
Click CHRISTMAS to see the amazing festive art from all classes.
School Council Elections
There was great excitement as School council elections were held on Wednesday 29th November 2017. Click School Council to find out who our new members for 2017-2018 are.
On Friday 24th November 2017 over 170 pupils headed off to the SSE Arena to see an ice hockey game. Belfast Giants very generously gave many local school free tickets to experience an ice hockey game and as it is our 30th anniversary year we decided it would be a fun experience for our pupils.
Four bus loads headed off to the SSE Arena and what an exciting experience it was! It was an action packed game and pupils loved the fast pace of the game on the ice. Pupils enjoyed lots of chanting and dancing in between play to try to get the attention of the 'crowd' camera.
Click GO GIANTS to see more photos
Some P5 Pupils Get Their Poems Published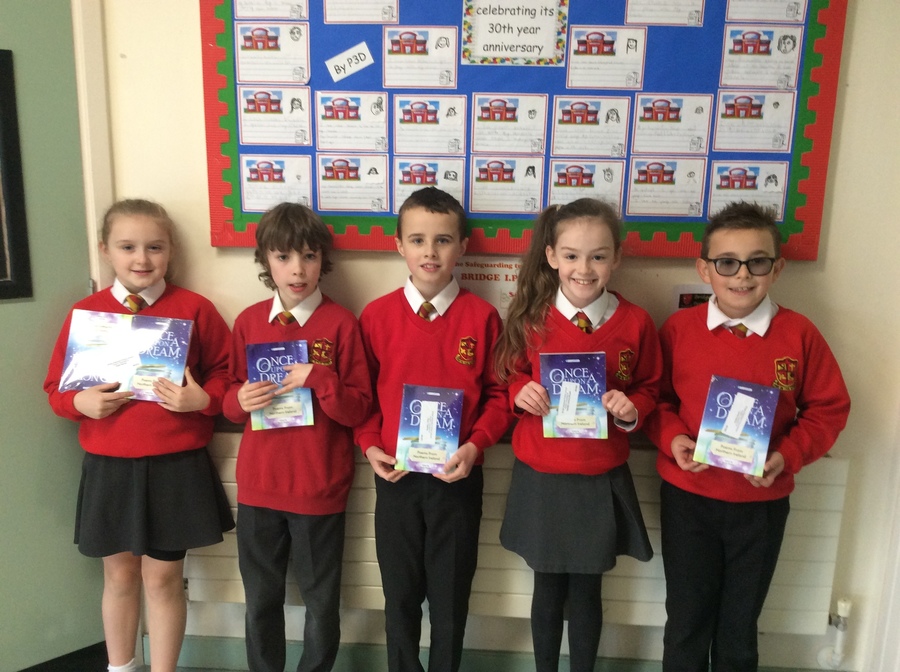 On Monday 4th December, 2017 we are having our "Ditch the Dark Day". It is an event through which we aim to raise awareness of Road Safety whilst encouraging Active School Travel.
Darker days and inclement weather mean that our children are more vulnerable in their journeys and there is less opportunity to take exercise out of doors.
The idea is that pupils brighten their uniforms and schoolbags with fluorescent and/or reflective accessories, anything that will make them more visible.
We are also asking pupils to walk at least part of the way to school if possible. Where appropriate we encourage the children to come on bicycle or scooter wearing helmets and accompanied by parents. They can also decorate their bikes and scooters with fluorescent and reflective accessories. Parents can collect the children with their bikes/scooters at the end of the day. We would encourage as many parents as possible to park in a suitable spot a little way from the school instead of bringing cars into the drive on this day to allow children a safe space to walk with bikes and scooters down to school. In the interests of Health and Safety we ask that you walk down the footpath into school instead of scooting or cycling.
Last year, our school was awarded reflectors for every child following our record number of pupils participating on the initial day of The Sustrans Big Pedal Initiative. Thank you to everyone for helping us achieve this award!
These will be issued to the children prior to Ditch the Dark Day.
We will also be able to provide Hi Viz vests on a first come first serve basis.
Primary 1 and 2 pupils are invited to take up the Journey to Santa Challenge as well.
Let your light shine!
Celebrating Anti-Bullying Week 2017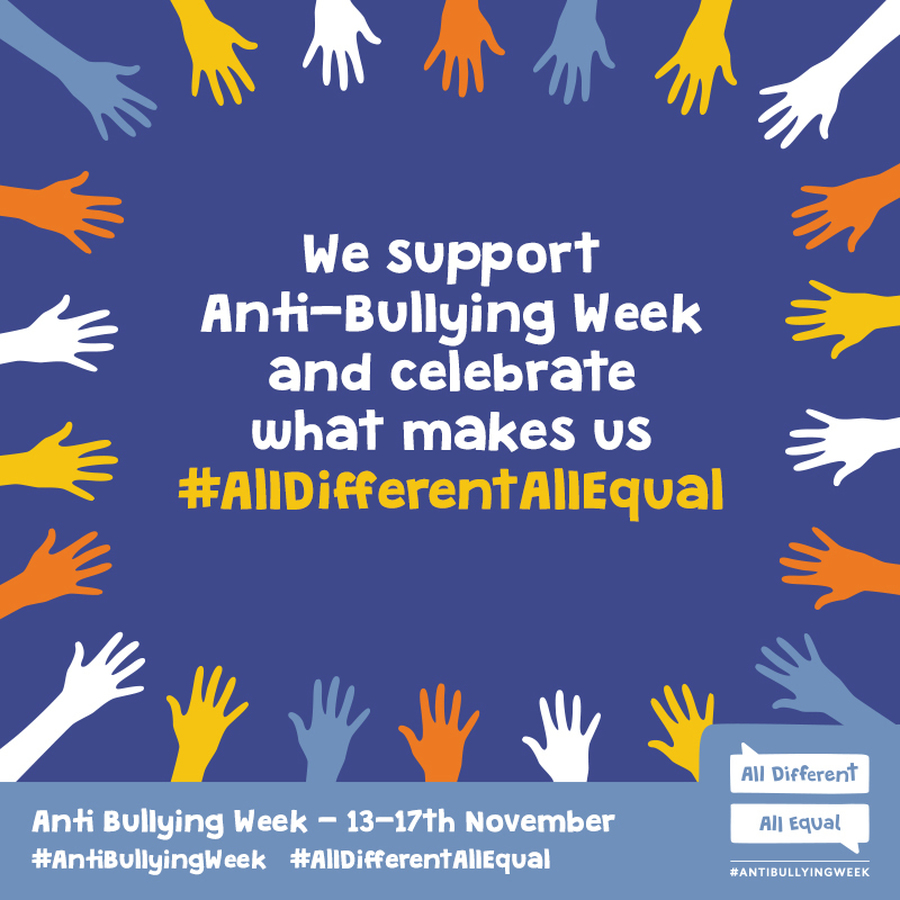 This week is Anti- Bullying week 2017. This year's theme is 'All Equal, All Different, All Together" and aims to encourage children and young people to encourage and celebrate respect and kindness in diversity. All pupils will take part in a wide variety of planned activities and discussions.
The anti-bullying ambassadors started the week off with a super presentation in all classes. Well done boys and girls!
To round off our week everyone came to school on Friday wearing odd socks to celebrate the fact that we are all different but all equal.
Click ODD SOCKS to see more photos and hear the children chant.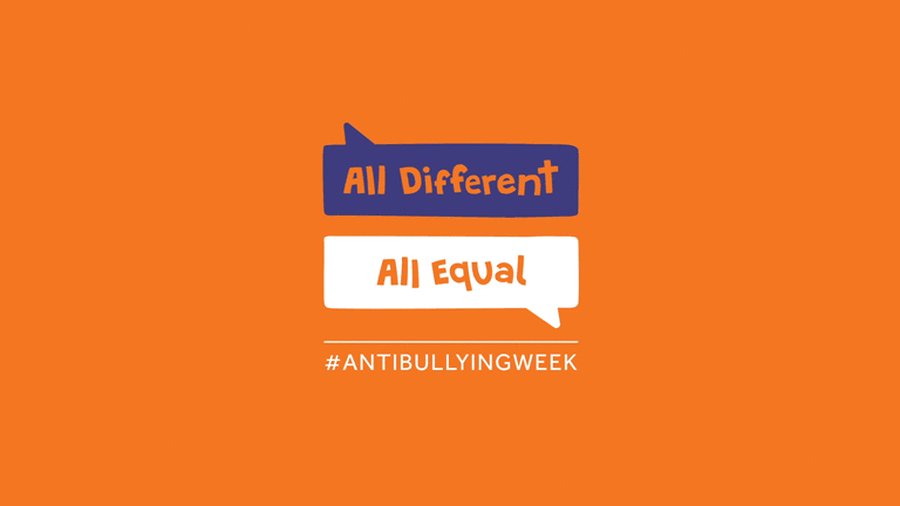 Our New anti-bullying Team
On Friday the 20th October our new Anti-Bullying team was revealed. Caleb is our leader. Everyone who has been selected is super proud.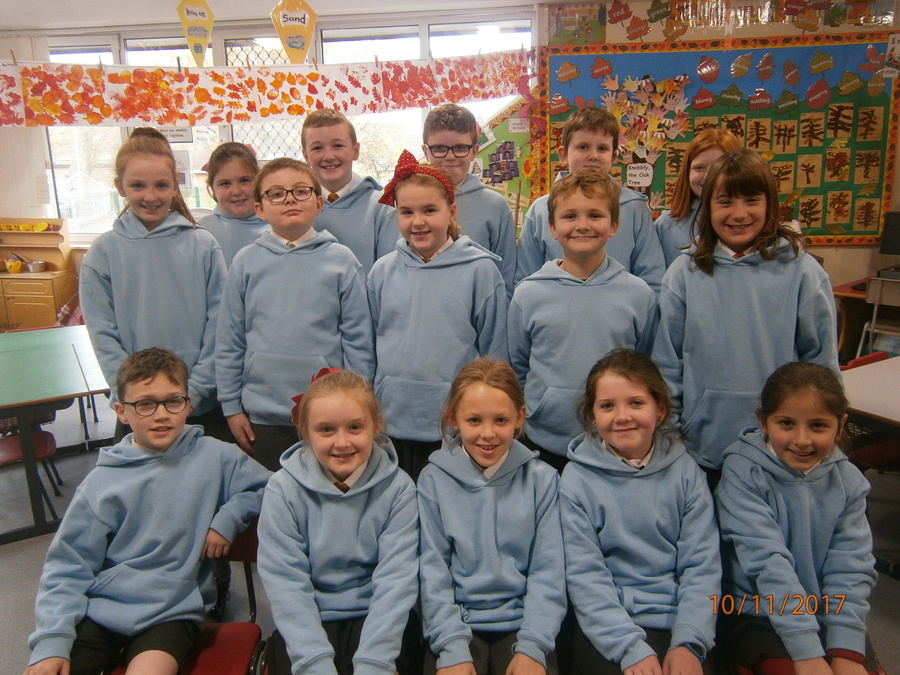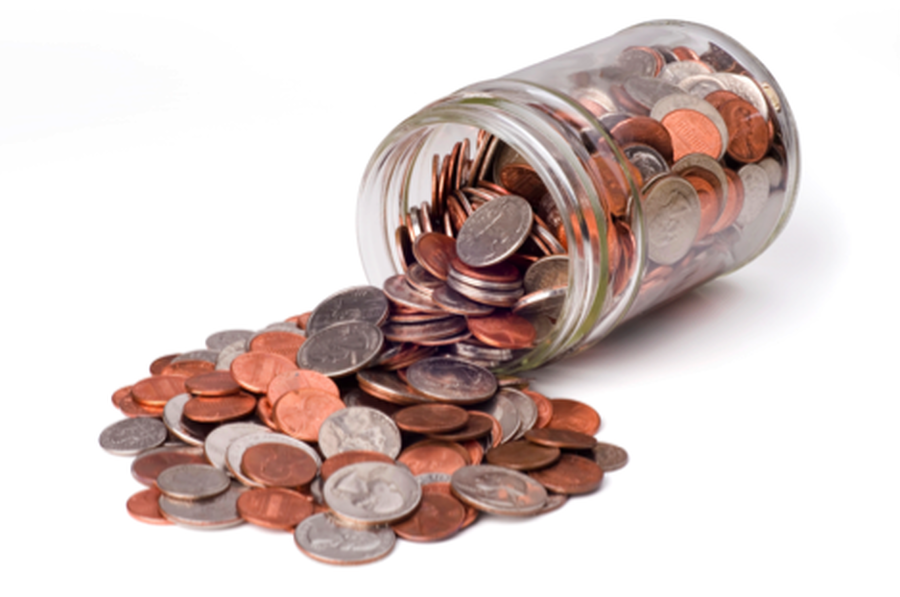 November Coin Drive
A huge thank-you to everyone who contributed to our second coin drive at the beginning of November. We raised £328, which is fantastic. This coin drive will continue at the beginning of each month so please keep sending in any loose change when possible. Money raised will help to buy new Maths text books.
Food Drive
THANK- YOU!
We are overwhelmed by the fantastic response to our food drive in the run up to our Harvest Service. A huge thank-you to everyone who donated food. We really appreciate everyone's support and hope that this food will help less fortunate families within our local area. St. Vincent DePaul and Banbridge Storehouse will distribute the food to those in need.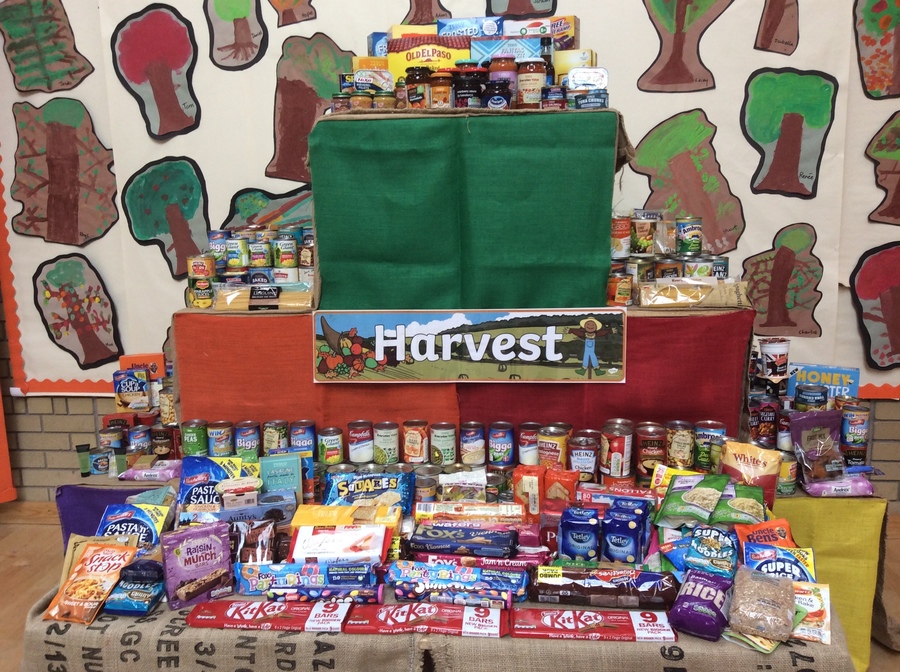 Coin Drive
A huge thank-you to everyone who contributed to out first coin drive at the beginning of October. We raised 367 pounds, which is amazing. This coin drive will continue at the beginning of each month so please keep sending in any loose change when possible. Money raised will help to buy new Maths text books.
We were overwhelmed with the amazing turn out at our recent coffee morning to raise funds for Macmillan Cancer Support. A huge thank you to everyone who came along and either attended the coffee morning, bought a take away coffee or made a donation. We really appreciate your support and are delighted that the three hundred and forty seven pounds raised will go to a very good cause.
Thank you to Mrs McAnespie for organising it and all of the parents or staff who helped.
Exciting Halloween Events Organised
by BIPS Parents' Group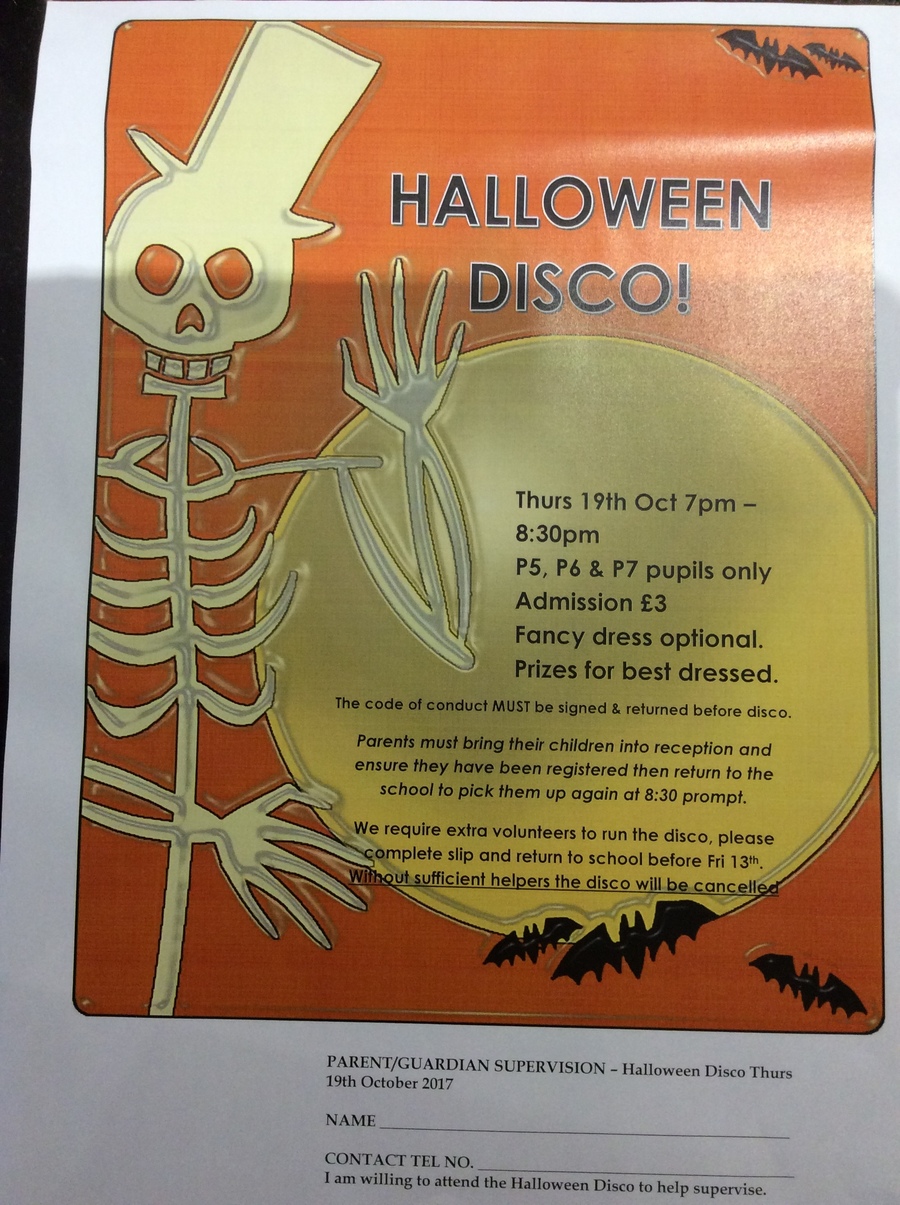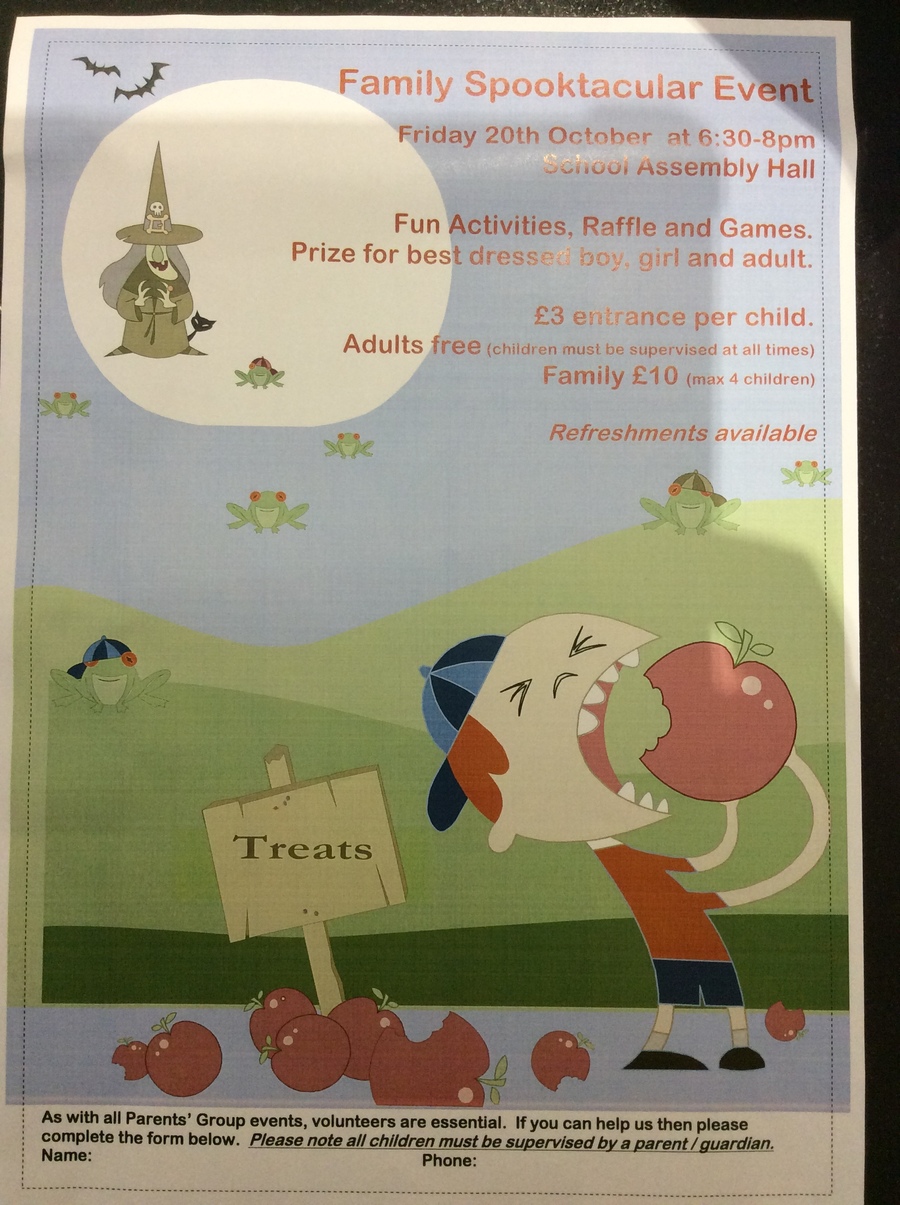 The Magic of Roald Dahl Performances
On Friday 29th September the whole school enjoyed a real treat when actor Anthony Pedley came into Bridge to bring the magic of Roald Dahl to life. Anthony certainly entertained the pupils and many of Roald Dahl's favourite characters came alive on stage!
Click: ROALD DAHL to find out more.
Healthy Me Programme
In the last two weeks in September P.4-P.7 enjoyed Healthy Me workshops from Heather and Roisin from AMH MensSana.
We hope that this programme will promote mental health and social and emotional wellbeing in our pupils. Pupils were encouraged to think of ways in which they can keep their minds and bodies healthy and were actively encouraged to share their worries with a trusted adult.
Click HEALTHY ME to find out more.
Book Fair
A huge thank-you to everyone who supported our September book fair. A total of one thousand and two pounds was raised. This means that the school has five hundred and forty-two pounds profit which we can now use to buy new books to supplement and stock up our Accelerated reading titles.
We really hope that the children enjoy reading their new books.
On Saturday 16th and 30th September 2017 we organised a 'Big Clean Up' to help spruce up the school grounds, in this our 30th anniversary year. We were overwhelmed by the kindness of so many pupils, parents and staff, who willingly (or otherwise :-) gave of their time to help clean up our school grounds. We would like to say a huge thank you to everyone who helped in the big clean up today. Lots of fantastic work was done and we really appreciate all the support given.
It was great to see that in such a short amount of time such a dramatic difference was made. Team Bridge - parents and staff working together to ensure our school looks great throughout our celebrations in the incoming year.
We will keep you posted about a possible second date coming up in a few weeks to help finish off some much needed jobs.
Click CLEAN UP to see all the hard workers.