P.3 Fun in Cultra
Click Cultra to see some more photos.
P.5R enjoy their Roots of Empathy Programme
Go to P.5 year page to see a few more photos
P.6 Fairtrade Bun Sale
P.6 raised an amazing 619 pounds in their recent bun sale.
Click: Fairtrade to find out more.
British Science Week 2017
We made a very special effort during this week to carry out a range of Science experiments in every class from P1 to P7. all pupils were encouraged to use white shirts or blouses as lab coats. These looked wonderful. Here are some examples of what specific year groups achieved...
P5R investigated absorbency of materials and transfer of water through tissue paper. We linked this to how water is transferred through the stem of plants. We also enjoyed finding out more about static electricity.
Primary 7 classes carried out a filtration experiment identifying which material was most effective in producing the purest of water. We used dirt from our playground and a 2L water bottle as a funnel for our filter. We kept it a fair test by using the same amount of water and testing for the same length of time. The only thing we changed was the type of material used.
Here are photographs of our budding scientists from Primary 1 to Primary 7...
On Wednesday 15th March we had two Gaelic Teams join 3 other local schools in a Gaelic Blitz in Clann Na Banna Grounds in Banbridge. The weather was fab as were all the children!
The children had great fun, played some super football and enjoyed lots of treats provided at the club!
A great experience all round.
Congratulations to Luke and Zach who were presented with trophies to mark their great skills.
Many thanks to Miss Woods and Sean who accompanied the children, to parents Paul and Mark for lifts and to Michael Feeney and his gang for all the support and words of encouragement!
Primary 7 Pupils Star in World Book Day Video
Our day filming with Newsdesk
Wonder is about a boy called August Pullman who has a facial difference. We love this novel so much that, when asked by Newsdesk to create a piece for World Book Day, Wonder was our
Creating a real film was an awesome (and challenging) experience. I am so glad we had to opportunity to do this and I cannot wait to see the final product on World Book Day. Our entire year group went outside to film the big finale which finished with the line 'Wonder is wonderful'. I think being involved in making this Newsdesk movie was pretty 'WONDERFUL' too!
To see pictures of our day filming click WONDER
Fundraising Fitness Day for 'The Boom Foundation'
On Wednesday 15th February pupils in Bridge Integrated Primary School were involved in a fun, fitness day in their assembly hall. The event was hosted by many past pupils who took the initiative to raise money for a charity known as 'The Boom Foundation' in memory of their dearly loved friend Katherine Neill who herself had been a former pupil at Bridge. She was a bright, beautiful and talented girl, a loyal friend and a committed student participating widely in all aspects of school life. Unfortunately, at the age of 17 Katherine developed a rare form of cancer, known as rhabdomyosarcoma and in August of last year very sadly passed away.
All those involved in the organisation of this fun, fitness day are very grateful to the parents and pupils of Bridge who made a fantastic effort to collect sponsorship and also to all in the wider community who gave so generously, showing their support of this worthy cause. To read more and see photos please click Boom Foundation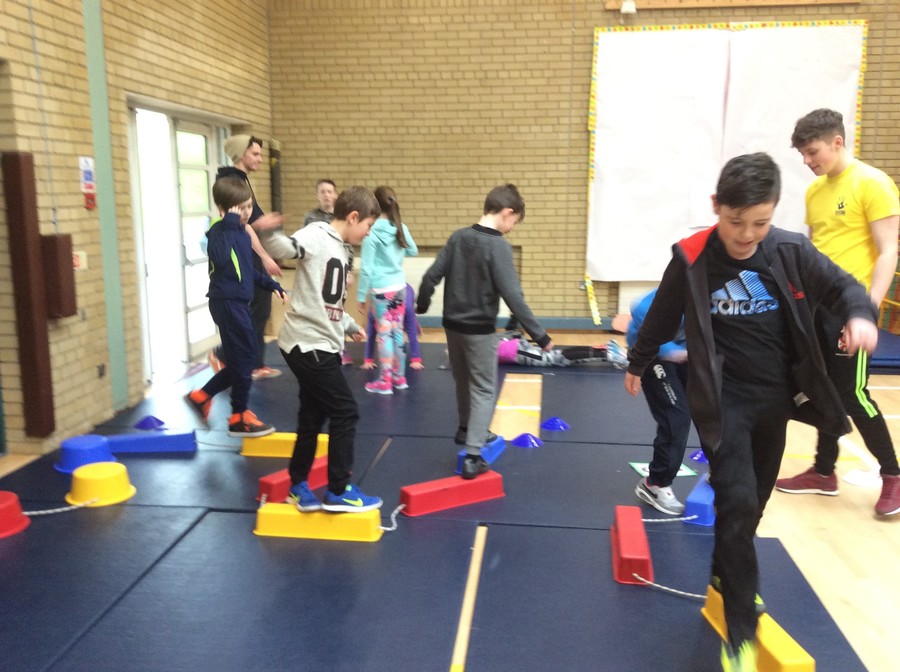 P.7 Choir Entertain at Hillsborough Castle
On Monday 19th December P.7 Choir members delighted guests at Hillsborough Castle with singing, readings and a fun poem. We were delighted to be invited to this event by the Rt. Hon. James Brokenshire MP and feel really proud of how well our P.7 pupils conducted themselves and represented our school.
Well done boys and girls! A day full of special memories to treasure!
Click Hillsborough to see more and read a report of the day by Emma and Megan.
Hockey Club Fun
Our hockey club enjoyed some fun to finish off the sessions of their club before the Christmas holidays.
A Visit to the Argory for a Victorian Christmas
Having studied the Victorians in World Around Us Primary 7's thoroughly enjoyed visiting The Argory for a Victorian Christmas experience where they had the opportunity to make crafts typically made by the rich (quilling) and poor (corn dolls). They also learned what Christmas would have been like back in 1800's. We were delighted to see how much effort pupils put into getting dressed up as it added so much to the day, taking a step back in time.
Strictly the Nativity By P.3
P.3 got their dancing shoes on and gave a very lively performance in their very modern twist of the Nativity. In Strictly the Nativity; the Inn keepers tangoed, the people of Nazareth line danced, the disco stars disco danced, the angels ballet danced, the shepherds danced the Shepherd's Hey and the Camels and Wise men danced the 'Funky Camel' before finishing off with a finale with the whole cast dancing 'Let's Celebrate!' The poor judges had a very difficult time judging the acts and the hosts kept the whole show running smoothly!
Every child worked hard to learn lines or dance routines and their talents were clearly on display and enjoyed by very proud parents, staff and extended family members.
Click Strictly the Nativity to see more
Santa's Grotto Was a Huge Success
A huge thank-you to all our parents, pupils and extended families for supporting Santa's Grotto on Friday 9th December. I'm sure everyone will agree that it was a very enjoyable evening for the whole family and it certainly helped us all get in festive spirits in the run up to Christmas!
Click SANTA to see lots more photos.
The Armagh Rhymers Entertain P.1-3
On Thursday 8th December pupils from P.1-3 enjoyed lots of fun and entertainment from the Armagh Rhymers. P.3 were taught some dances and then they put on a show with the Armagh rhymers for P.1-2! What an enjoyable morning and a great Christmas treat!
Click ARMAGH RHYMERS to see more photos
P.4 Review Matilda in Cinemagic Workshop
On Wednesday 7th December P.4 enjoyed a fun workshop organised by Cinemagic in Banbridge Old Town Hall. Cinemagic screened the much loved film, Matilda to mark its 20th Anniversary and hosted a post-film workshop to engage with our budding young writers and filmmakers. They used the themes of the film to examine storytelling, story structure, plot, and character development. P.4 pupils really enjoyed watching the movie and enjoyed sharing their film reviews with other.
Click Matilda to see a few more photos.
Meet our New Anti-Bullying Ambassadors
As part of a new initiative in our school, pupils from P.5-P.7 were invited to apply for new positions of anti-bullying ambassadors. Our six ambassadors have now been selected and they are very excited and proud to have been chosen. These pupils are now looking forward to going to Newbridge College on 23rd November to be trained by their Anti-bullying ambassadors.
My time at the Anti-Bullying Ambassador Training -
By Abbie - P7Y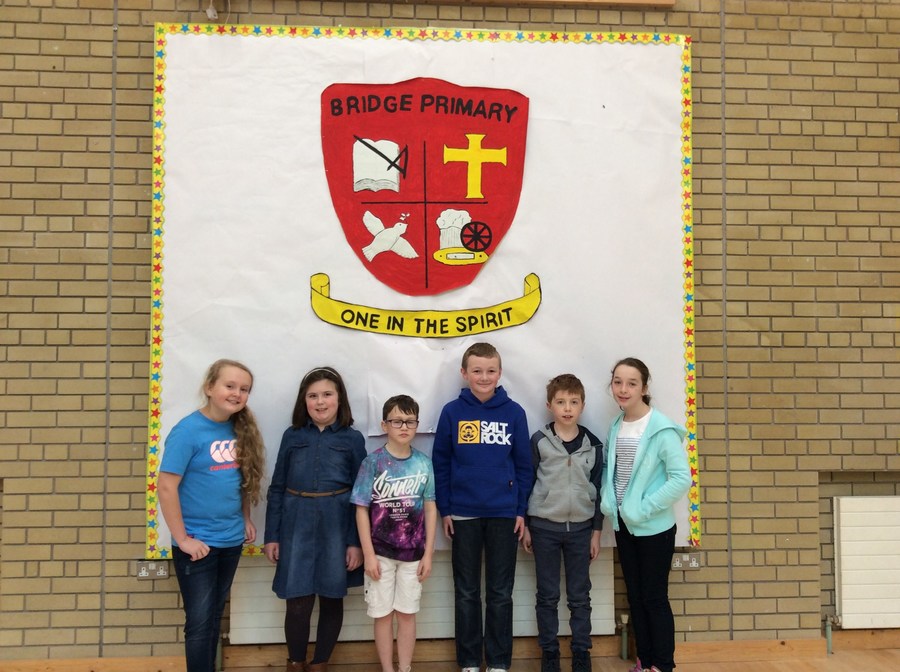 On Wednesday 23rd November we went to New Bridge Integrated College with Mrs Roleston for the Anti-Bulling Ambassador Training. We had lots of fun and learned lots about all different types of bullying and how we would try to resolve it. One of the ideas we came up with was to make a safe zone for children to talk to us (the anti-bullying squad), knowing they could trust us. We appointed Grace P7R as our leader to oversee our ideas.
We played power shot games, talked to other schools and talked through different scenarios to give us ideas on how to solve issues. We have lots of ideas for the play grounds and different activities for all year groups and games we hope to play. Watch this space!
Hannah Gives Away Something very Special!
On Wednesday 16th November Hannah from P7DY did something very special to help other children. She had her beautiful, long hair cut off so that it could be used by The Princess Trust to made wigs for children who lost their own hair during treatment for cancer. Her family were all with her when her auntie had the task of cutting her 4 plaits. We are so proud of Hannah for doing something so kind for others whilst raising money for such a worthy cause and we think her new hairstyle is gorgeous too:-)
Today, 17th November 2016, P.6 enjoyed a fabulous workshop on Architecture by Charlie Stokes and Fiona Ewing from Aecom. Pupils learned all about what architects do, had super fun designing a 2D hospital room plan then made it into a 3D room and also made models of some amazing ideas for a hospital's main foyer!
Click: Children's Hospital
to find out more and see more photos.
Newsdesk Competition Winners
Congratulations to Rose P.3D and Owen P6R who were both winners in the recent C2K Newsdesk competitions. Rose was one of the winners in the Mighty Me Competition for P.3-P.5 pupils. She wrote a report all about herself! Owen on the other hand was a winner in the Spooky Story competition for pupils in Key Stage 2 & 3. There were over 1,000 entries submitted by children all over Northern Ireland aged 6-13 years - what a success for these two budding authors! We are delighted for you both.
Don't forget to have a look at the Newsdesk for yourselves and remember anyone can get their articles published on the C2K Newdesk - on School Reporter.
Give it a go!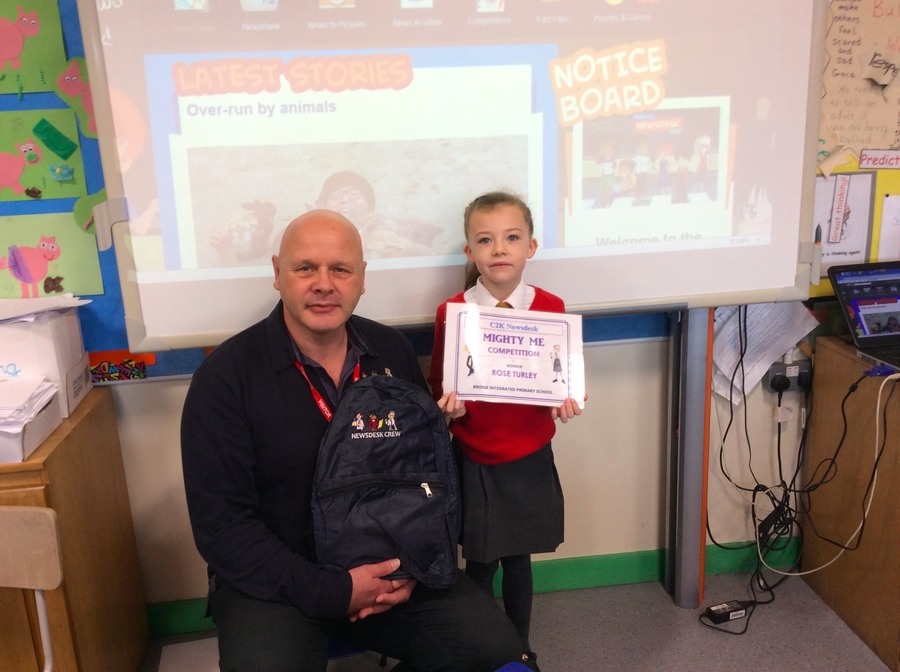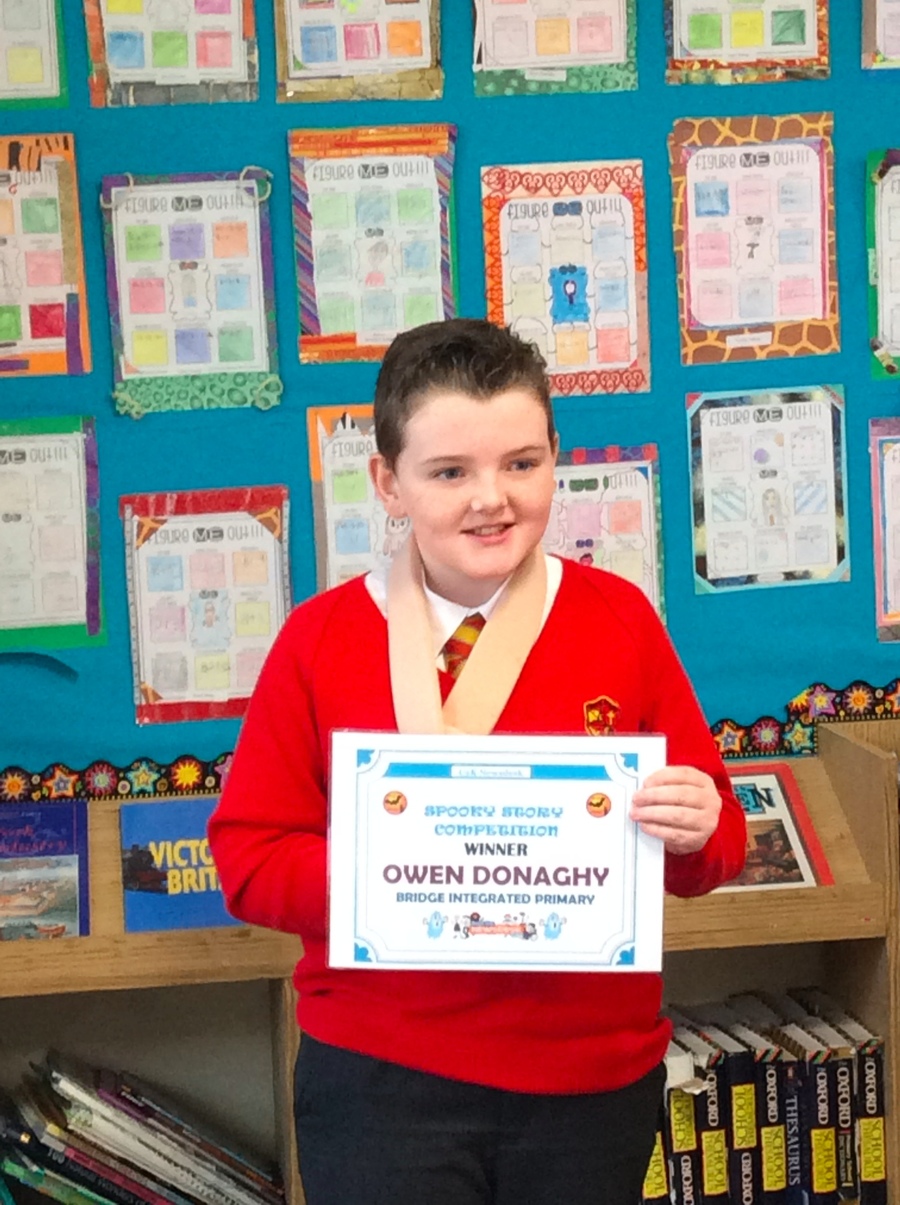 Shoebox Appeal 2016
We are delighted that lots of boxes have already come in and wold encourage anyone who still hasn't brought theirs in yet to please do so as they will be collected on Friday 11th November.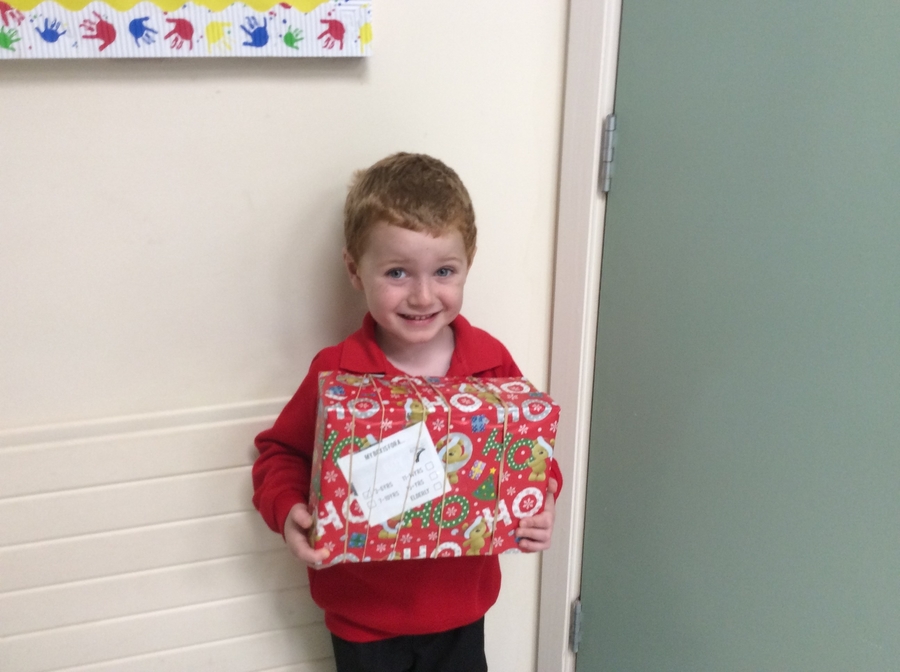 P.2's Recent Trip to Palace Stables
Click : APPLES to see more photos
Mrs McKiverigan Receives N. I. Sports Award for
Talent Development Coach of the Year
On Friday 21st October when Mrs Nicola McKiverigan was awarded the Sports NI Talent Development Coach of the Year 2016. Amongst special guests to our school were representatives from Sports NI the ABC Council and Vice Lord Mayor of Banbridge Council who presented the special award. Nicola shared some of her experiences coaching cycling at both Ulster and Irish Level and how this has taken her to both the European and World championships. Nicola volunteers as a coach and says her reward comes from seeing the young people enjoy the sport, work hard and ultimately gain success in their field.
Congratulations Mrs McKiverigan on your great success!
Launch of the C2K Junior Newsdesk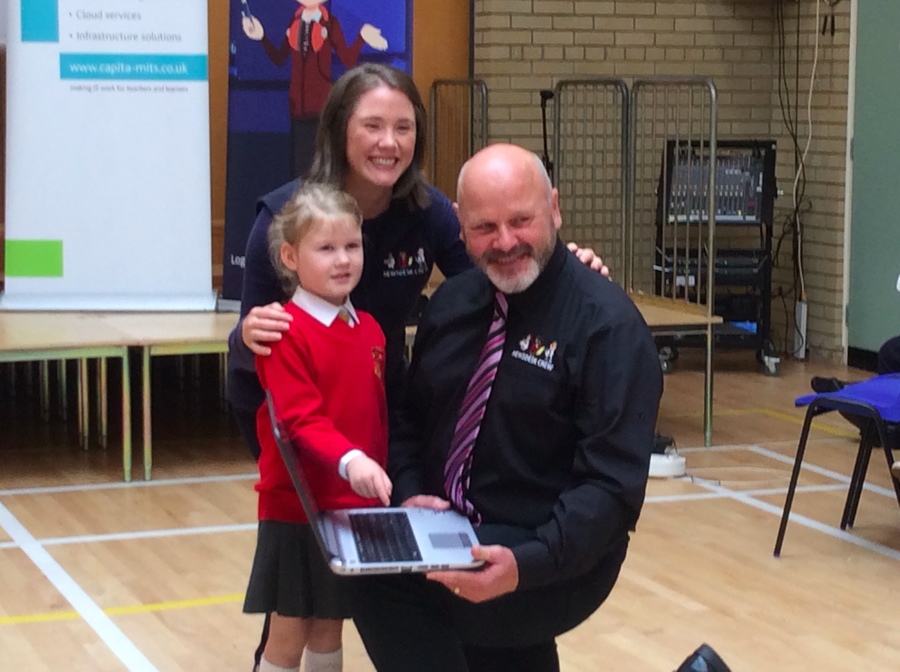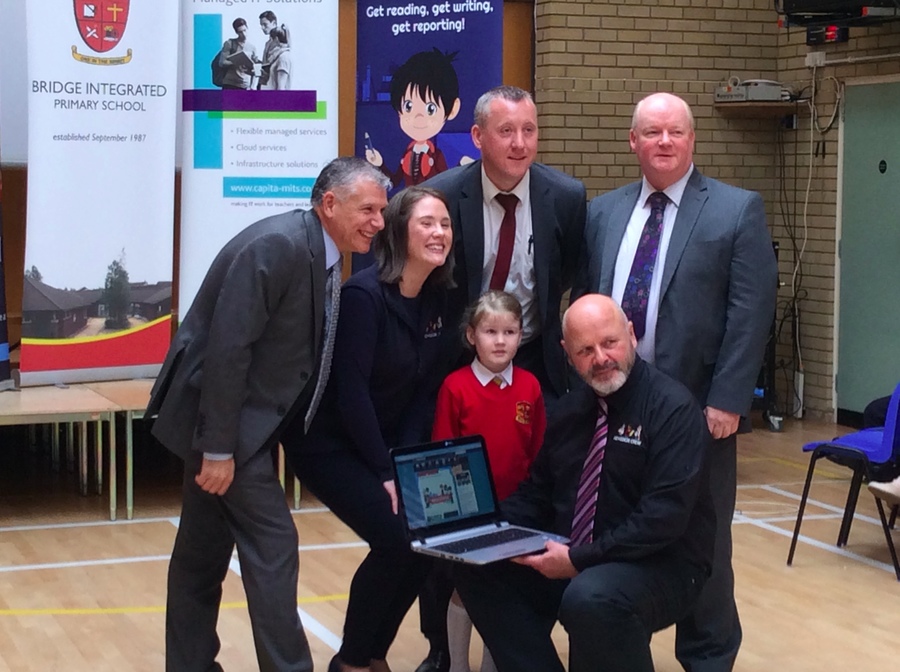 The 12th of September was a very exciting day in Bridge. Pupils and special guests gathered to celebrate the official launch the C2K Junior Newsdesk.
We were very privileged to be chosen as the school for this launch and wish to thank the editors David & Amelia for acknowledging and celebrating all of the amazing comments and reports that our pupils posted on the Newsdesk within the last year, in particular many of our current P7 pupils.
P.7 pupils treated special guests from C2K, Capita, Aetopia, our Board of Governors and teachers from local primary schools to a fantastic rap to promote the value of using Newsdesk. Noah, Oliver, Joshua & Tom had the opportunity to share their amazing reports, whilst Hannah narrated and introduced the various speakers. It goes without saying that we were extremely proud of how well our pupils spoke. Well done to you all!
After the rap came the actual Launch of the Junior Newsdesk, which is aimed particularly at P.3 & P.4 pupils. Emily from P.3 was chosen to hit the big button alongside the Newsdesk Editor David, since she is the youngest P.3 pupil.
The event was indeed a huge success and we would like to thank all of our guests for joining us on the day and of course our own children who displayed excellent manners and behaviour.
We look forward to lots of children getting excited about using the Newsdesk and the new Junior Newsdesk both at school and at home.
Let's get reading, get writing and get reporting!
Remember you simply use your C2K username and password to log in.
K.S. 1 pupils will find Junior Newsdesk in My Links.
P.5-P.7 simply select the ND icon on the right hand side of your screen.
Have fun reading all the mazing articles!
P.5 Trip to W5
Click W5 to see some more photos of the fantastic fun the P.5s had in W5.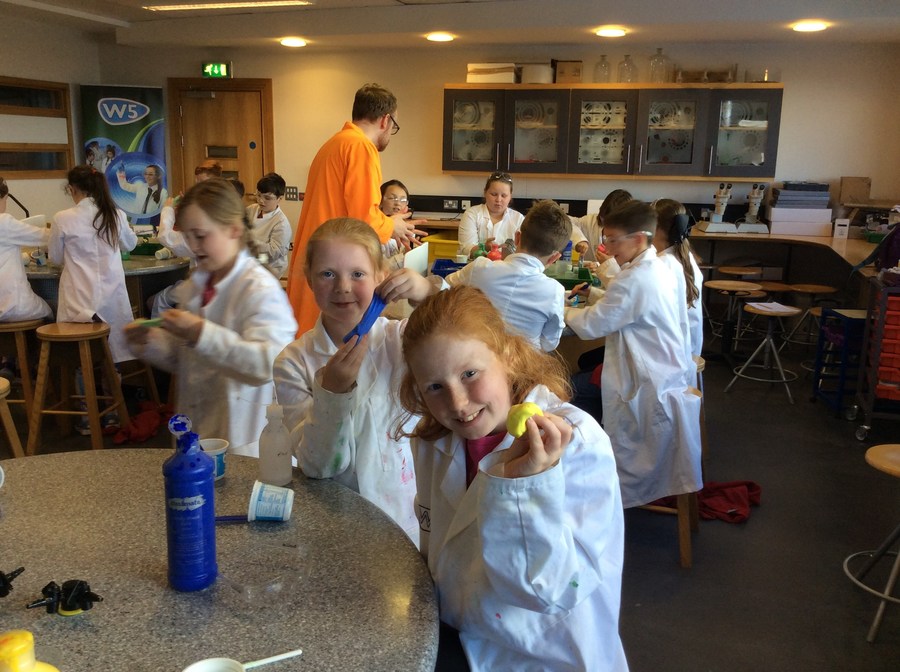 P.5 Hold Bun Sale
P.5 successfully held a bun sale to raise money for their end of year trip to W5. The delicious smell filled the resource areas and pupils and staff alike some delicious buns for break. A huge thank-you to parents for all of their help and support.
Ayr 40th International Scottish Cup
Great excitement was had by all at Ayr 40th International Scottish Cup tournament attended by some of our P.5/6 pupils in Ayr, Scotland on 26th - 28th May 2017.
Jamie P.6S played for Dungannon Swifts Under 12s whilst Tom, Charlie, Ethan, Jude and Eoin from P.6T, Luke from P.5W and Matthew from P.6S represented Banbridge Town Under 10s. This was a fabulous and truly memorable experience for all the boys involved.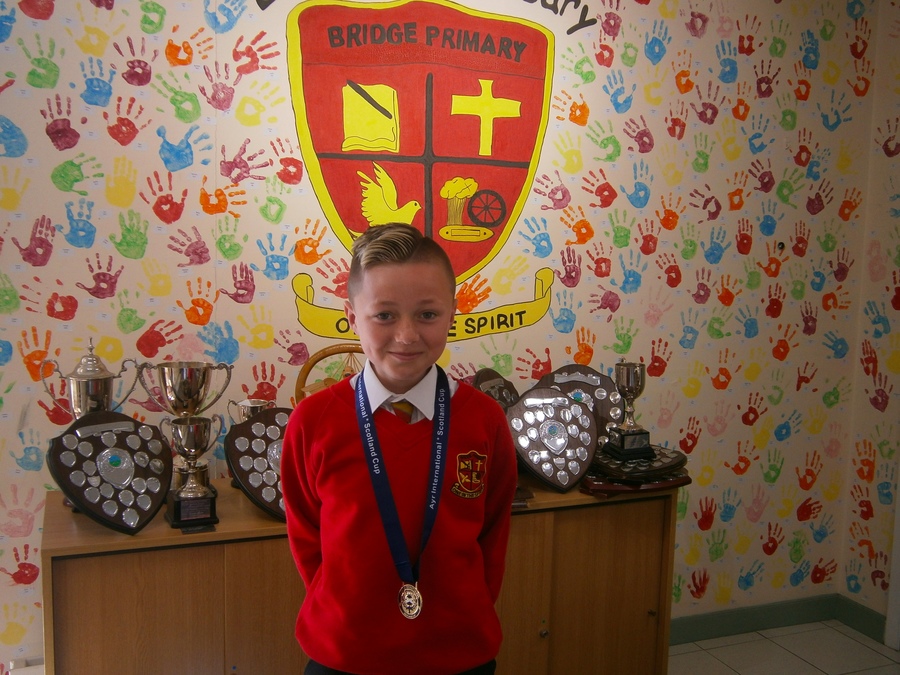 Bend a Rule Day
The whole school had lots of fun 'bending' a few rules on Monday 3rd April. Pupils came into school with some crazy hair styles, wore their own clothes, enjoyed eating an unhealthy break and opted not to do homework on Monday night. Many pupils also chose to sit in their own seats though the teachers were glad that this was only for one days! ;-)
The photos below feature P.1!
Thank-you to all of our parents for your support and generous donations.
Girls Football Tournament
Congratulations to the girls who took part in the recent football tournament on Thursday 16th March. The girls played really well, had lots of fun and came second place. Well done girls we are so proud of you all.
Girls Football Tournament
10 Girls travelled to Cheney Park last Thursday 9th March to take part in the EVO girls football tournament. They finished 4th overall and scored some super goals along the way!! Well done girls!
On Monday 13th March our girls' football team enjoyed a coaching session at Cheney Park. Skills were developed and lots of fun was had by all!
Lewis P.1M Wins Newsdesk Competition
Congratulations to Lewis (P1SM) who recently won a goody bag from the C2K Newsdesk team. Lewis drew his favourite book character to take part in The Newsdesk's competition for World Book Day. The editor of the Newsdesk, David Huntley visited our school to deliver Lewis' prize and to share his success with his class mates.
Well done Lewis!
Celebrating World Book Day 2017
Celebrating World Day certainly brought Literacy to life in Bridge. Pupils came to school in some fabulous book character costumes and enjoyed sharing their favourite books with friends.
P.7 pupils featured in the Newsdesk World Book Day programme and Lewis in P.1M was one of the Winners in the Newsdesk - draw your favourite character competition. Well done Lewis!
Click BOOKS to see more photos
P.5's Early Man workshop was very exciting, as it gave all pupils a better insight how Stone Age man used to live. Pupils were able to weave, make clay pots, dress up, listen to stories and be creative by making axes and stone rubbings.
Click EARLY MAN to see more.
Santa's Hat by P.1 and P.2
Congratulations to all of very special pupils in P.1 and P.2 who put on an amazing Christmas play called "Santa's Hat'. It is always very charming to watch our youngest pupils perform on stage and they should all feel very proud of themselves.
Click SANTA'S HAT to see some more photos.
P.6T Win the Christmas Wreath Competition for
Bannview House Care Home
On Monday 12th December Mrs Turley and three pupils attended Bannview House Care Home to receive a prize for being one of three winners in their Christmas Wreath Competition. We were very privileged to meet some of the residents and enjoyed having a chat and some treats with them before the Lord Mayor, Garath Keating arrived to judge the three shortlisted wreaths. We were really lucky to have been chosen as first, Ballydown's P.1 class were second and Year one in Donard were third.
It was really lovely to see all of the really beautiful wreaths decorated by schools throughout the area hung up throughout the home. It is safe to say that these wreaths really brighten up the home and we hope that they continue to make the residents smile over the Christmas holidays.
Many thanks to Roberta Wilson, the manager, all of the staff and residents who ensured we had a very warm and friendly welcome. P.6T were delighted with their prize: a box of delicious treats and look forward to sharing these after the Carol Service!
P.6 Cinemagic Workshop
On 7th December P.6 enjoyed a very exciting storyboarding and animation workshop hosted by Cinemagic in Banbridge Old Town Hall. Pupils got to expert advice from animator Joel Simon from Flickerpix and had lots of fun trying to create their own characters and storyboards before watching Fantastic Mr Fox animation.
Click ANIMATION to see more
Christmas Wreaths for
Bannview House Care Home
Every class throughout our school had lots of fun making some Christmas crafts to decorate the wreaths sent into school from Bannview House Care Home. It was a real pleasure for us to get creative and decorate these lovely garlands to bring some festive cheer to the older generation. We really hope that the residents in Bannview House enjoy looking at the lovely garlands which are now on display in their home.
To see more photos click CHRISTMAS
Ditch the Dark Day 2016
Ditch the Dark Day turned out to be a really bright and colourful event!
Everyone was conscious of the need to be seen in reflective and fluorescent gear, especially at this time of year.
Congratulations to our winners, Eva from Key Stage 1 and Hannah-Rose from Key Stage 2.
Well done to everyone and keep bright!
Wearing Blue for Bullying UK
This week Bridge celebrated anti Bullying week and this year's theme was Together We Are Stronger. Pupils explored the theme of bullying in all classrooms throughout the week in a variety of activities and a number of children wrote articles which were published on the C2K Newsdesk. On Friday 18th November pupils and staff in P.4-P.7 wore blue to school to show our support in taking a stand against bullying. Nieve from P7Y took the initiative to make a special anti-bullying cake to drive the message home in her class.
To see a few more photos click BE A BUDDY NOT A BULLY
Children in Need
Teddy Fun Day for P1, P.2 & P.3
Primary 1, 2 and 3 children enjoyed a fun filled 'teddy bear day' on Friday 18th November in their efforts to raise money for Children in Need. Children had lots of fun talking about their teddies, measuring their lengths, comparing their sizes and weighing them. Teddies even enjoyed circle time for the first time and P.1 children had fun singing a teddy rap in the library. To get fit and active children also had fun joining Pudsy Bear in a dance! To raise money for charity and develop their understanding of money P.1 pupils brought in 1ps, primary 2 pupils brought in 2ps and primary 3 pupils brought in 5ps. They all enjoyed sorting and counting the coins and thanks to help from P.7 who helped to calculate the final total of £285.
A huge thank-you to all of the parents for sending in loose change and supporting this worthy cause.
Click PUDSEY to see some more photos.
Film Club Meet Chris Hewitt from Empire Magazine
Click Film Buffs to find out more
Get Ready for Ditch the Dark Day 2016
Digital Leaders are Buzzing with Ideas from
iTeach Digital Leader Labs
On Friday the 28th of October our digital leaders were invited by iTeach to W5 to take part in an iPad workshop. The children took part, alongside other schools, in three sessions where they learned to master creative design, coding and video design.
The children represented the school very well and came home full of ideas of how to help the school develop its use of iPads and determined to find ways to support teachers and students.
Click Digital Leaders to find out more
Purple 4 Polio Day
On Friday 28th October Bridge was a sea of purple as staff and pupils wore purple clothes to help raise money for Rotary International to help eradicate polio.
The purple crocus is a symbol of Rotary's worldwide campaign to eradicate polio, with its colour representing the purple dye used to mark the finger of a child who has been immunised.
Mrs Davis and her many volunteer ECO helpers worked hard to create beautiful pots and to help plant crocuses for the whole school community to buy to raise much needed money to support this very worthy cause.
Over £500 was raised on the day so a huge thank-you too everyone for your very kind contributions.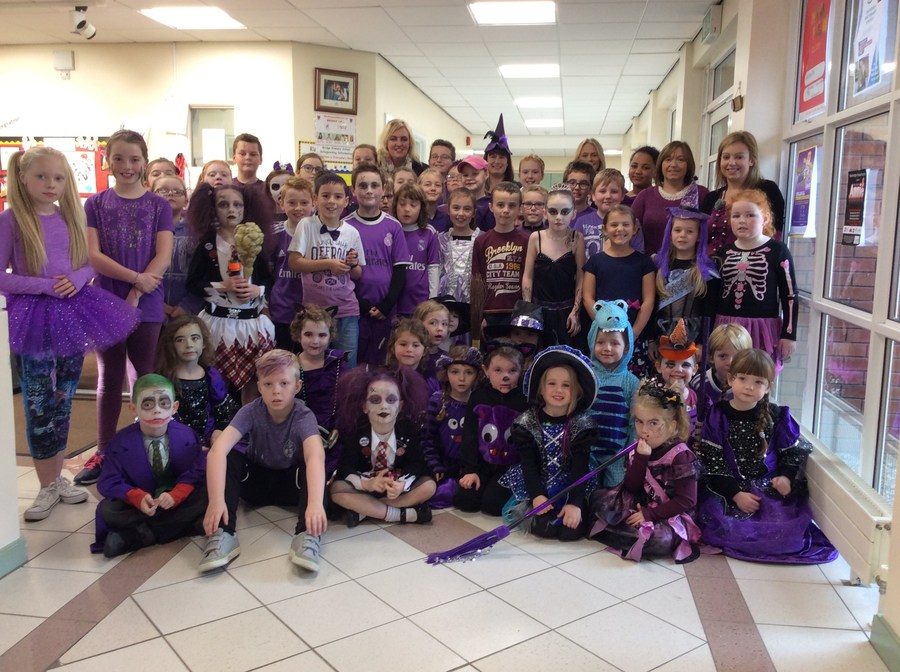 Halloween Fun for P.1-P.4
BIPS Parents group organised lots of fun activities for Foundation and Keys Stage 1 pupils on Friday 28th October. Pupils came to school dressed up in some amazing costumes and enjoyed lots of Halloween crafts in the hall whilst Key stage 2 pupils enjoyed a Halloween disco that evening.
Click: HALLOWEEN to see all the fun the children had.
Ryan Proudly Accepts Cheque for Macmillan Cancer
This is Ryan from P.1 with his parents and baby brother, Mark receiving a cheque for Macmillan Cancer for £423, following the recent coffee morning organised by Mrs McAnespie.
Ryan is currently under going treatment for Leukaemia. He is accompanied in the picture by Deirdre Armstrong, Paediatric Nurse with Macmillan.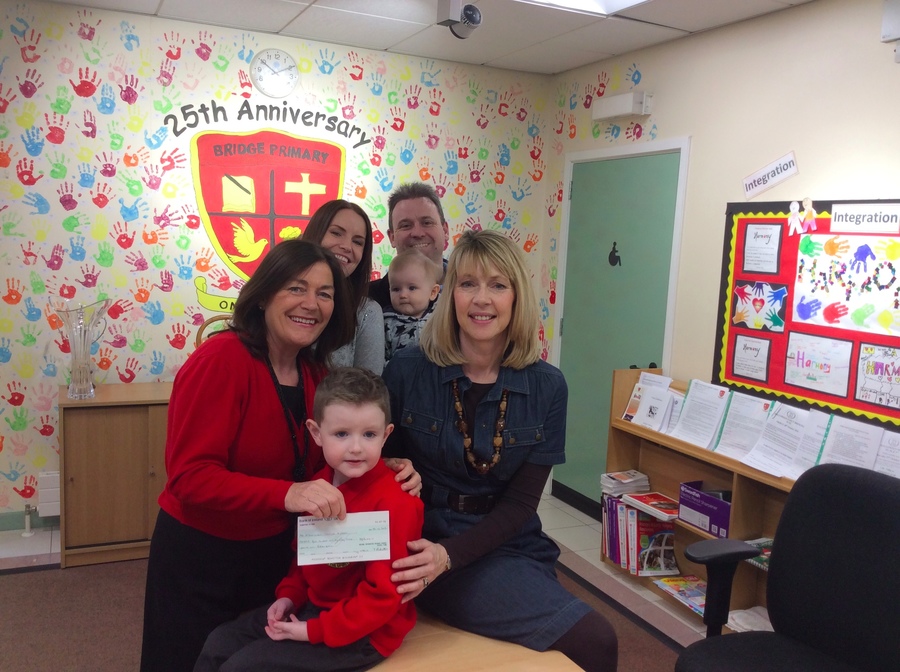 P.6 trip to Shannagh-More 2016
Both P.6 classes had a fantastic time last week in Shannagh-More Outdoor Pursuits Centre. Enjoy finding out we got up to and see some great photos of us trying new challenges and having a fabulous time in the links below!
P.6S: 17th Oct to 19th Oct Days 1 & 2 updated
P.6T: 19th Oct to 21st Oct 3 days all updated
Bridge Celebrates Harvest
On Thursday 6th October P.5 led our annual Harvest service in the school hall. It was a pleasure to have Rev. Doctor Mark Gray from Bannside Presbyterian Church, many parents and the whole school community to celebrate with us. P.5 did an amazing job with their drama, prayers, poems and readings. It was so lovely to have the whole school community sing together. Well done to everyone who took part.
On Friday 30th September we held a coffee morning for Macmillan Cancer, led by Mrs McAnespie. It was great to see lots of parents enjoying a coffee and a chat after dropping their kids off to school. Staff also enjoyed lots of treats at break and lunch time to!
Over 400 pounds was raised for this very deserving cause.
A huge thank-you to everyone who helped and/or donated!
On Friday 7th October Bridge IPS added a bit of fun and colour to the autumn term by joining thousands of schools taking part in wear it pink. We raised lots of money to support this worthy cause It also raised awareness of the continual fight against cancer. Thank you once again to all our pupils. parents and staff for their support.