Harvest Celebration
On Thursday 12th October we celebrated our annual Harvest service in school. The theme of our celebration this tear was Trees. P.5 led this celebration with a variety of readings, prayers and poems and they were amazing! Rev. Gray from Bannside Presbyterian and his visiting lay minister from America joined our service. As always Rev. Gray shared his own special message in a very entertaining story about a vine branch.
Many thanks to all of the parents who joined us. It was a very packed hall and the lovely singing throughout really made it feel special.
P.2 Enjoyed a Recent Trip to Palace Stables
Defibrillator Received from Heartbeat NI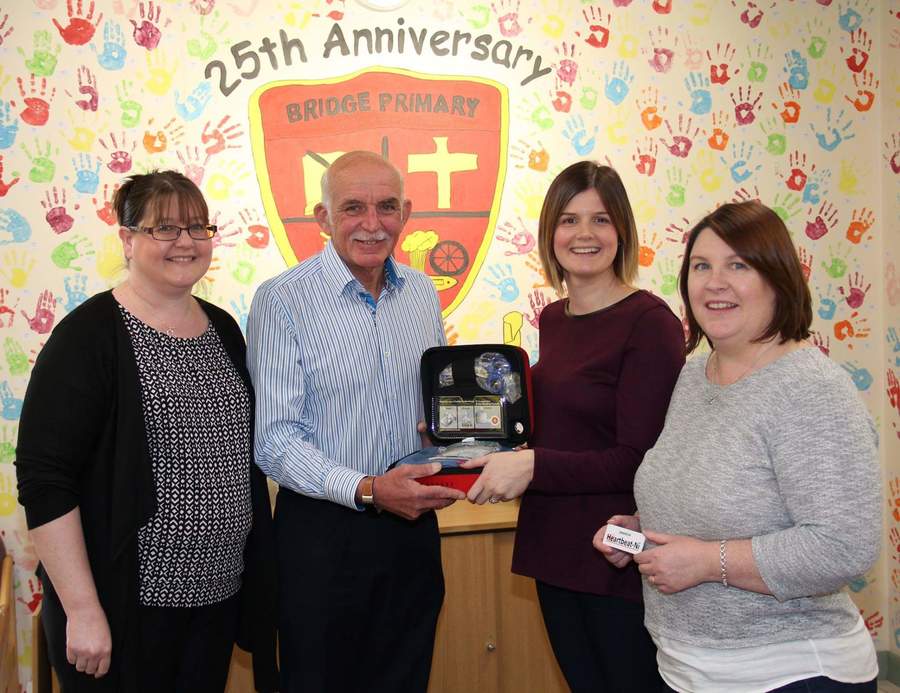 On Friday 6th October Mrs Devlin proudly accepted a defibrillator donated to the school by Heartbeat NI. This lifesaving piece of equipment will be an extremely worthwhile addition to our school but we sincerely hope that we never have to use it.
The defibrillator was handed over to Mrs Devlin, parent Jenny Downey and Lisa McCourt co- chairperson of our school's parent group.
We would like to thank Heartbeat N.I. For this very kind donation.
First EVO League Tournament
There was great excitement today (28th September) when our newly formed A & B Football squads headed off to their first EVO League Tournament for this year. The enthusiasm of the boys was evident as many of the boys were first through the cloakroom doors this morning!
The boys had a fantastic morning, played really well and had lots of fun throughout their matches. Congratulations to the A team who came joint first with St. Mary's in the Primary School League Tournament 1. Both teams won 8 points each! Well done everyone!
Bridge B Team put on a fantastic performance and ended up Europa League Champions.
Well done to all of the boys and a huge thank-you to Paul Evans and all his coaches, to Mrs Whan and many dedicated parents who came along to she their support and of course all the other school teams who ensured today was a great success.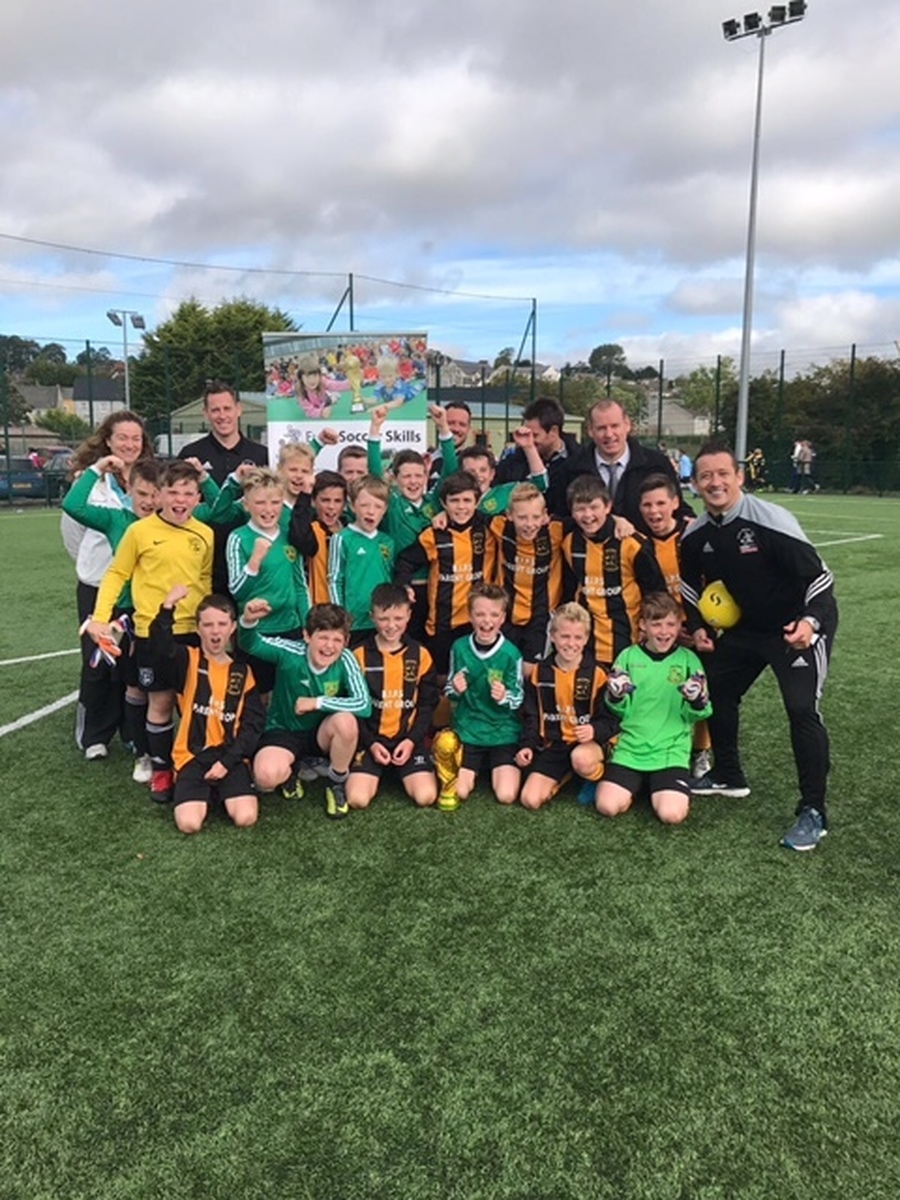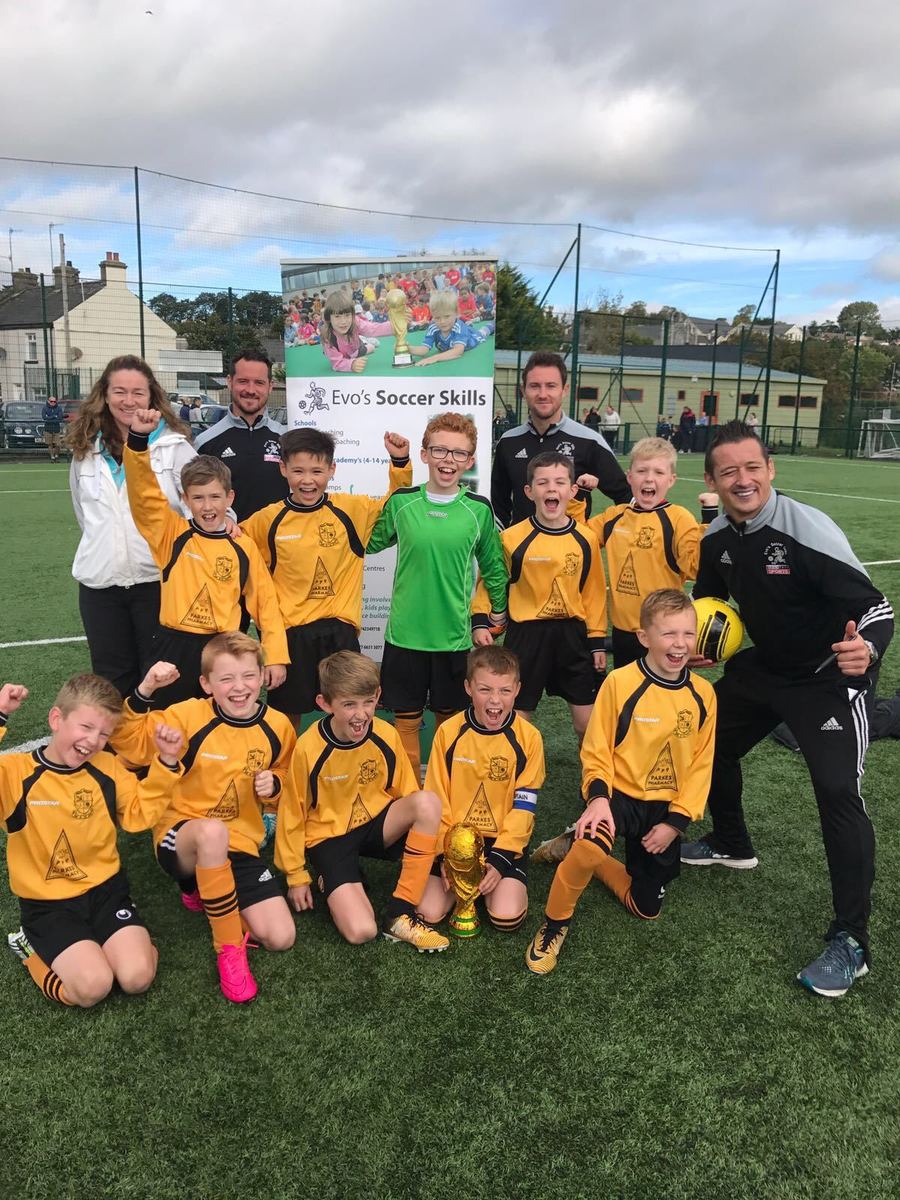 Football Training
On Wednesday 20th September, the two School Football teams were given a pre-tournament training session, thanks to Paul McGerrigan. Unfortunately, the weather meant they had to use indoors!
Great bunch of boys with some amazing talent! Watch this space over the coming months as the teams prepare to take part in Evo Soccer Tournament with other local schools.
Many thanks to Paul Mc Gerrigan for giving up his time to come in and work with the boys.
Football Team Trials
Many thanks to the 59 boys who participated in the 'Bridge Football Talent Search.' The enthusiasm and effort was excellent. Unfortunately, we cannot use every player in the team at this time. (Our younger members will have 1 or 2 more years to progress their skills).
Many Thanks to Megan Whan, Paul Evans, Ryan Evans, Paul McGerrigan and Ken Whan who supported me in the team selection.
Here are some photographs from the mornings activities.
Squad A Squad B
Ethan M. Nazie-James M.
Tom N. Steven D.
Charlie T. Jamie Mc.
Eoin T. Ben W
Jude W. Jake Mc.
Zach F. Carter C.
Matthew M. Thomas E.
Calum M. Kieron F.
Jamie M. Corey H.
Luke Mc. James C.
Reserves
John Mc.
David Mc.
Tiernan P.
Food Drive
THANK- YOU!
We are overwhelmed by the fantastic response to our food drive in the run up to our Harvest Service. A huge thank-you to everyone who donated food. We really appreciate everyone's support and hope that this food will help less fortunate families within our local area. St. Vincent DePaul and Banbridge Storehouse will distribute the food to those in need.
Coin Drive
A huge thank-you to everyone who contributed to out first coin drive at the beginning of October. We raised 367 pounds, which is amazing. This coin drive will continue at the beginning of each month so please keep sending in any loose change when possible. Money raised will help to buy new Maths text books.
We were overwhelmed with the amazing turn out at our recent coffee morning to raise funds for Macmillan Cancer Support. A huge thank you to everyone who came along and either attended the coffee morning, bought a take away coffee or made a donation. We really appreciate your support and are delighted that the three hundred and forty seven pounds raised will go to a very good cause.
Thank you to Mrs McAnespie for organising it and all of the parents or staff who helped.
Exciting Halloween Events Organised
by BIPS Parents' Group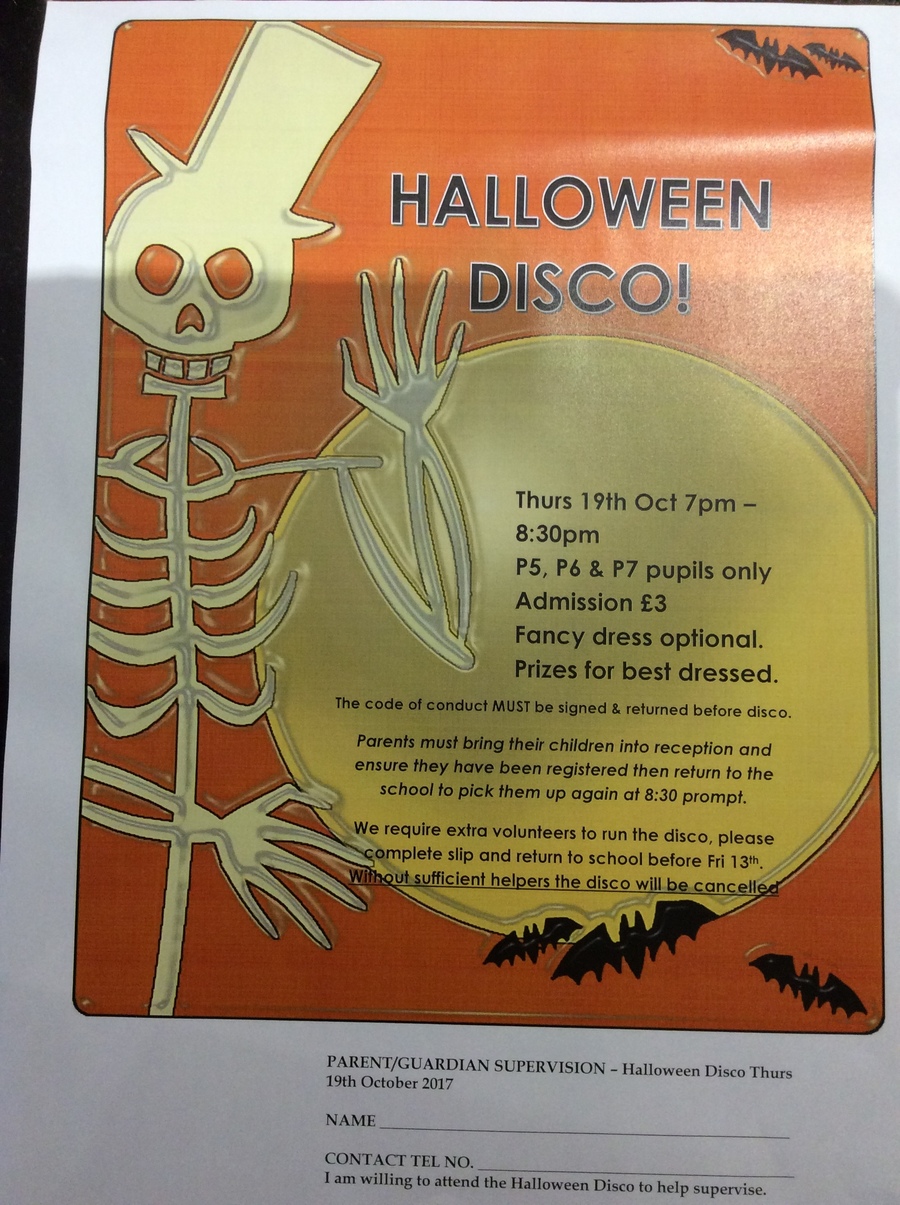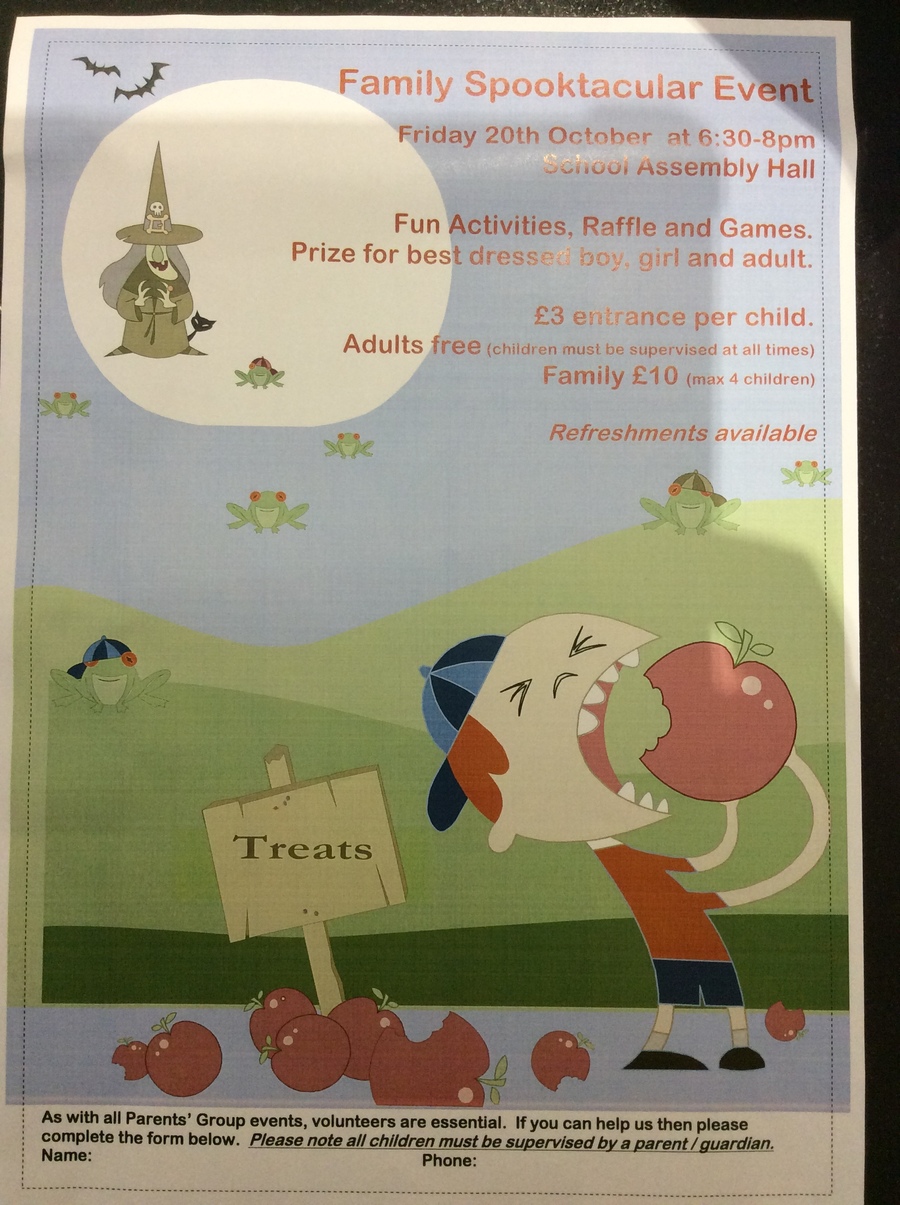 The Magic of Roald Dahl Performances
On Friday 29th September the whole school enjoyed a real treat when actor Anthony Pedley came into Bridge to bring the magic of Roald Dahl to life. Anthony certainly entertained the pupils and many of Roald Dahl's favourite characters came alive on stage!
Click: ROALD DAHL to find out more.
Healthy Me Programme
In the last two weeks in September P.4-P.7 enjoyed Healthy Me workshops from Heather and Roisin from AMH MensSana.
We hope that this programme will promote mental health and social and emotional wellbeing in our pupils. Pupils were encouraged to think of ways in which they can keep their minds and bodies healthy and were actively encouraged to share their worries with a trusted adult.
Click HEALTHY ME to find out more.
Book Fair
A huge thank-you to everyone who supported our September book fair. A total of one thousand and two pounds was raised. This means that the school has five hundred and forty-two pounds profit which we can now use to buy new books to supplement and stock up our Accelerated reading titles.
We really hope that the children enjoy reading their new books.
On Saturday 16th and 30th September 2017 we organised a 'Big Clean Up' to help spruce up the school grounds, in this our 30th anniversary year. We were overwhelmed by the kindness of so many pupils, parents and staff, who willingly (or otherwise :-) gave of their time to help clean up our school grounds. We would like to say a huge thank you to everyone who helped in the big clean up today. Lots of fantastic work was done and we really appreciate all the support given.
It was great to see that in such a short amount of time such a dramatic difference was made. Team Bridge - parents and staff working together to ensure our school looks great throughout our celebrations in the incoming year.
We will keep you posted about a possible second date coming up in a few weeks to help finish off some much needed jobs.
Click CLEAN UP to see all the hard workers.